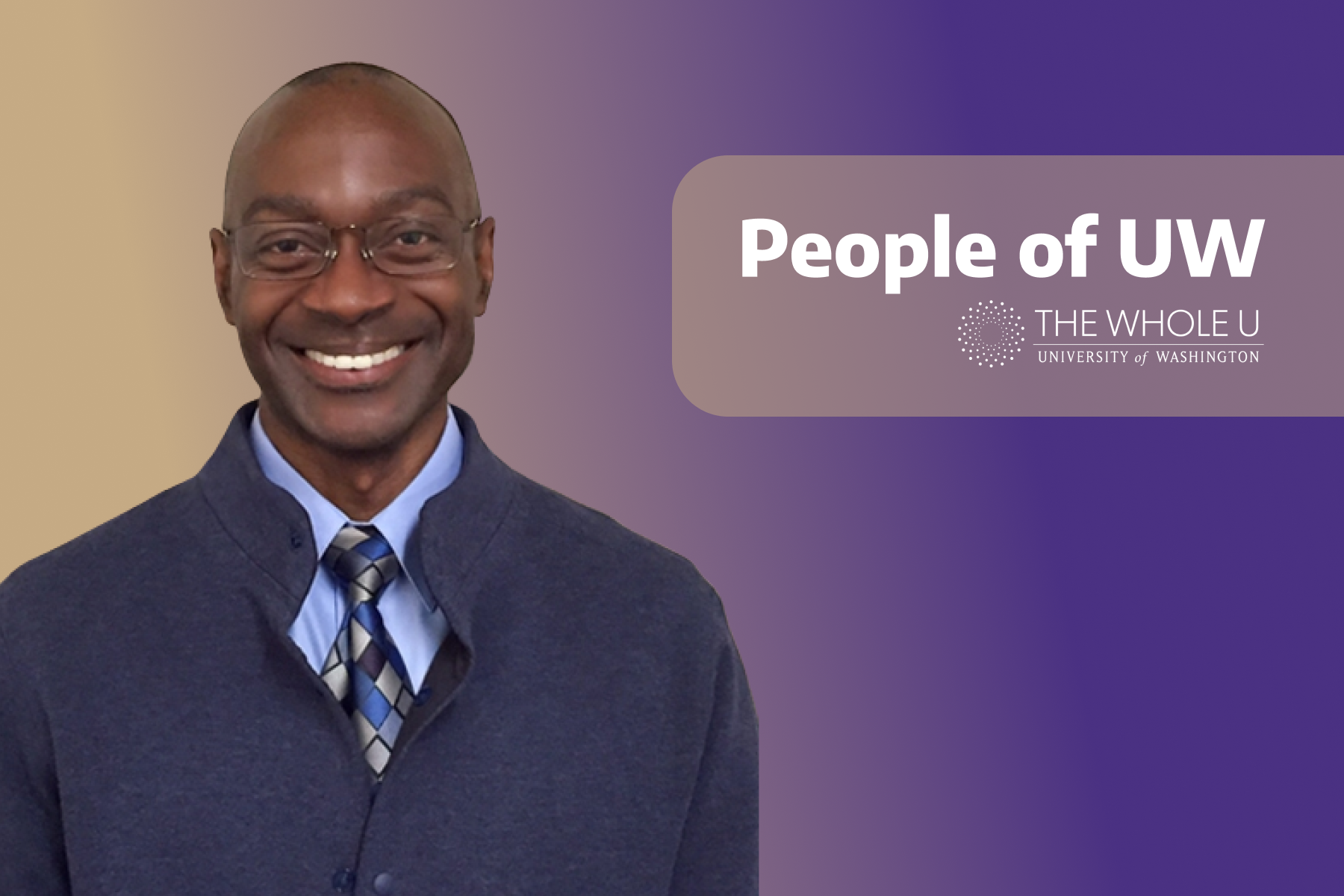 People of UW: Meet Health Equity Advocate Lee Davis
It's hard to be healthy when you're poor.
It's hard to be healthy when you're unhoused. Or when you are hungry, unemployed or underemployed, or unsafe. When you're disabled or have a chronic illness. Or if you are Black or brown, LGBTQ+, an immigrant or refugee, or if you have other or multiple marginalized identities.
And for people who can become pregnant, it's recently gotten a lot harder to be healthy regarding reproductive care and sexual health.
Too often, access to good health is shaped by the conditions we face as we live, learn, work and play – collectively called social determinants of health. In the U.S., health disparities persist, in part, because obstacles to opportunity over the course of generations is the legacy of structural racism.
Health equity is based on the belief that everyone deserves the chance to live a healthy life. It can be achieved by removing barriers to health such as poverty, discrimination and its consequences, and environmental hazards.
A grand opportunity
This is where Lee Davis and his colleagues at the UW Medicine Office of Healthcare Equity come in. With a mandate to eliminate inequities in health care so all people and communities can thrive, the team seeks to fulfill UW's institutional commitment to equity, diversity, and inclusion (EDI).
As the EDI Training Manager for healthcare equity – a newly created role that he stepped into this past fall – Lee oversees the development and delivery of anti-racist training courses for some 35,000 employees throughout the WWAMI (Washington, Wyoming, Alaska, Montana and Idaho) region covered by UW Medicine.
A complex task, to be sure, complicated by the time constraints of healthcare workers' schedules, the development of content for both hybrid and e-learning cohorts, and delivery of content in multiple modalities to accommodate different learning styles.
With only one support staff person (a data analyst position is in the works), Lee relies on ambassadors "deployed like soldiers" to help him get the word out about the required trainings.
A military reference is an apt metaphor for Lee, who spent 15 years in the U.S. Navy before transitioning into higher education via UW HR's Professional and Organizational Development, where he worked for six years as a training and organizational development consultant.
The role with UW Medicine, Lee said, was "a grand opportunity." He was impressed by the compassion and "true grit" of the health equity leadership team and was excited about the opportunity to develop courses that consider EDI within a framework of introspection and self-awareness – practices about which he is deeply passionate.
We have to become our own superheroes
A self-described metaphysician and spiritual aspirant, Lee has been intentional in his pursuit of knowledge, wisdom and purpose since he first picked up a treatise on the nature of consciousness, at age seven, from his mother's library of metaphysical texts.
An avid and sophisticated reader, Lee credits his early literacy development with fostering his academic aptitude and, more importantly, his eagerness to discover and discern the world around him.
"Reading widely has helped me to see the world from multiple perspectives," he said. "Reading represents a quest for greater knowledge and understanding, a willingness to open ourselves up to different perspectives, and a veneration of lifelong learning and development."
When he was 11, Lee and his mother participated in an intensive three-day spiritual ashram in his hometown of Berkeley, California – then, as now, a hotbed of ontological exploration – during which they examined the question of what it means to be human.
The experience impressed upon Lee the significance of discovering and celebrating his identity, particularly for a Black kid growing up in America in the 1970s. "The most difficult work is internal, understanding yourself," he said. "The journey of self is the most important journey."
He continued, "We have to become our own superheroes."
Every decision is an opportunity
After high school, Lee spent a few months in Montana studying civil engineering ("not a lot of diversity") before enrolling at UC Berkeley as a pre-med student. He lived at home during this time, with a nagging feeling that while he was learning all about biology and chemistry, he was not learning the skills of self-reliance.
Lee excelled academically, as he always had, and enjoyed his coursework well enough – recognizing the eventual prestige and financial stability a career in medicine could bring – but he was not passionate about his path.
"The sciences weren't me," he said. "I'm more of an arts and humanities person."
And there was that feeling of increasingly burdening his mom, who ran the household – dad was in the merchant marine and rarely home – and had a career in which she worked her way up from hospital housekeeping to becoming a surgical technician.
One of 15 kids, Lee's mom migrated as a young woman from Mobile, Alabama, where Lee was born, to California in search of a better life – and not only did she find it, but she also made it flourish.
So, three years into his pre-med degree, Lee left Berkeley and joined the U.S. Navy as a submariner.
"Every decision is an opportunity," he said, and he saw this opportunity as one that would pave the path to self-reliance, marking his passage into true adulthood.
He would ultimately spend 15 years in the Navy. These were years during which he continued his journey of self-exploration, found his independence, saw the world, and gained the experience in adult education – training some 5,000 submariners from new recruits up to admirals – that would eventually lead him to UW.
The busy years
Following basic training outside Chicago, and six years stationed in Charleston, South Carolina, Lee was assigned to subbase Bangor on Hood Canal in the Pacific Northwest – where he has lived ever since.
In his naval career, Lee participated in 12 submarine deployments – but it was his time on a surface ship during a WESTPAC tour (deployment to the Western Pacific for six months) that stands out to him.
Not one for typical port-of-call activities, Lee spent much of his liberty time studying for his submarine insignia ("dolphins") and then for his surface warfare insignia – both of which he earned by being able to explain, in detail, the mechanical functions of the ships and how to operate them, sometimes blindfolded or in complete darkness.
The achievement of both insignia is unusual, representing the dedication of fewer than one percent of sailors and submariners. During this time, Lee also became a Master Training Specialist for the Navy, developing training curricula and honing his public speaking skills.
Nevertheless, Lee did get off the ship occasionally during his WESTPAC, and to his delight discovered the people and cultures of Dubai, Bahrain, Indonesia, Malaysia, Hong Kong, and Hawaii. His favorite discovery was Bahrain, where he volunteered with the Special Olympics as a referee and emotional support coach to the athletes.
And the surface warfare pin paid off, enabling Lee to pursue nursing education at Pacific Lutheran University while continuing his military service back at Bangor. An injury in his last semester forced him to give up his studies – his second nearly-finished health sciences degree abandoned, but one whose legacy was clarity of purpose.
"Regression is spiritual evolution," he said. "The experience oriented me to healthcare" and set the stage for his role in fostering health equity with UW Medicine.
Lee later enrolled in a hybrid program with Southern Illinois University, completing his bachelor's degree in training, education & development. The program was paid for by the Navy and completed during eight-hour stints every Saturday, in a classroom on base, where the faculty would travel every weekend.
Between work and school, and with four kids close in age at home, it was a very busy time for Lee.
He also somehow found the time to write a book, Soaring From Within: The Ultimate Human Journey, which was published in 2014 and explores how to become the master of our own universe through a reformation of consciousness.
He has a second manuscript, which again investigates the topic of evolved consciousness, ready for publication. Lee is also enrolled in Mary Lou Fulton Teachers College at Arizona State University, where he is seeking a master's in education.
Lee sees his work in health equity at UW as fundamental to empowering emotional intelligence for his trainees. The courses he facilitates lack a clear resolution to the problem of disproportionate equity in health, but rather prompt the exploration of identity: what is the value and meaning of the work you are doing? How does your identity contribute to the perpetuation of unfair social determinants?
Truly understanding one's own identity, Lee believes, better informs the shared work of removing barriers to good health and thus achieving health equity. "We can evolve in consciousness collectively if we start with ourselves, and I want to be a part of that," he said.
"Evolving is humanity's greatest gift and its greatest reward."