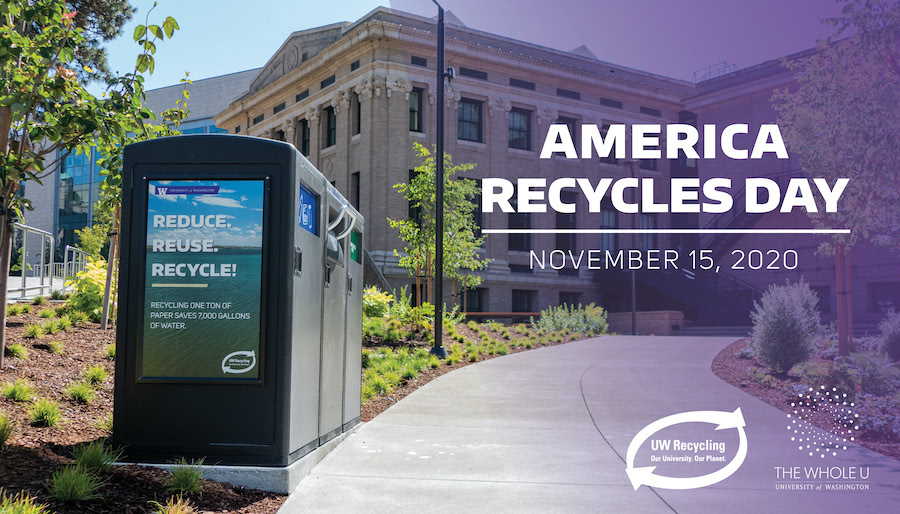 Celebrating America Recycles Day
Happy America Recycles Day! To celebrate this year, UW Recycling wants to take a trip down memory lane to the early days of recycling at the University.
Our History
While recycling might seem like something the university has always been a part of, it was actually a reaction to student environmental movements in 1970. Holding the first "Trash-in", students laid out their personal waste outside of the student center to send a message to manufacturers that managing waste responsibly was a priority.
After separating their material by metal, paper, plastic, and glass, these materials were sent back to manufacturers with a request that they be reused. By 1971, students were collecting roughly 2800lbs of recyclables per week for proper disposal with the help of the Physical Plant department.
The University would not be where it is today without the tenacity and environmental advocacy of our students! Thanks to those initial efforts, we now recycle an average of 54 tons per month when operating at full capacity. We have become leaders in waste diversion within the PAC 12 conference – go Dawgs!
---
In the 1970s, the UW recycled mostly paper, but now we strive to recycle paper, glass, metal, and plastic together in a single-stream system. We also recycle special materials separately, such as batteries, concrete, Styrofoam and plastic film whenever we can! For more information on what's allowed in our campus single-stream recycling, check out our blog post on the 4 S's of recycling.
How can we do even better?
While we are proud of the strides our University has made, we want to continue to improve. We currently divert around 61% of all campus waste, but we would be able to divert 83% if everything was reused, composted, and recycled perfectly.
Be sure to review our disposal guide to know what you should recycle, or email us anytime at recycle@uw.edu with questions. In order to make sure your item is good to be recycled, ensure that your material is clean, empty, and dry!
UW's goal is to reduce our landfilled waste by 10% by 2025. That means not just composting and recycling right, but also reducing the waste we create in the first place. Keep your eyes peeled for future updates and ideas on how to reduce the waste you create – recyclable or not!
Activities
In celebration of America Recycles Day, we wanted to offer a few ideas on what we can all do:

Color
We are excited to provide some coloring pages that our team made for this occasion! You can download the free pages on the WholeU activities page. Even though we hope you'll cherish your coloring pages forever, be sure to recycle any pages you don't end up keeping.
---

Litter pick-up
If you see litter that is safe to pick up, consider using a litter grabber to pick it up and place it in the correct bin. Every piece of litter that is removed from the environment helps!
---
Enjoy some trash-y entertainment


Check out our previous blog post for some fun and compelling media about waste in our modern world.
---

Thank a waste collector (from a safe distance!)
Consider saying thank you to your waste collectors when you see them! They work around the clock to keep our neighborhoods clean and correctly managed, including our own recycling team here at the UW. Check out our Instagram for a brief introduction to some of our waste collectors!