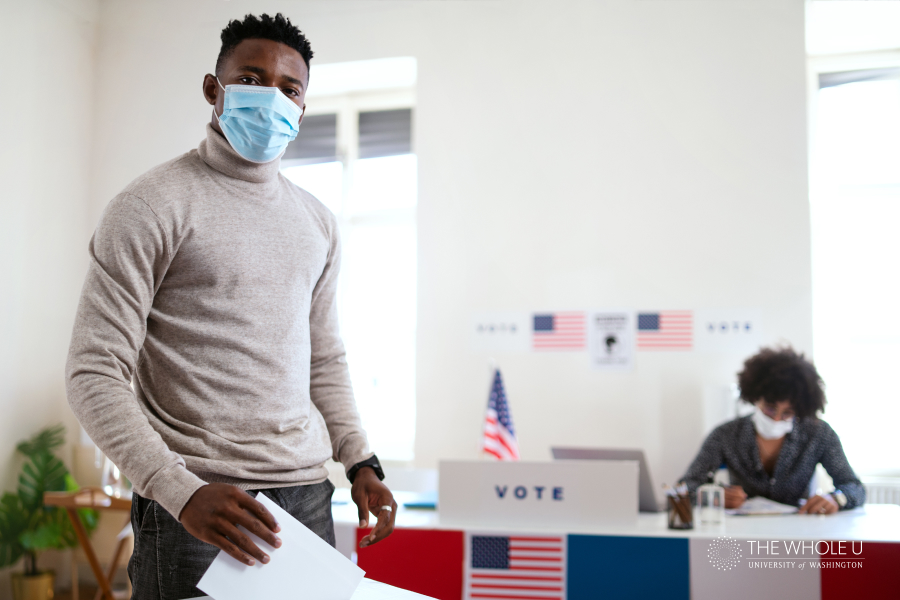 2020 Election Support Series – Ways to Practice Resilience
Election stress is real, and it doesn't take sides.
Mental health professionals coined the term "election stress" in 2016 during what then seemed like the most divisive U.S. election in living memory. Four years later, anxiety about the 2020 election is even greater and it is compounded by worry and exhaustion from the viral and racial pandemics. Election stress may feel particularly heavy if political disagreements have created distance with loved ones we typically turn to for support.
No matter where you stand on candidates and issues, it is important to acknowledge election stress. We know that stress and anxiety can affect our health, our relationships and our work. Societal stressors are out of our control but we can develop tools to minimize their impact on our well-being. While self-care habits develop over time, the practices that reduce stress and build our resilience can take just a few minutes each day.
Two programs created to support your physical and mental wellbeing during these especially challenging weeks:
2020 Election Support Series – Daily Reminders to Practice Resilience
Participants will receive an e-mail every work day between Monday, October 26 and Friday, November 13 that includes a concrete, 5-15 minute action steps to support resilience, compassion for others and self-care. REGISTER HERE.
14 Day Guided Meditation Practice for Election Stress
Starting Monday, October 26, join a 10-minute guided meditation at noon. Meditation is a great way to reduce stress and center your mind. Guided meditation will continue Monday through Friday until November 6. REGISTER HERE. 
---
Start managing election stress now by committing to any one of the practices listed below:
Watch and read with intention.
Worst case scenarios seem to be everywhere in the media and anxiety loves to feed on them. One way to alleviate stress is to do a "news fast" by avoiding all media for an afternoon, a day or longer. If you get worried when you are out of the loop entirely, set a timer to limit how long you read current events or scroll your socials. You can also try taking a deep breath before you read or view information to ask yourself what you want to learn or with whom you want to connect. Being clear about why you are looking at news or social media can eliminate doom scrolling or getting lost in feeds that may cause stress.
UW CareLink's election stress guide and on-demand webinar, Informed or Infirmed? Healthy Media Consumption As Election Day Approaches, include additional tips for healthier reading and viewing.
Practice presence.
Research demonstrates that meditation and mindfulness reduce anxiety, improve our relationships and physical health and enhance our physical and mental performance. Even better, it only takes a few minutes of focused attention to feel the positive effects. The Whole U is hosting guided 10-minute meditations every workday at noon between October 26 and November 6. Check out the UW Resilience Lab, student Counseling Center and The Whole U's virtual classes for links to mindfulness apps and on-demand guided meditations.
DO something.
Physical activity is another documented antidote to stress and The Whole U has you covered with virtual fitness classes, seven days a week and on-demand!
Focus on values.
Being with family and friends who have different political opinions than our own can be a significant source of stress. Remind yourself that the only actions and words you can control are your own, and shift your focus to how you can make values (e.g. family, respect, learning) – and not a specific opinion or policy – your priority. Focusing on ideals we care about helps us bring our best selves to challenging conversations, sometimes changing the situation itself for the better.
Say no to election conversations.
It is ok to tell friends and family you don't want to talk about the election. Let them know that avoiding election talk is a strategy to your support health and well-being, not a way to silence anyone's opinion. Normalizing self-care by talking about it can help everyone.
Monitor what you need each day.
Sometimes things that bring us energy and joy when life is going well don't work when we are stressed. It is good, but not always easy, to put routines on pause. For example, maybe activity and social connection is your go-to but rest and solitude feels better right now. Or, maybe it is vice-versa and you need to motivate to engage a bit more. Adjusting to a challenging situation is a sign of strength and doesn't change who we are: you can walk some workouts and still be a runner, skip an occasional news show and still be a policy wonk or say no to a virtual happy hour while remaining the life of a party. Well-being is a life-long journey and short-term changes can strengthen us for the long-haul.
---
Taking a mental health break from media, news, and recognizing the pressure you may be feeling due to the coming election is important for your physical and emotional well-being.
All are invited to join us in the coming weeks for an election support series and daily guided meditation to help you take a deep breath and ground your spirit.