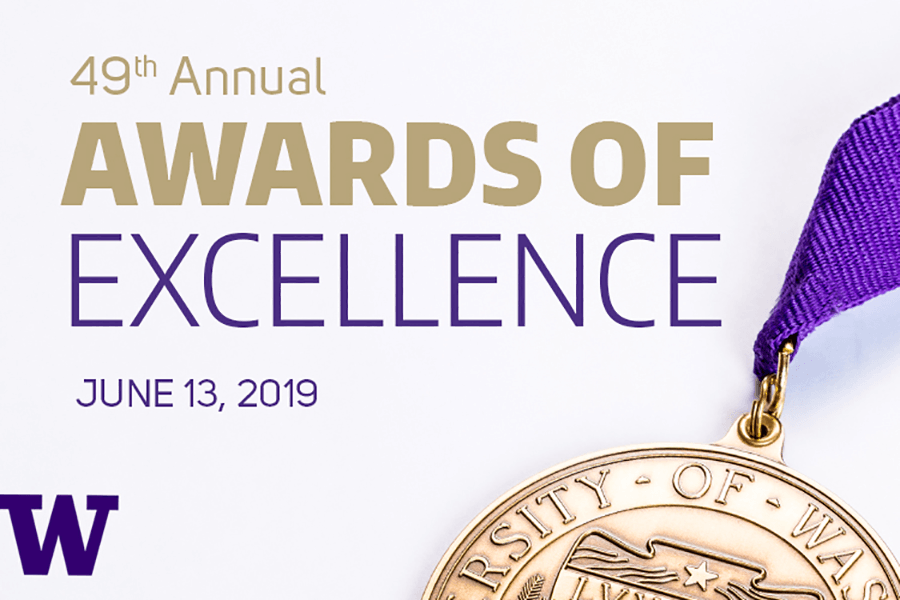 Spotlight: Distinguished Staff Award Recipients
Established in 1997 to honor outstanding University of Washington staff, the Distinguished Staff Award is presented at the UW Awards of Excellence ceremony each June. Of the many nominations drawn from the diverse and indispensable contributions of its 24,000 classified and professional staff, five individuals or teams are selected as award recipients based on their extraordinary accomplishments and contributions to their departments and the University at large.
The winners will be honored at 3:30 p.m. on June 13 in Meany Hall with the UW community and general public invited to attend. The program includes a one-hour ceremony hosted by President Ana Mari Cauce and Provost Mark Richards, followed by a reception with hors d'oeuvres, desserts, a photo booth and a chance to connect and celebrate with your team members and the rest of the UW community.
Whether or not you are able to attend, we hope you will read on to learn about the inspiring stories and important contributions of the staff members being recognized!
---
Centering students for success
Sam Al-Khoury, director for Student Engagement and Activities at UW Bothell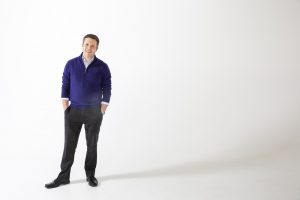 At UW Bothell, Sam Al-Khoury works to ensure "students are the center of our work." That's even first line in the Office of Student Engagement and Activities' new mission statement, which Al-Khoury helped his team draft.
He describes the office as providing the "environment where students get to build the opportunity that they want." In his role as director, Al-Khoury is most often the person who explains institutional guidelines that exist and must be adhered to along the way. As such, he often must place himself front and center in addressing and mediating conflict and other challenges as they arise.
"Through his leadership, we all feel better equipped to navigate potential challenges," says Carla Christensen, assistant director of Student Engagement and Affairs, who adds that Al-Khoury's eight years at UWB provide both historical perspective and "a vision and direction for where we can head."
Christensen credits Al-Khoury with leading an initially under-staffed SEA team in efforts to create environments where students can co-create collective learning experiences, which in turn, cultivate their agency and provides opportunities to clarify their identities, purpose, and sense of belonging on campus—even through adverse and trying circumstances.
After an incident in which the Reflection Room that SEA oversees and which many Muslim students use for prayer was vandalized, Al-Khoury responded by collaborating with key campus partners "to ensure students felt safe and could be their authentic selves," according to Brenda Đào, program manager for Student Engagement & Activities.
"Despite the adversity we faced, Sam was continually present for staff, faculty, and students, with words of encouragement and support, as well as helping us all create action plans to resolve some of the issues we faced," says Christensen.
As advisor for ASUWB, Al-Khoury also helped mediate to resolution a contentious student election, working with all students involved "to maintain a sense of civility, humanity, and respect for each other."
"Sam not only performs his job at an exemplary level but takes it upon himself to provide exceptional support and assistance to his colleagues and students," says Joy Yao, a former student assistant with Student Engagement & Activities. "He respects students' perspectives, empowers students' voices on campus, and encourages students to take initiative and make great impact."
Al-Khoury's mantra—"be good partners"—extends to staff members as well as students.
"With Sam's leadership, he made me a better supervisor and advisor today," says Đào. "He makes sure that his colleagues are also mentally and physically taken care of, so that we too, can thrive. It's not every day where you get an outstanding supervisor who really is invested in your growth and paves a pathway for others behind him in this field."
---
High-flying guidance
Laura L. Harrington, Air Force ROTC program coordinator
Department of Aerospace Studies, Air Force ROTC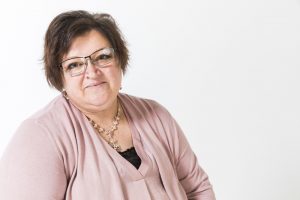 Laura Harrington says she was "just trying to do the right thing" by lobbying on the behalf of a freshman Muslim student for her right to wear a hijab while in Air Force uniform. But when Harrington's advocacy led to that student being granted a waiver to do so, it amounted to the first religious exception for Air Force Officer accessions in the country and a change in national ROTC recruitment and outlook on diversity.
However, in her twelve years as program coordinator for UW's Air Force ROTC, Harrington is no stranger to leading at a national level. Twice in the past year, she was selected as the Air Force University Program Coordinator of the Quarter—a nationwide competition that seeks out staff excellence among 145 Public and Land Grant universities.
Professor of Aerospace Sciences Jon-Paul Mickle credits her work coordinating 28 professors, assistant professors, and eight staff members was a contributing factor to the UW being recognized with the Air Force ROTC Large Detachment/Department of the Year Award in 2018.
"It is our extreme honor to take whatever opportunity we can to recognize the incredible, unmistakable, irreplaceable impact Laura has on our students, faculty, staff, and families," wrote Mickle in his letter of nomination. "Simply put, we are the best in the nation because of Ms. Harrington."
But for all her national impact—including input on a process analysis that found new efficiencies for a $10 million logistics program serving 147 university ROTC detachments—Harrington's contributions begin on the ground. At the start of fall quarter, she volunteered her own time to serve as a mentor and teach a study skills class for incoming freshman as part of the ROTC's new student orientation, also counseling families about campus life, activities, registrations, and finances.
Michelle Matern, who serves as education officer and assistant professor in the Department of Aerospace Studies, describes Harrington as "a consummate professional who has proven that there is no task too big nor too small to contribute to the mission.
"It is impressive to observe her graciously balance working with such a diverse workforce — active duty military, academics, students; no matter the teammate or customer, she offers her utmost effort with great care."
As program coordinator, she directly oversees efforts to secure scholarships for students, consistently delivering an average of 100% of seniors, 88% of juniors, and 80% of sophomores on full tuition, fees, and book scholarships that total more than $1.3 million per academic year.
"Students absolutely depend on Ms. Harrington," says student/cadet Ian Despars, who describes Harrington as an "absolutely amazing mentor" and a binding force for Detachment 910. "[Her] personal touch is what makes our interactions at the UW feel more personal and less institutional. It serves to remind us that we can treat people as human beings and still have high standards and discipline."
---
Extending hope amid heartbreak
Darrell Owens, clinical assistant professor, section head for Supportive and Palliative Care
UW Medicine Northwest Hospital Campus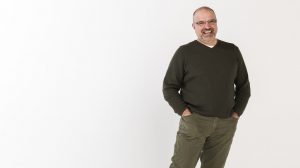 When the phone rings in the middle of the night, Darrell Owens always picks up. As a practice of one with Palliative Care Services at Northwest Hospital since 2017, Dr. Owens leaves instructions that he is to be called at all hours in case of a patient's passing. After receiving the call, Owens gets on the line with the patient's family.
"He believes losing sleep does not compare to losing a loved one [and] that this emotional news should come from someone they know, rather than a stranger," says Laura Quinnan, clinical assistant professor of medicine and chief of medicine at Northwest Hospital.
It's just one of the many personalized touches Owens brings to his practice at Northwest Hospital. As the founder of the Palliative Care Services at both Harborview and Northwest Hospital, Dr. Owens has been providing palliative care to seriously ill patients and their families within the UW Medicine Health System for more than 15 years.
When financial challenges on the Northwest Hospital campus reduced the Palliative Care Service by 95% in 2017, Owens opted to create a plan that would allow him to continue providing primary and palliative care for some 30 frail and elderly patients at the Seattle Cancer Care Alliance on Northwest Hospital campus.
Owens makes house calls part of his everyday practice and is not beyond sitting hours bedside or driving a prescription to a patient's local pharmacy to be filled, says Quinnan. In traveling to China and Vietnam, the country of his husband's birth, Owens has educated extensively on palliative care and once even connected with the Vietnamese family of an elderly man he was caring for in Seattle, sharing a meal and talking with them about their father, who would die before the remainder of his family could secure visas to visit him.
After Kim Harmon's mother passed away, she was concerned about her father's level of care as he dealt with dementia. She encountered Owens at a basketball game. While mindful of "the burden of people asking for medical advice when you are trying to live life" as a medical provider with UW Sports Medicine, she asked his advice anyway.
"We talked for 20 minutes [and] I gained more insight in that conversation than I had in the previous 6 months," Harmon says. "I went home from that game relieved and with renewed hope."
Soon after, Owens agreed to help care for Harmon's father, eventually helping her find him an assisted living center and continuing to visit and take care of him there, even
"As my Dad became incapacitated, he helped our family come to grips with his suffering and held our hand through the process of his death," Harmon says. "Every family deserves to have the sort of care and support provided for us by Darrell and his excellence should be recognized and celebrated. He is a shining example of compassionate and quality care provided by UW Medicine."
---
Delivering a difference
Douglas Stevens, program support supervisor
Mailing Services, Creative Communications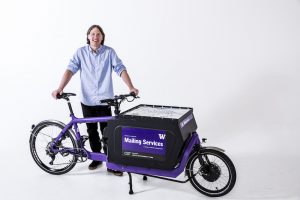 Sometimes a bike is more than just a bike. For Douglas Stevens, it was the beginning of a movement.
Stevens leads the UW's first-of-its-kind Electric Assisted Bicycle Program, which he helped create to transform the way UW Mailing Services operates.
"The program sparked a complete revamp of the campus mail delivery system," says Steven Roberts, manager of UW Creative Communications – Mailing Services, who credits Stevens with leading the streamlining effort to supplant noisy, bulky, CO2-producing delivery vehicles with less harmful and disruptive e-bikes.
After introducing two standard bicycles to delivery routes in 2013 and expanding to four standard bikes in 2014, Stevens submitted a grant proposal to the student-run Campus Sustainability Fund and was awarded funds to expand the fleet with custom e-bikes and the appropriate accessories and gear.
Since e-bikes replaced trucks full-time in January 2018, the five-bike fleet has covered some 11,000 miles, averaging over 50 miles of use each day over a range that stretches from Sand Point to South Lake Union and, on some days, across Lake Washington. In addition to eliminating costly trucks saving the department $10,000 for each vehicle removed from use, the program "further cements the UW as an international leader in sustainability, CO2 reduction, fuel reduction and waste reduction," according to Roberts.
"This is simply an amazing example of a UW employee putting together a plan, gathering support, working with others to collaborate and create something amazing for the University of Washington," he says. "This program led by Doug Stevens is something the entire university community can be very proud of."
Kellen Kinney, a student intern with Creative Communications who met and worked alongside Stevens as student project lead for the E-assist Bike Program, says Stevens "truly cares about making a difference in the community and leaving everything he touches better than how he found it. He is a prime example of, 'what you care about can change the world.'"
---
Rebuilding excellence 
Digital Strategies Team, Evans School of Public Policy & Governance
Molly Jay, chief digital officer
John Compton, director of Digital Strategies
Ian Gonzales, assistant director of Digital Strategies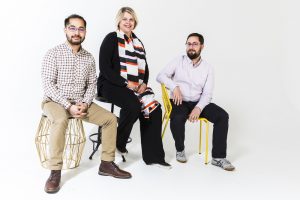 How do you rebuild a "Hallway" from the inside out? Just ask the Digital Strategies Team at the Evans School of Public Policy & Governance.
Originally known as "The Electronic Hallway," the platform was built in the mid-1990s as an online repository for case studies and other teaching tools to support instructors of public policy, management, administration, and nonprofit-related subjects at colleges and universities nationwide.
"For many years, it was the 'thing' the Evans School was known for before we emerged as a top ten school," says Evans School Dean Sandra Archibald. "The Hallway has long been a service the Evans School has provided to the field, but in recent years became in dire need of a massive update and upgrade."
The decision was to either drop the platform or improve it. Enter Molly Jay, John Compton, and Ian Gonzales, who, as chief digital officer, director of Digital Strategies, assistant director of Digital Strategies, respectively, were tasked with its "complete overhaul."
"Molly gathered her small team and asked if they wanted to scale a mountain with her," Dean Archibald relates in her letter of nomination. "And with that, they enthusiastically got to work."
Associate professor Steve Page says their process "was an exemplar of user-driven 'design thinking'"—a product of gathering input, researching options, prototyping innovations, and refinement of existing features.
Together, they re-envisioned the platform, recognizing an opportunity to create an "attractive and accessible experience for learners and instructors" with an interface that could be used on any device. After a 10-month in-house redesign process, The Hallway was relaunched in October 2018—the new platform now equipped with interactive case studies, robust search functionality, and a streamlined user experience that cuts out the need to juggle multiple PDF documents and allows instructors more control over how material was seen and accessed.
"Only one other website (that of Harvard's Kennedy School) currently offers teaching resources with comparable features to instructors of public policy and management," says Page. "But the Hallway's interface is substantially simpler, more versatile, more streamlined, and easier to maintain."
Page says the overhauled redesign ensures the Evans School will remain at the forefront of schools of public policy and management across the world.
"Molly, John, and Ian have done the Evans School a tremendous–and lasting–service by taking on and completing this project with such above-and-beyond dedication," Dean Archibald says, in conclusion to her letter of nomination. "They brought the Evans School back into a leadership position among our peers once again by supporting the educational experience of the next generation of public leaders across the country, and beyond."