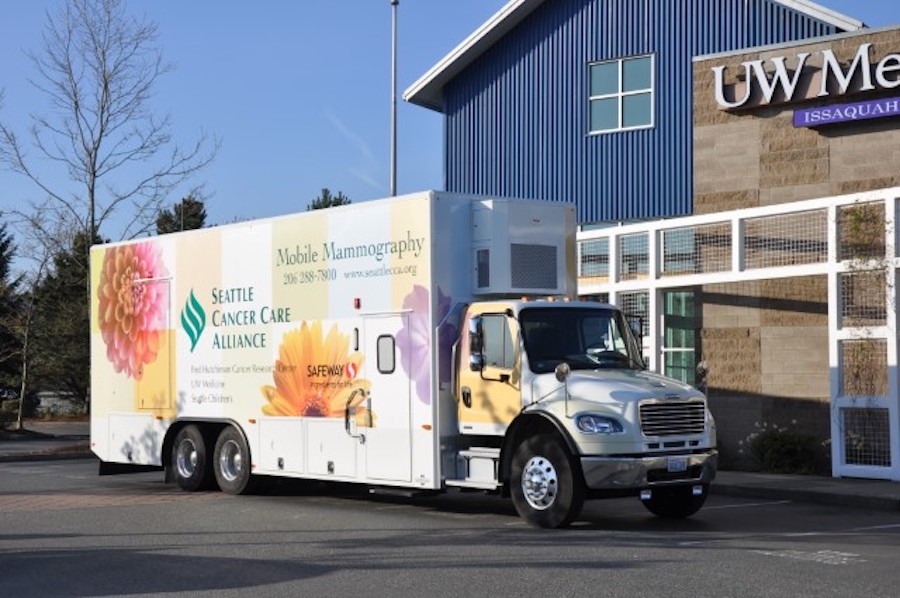 Seattle Cancer Care's Mammogram Van at UW
Seattle Cancer Care's Mammogram Van at UW
Employees with a Uniform Medical insurance plan can take the hassle out of preventive mammogram screenings with the Seattle Cancer Care Alliance (SCCA) and their mobile mammography service that rolls up to Harborview Medical Center several times a year. (For other locations in the greater Seattle area, see the SCCA's mobile mammography service.) The Mammogram Van makes it easy for you to get screened and get back to your day.
Please note that Kaiser WA members are required to receive all mammography services from a Kaiser Permanente facility. Claims submitted from a non-Kaiser Permanente facility will not be reimbursed.
Locations
Find the location and times of the van's Harborview stops below. Once you double check your plan's coverage, you can call SCCA at 206-606-7800 to schedule your 15-minute appointment.
Every Thursday at Harborview Medical Center
West side of the hospital between the garage and main entrance.
Hospital map, directions, parking, and shuttle service
For other locations in the greater Seattle area, see the SCCA's mobile mammography service.
Mammogram Van FAQS
Who is this service for?
This service is for female UW faculty, staff, and librarians who are age 40 and above and are covered by Uniform Medical Plan (Applies to Classic, UMP CDHP, and UMP Plus).
Is an appointment necessary?
While no appointment is necessary, making an appointment assures that you will receive a mammogram at your scheduled time. To schedule an appointment, please call 206-606-7800 between 8:30 a.m. and 5:00 p.m.
Walk-in appointments are accepted whenever possible. If you see the van in service, please knock on the door to inquire about the next open appointment.
What should I bring to my appointment?
Please bring the name and address of your primary care physician, your UMP medical insurance card, and a picture ID. Please do not wear any deodorant, lotions or creams the day of your appointment.
What happens after my appointment?
After your appointment, UMP will be billed directly. The results of your exam will be mailed to you and your physician within 7-10 business days.
How should I prepare for a mammogram?
The National Women's Health Information Center offers these guidelines for what to do before a mammogram:
When scheduling the appointment, plan to go about one week after your period. Your breasts will be less sore at this time
If you have breast implants, make sure you tell the facility about them when you schedule your appointment
The day of your mammogram, wear a separate shirt and skirt, shorts, or pants, not a dress. It will be easier to just remove your top during the mammogram
To avoid shadows on your result, don't use any lotions, powders, deodorant, or perfumes on the day of your mammogram