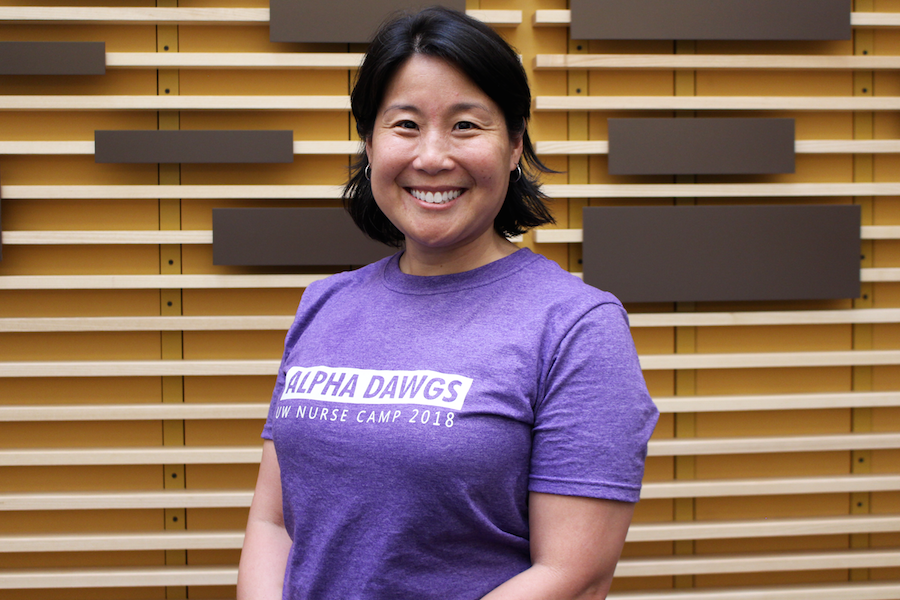 Staff Story: Carolyn Chow
On Friday afternoon, 36 high school students and their families will gather at Intellectual House for a graduation ceremony celebrating their completion of UW Nurse Camp—a program that lasts only five days, but which will likely alter the course of many their lives.
Co-founded* in 2009 by Carolyn Chow, director of admissions and student diversity at the UW School of Nursing, the free-for-campers camp aims to open the possibilities of a career in nursing to rising sophomore and junior high school students who come from under-served and under-represented backgrounds.
The concept grew from Chow's desire to help more first-generation college-going students find a foothold in the nursing profession and, in the process, bring a greater sense of equity to both healthcare education and healthcare as a whole.
"Because there are so few spaces in the Nursing program, diverse applicants were missing the cutoff in the admissions process and we were trying to figure out why that was," Chow says, recounting how, a decade ago, she would see otherwise "incredible" candidates suffer in the application process because they were coming to UW underprepared for the rigorous prerequisite coursework necessary for success in the nursing program.
"We knew we had to find a way to fill that gap earlier with support and bolster the applicant experience, while at the same time providing our current nursing students a program where they could hone their leadership skills."
Over the past decade, UW Nurse Camp has grown from a program with five nursing student leaders mentoring 24 high school campers to one where 20+ nursing students support 34 campers. 98 percent of camp alumni have gone on to attend college.
The program's success can be attributed to its dualistic nature: where some might see it as an educational camp for high school students, they'd miss the program's leadership-building potential for current nursing students.
When former campers gain admission to UW School of Nursing, they return as camp leaders, gaining valued experience and connections that help them land jobs after they graduate.
"It's about sustainability and having a longitudinal approach," Chow says. "The reality is, it's a community-building program that's about making sure we're putting out the best nurses possible and by doing that, we're guaranteeing there are diverse nurses who can address health issues in every community."
In addition to gaining their CPR certification, campers have the opportunity to shadow UW Medical Center nurses who donate their time and expertise to show campers how they take care of real patients and families. Campers also train in the School of Nursing's Simulation Center equipped with the same technology as patient rooms at UWMC.
On day four of camp, they participate in Speed Rounds, a networking event in which campers talk to professional nurses who work in a variety of healthcare settings, asking questions while also sharing and reflecting on their experience at camp to date before rotating to the next nurse every seven minutes.
"It's an opportunity for a camper to immediately gain a multitude of access points to scholarship, education, jobs, community, and all of the energy toward that is always in support of them," Chow says. "That way, when campers look at the next generation, they will offer the same kind of support and encouragement."
"A major milestone."
This year, six former campers graduated with a BSN from the UW—the most ever and a testament to the momentum Chow has managed to generate along with camp co-director Dina Dumas, Strategic Outreach Manager for Women and Children's Services at UWMC.
"They put their scrubs on and these are kids who might not have previously thought they could do that," Dumas says, alluding to the fact that each student is issued a set of purple scrubs to wear throughout the camp. "That makes it that much more real—they feel a career as a nurse is tangible, reachable, not too far away."
Chow underscores that building those intergenerational relationships is foundational not just for the future of UW School of Nursing, but also for the profession writ large.
"Once they're a camper, they're part of this family," she says. "This is the UW's opportunity to create a community that will always be supportive of the future of healthcare."
In addition to UW Nurse Camp, Chow has co-founded numerous student-led organizations, including the Western Washington Chapter of The National Association of Hispanic Nurses (WW-NAHN) and SoN Diversity Awareness Group (DAwGs). Both were born from what Chow's colleague, RN Eleanor Marsh, calls a "profound respect for students' visions for a diverse and inclusive UW."
But among those achievements, UW Nurse Camp stands apart.
"This is one of the most proud accomplishments of my entire life—for real—just knowing myself and the people I've been working with over the past ten years have been able to seriously support students of color, people who are first in their family to go to college, people who are the first in their family to graduate high school, people who didn't have the advantages I even had," Chow says.
"The tenth anniversary of it is so exciting to me because I feel like it's a major milestone."
A legacy of equitable education.
It's a milestone Chow could never have envisioned herself reaching when she arrived at the UW to study Speech Communication as a graduate student 24 years ago. "I got here and was thinking, 'I'm going to be a researcher.'"
At her core, she wanted to do graduate research on multicultural communication and—after coming out as gay—on communication and the social construction of identity. The only student of color in her cohort, Chow realized she could make a more profound impact in higher education with a new plan.
"There had to be a different way to think about education and what we're doing institutionally to perpetuate the exclusion and oppression of diverse populations in higher education," she says she remembers thinking. Chow determined the best way to promote equity and inclusion in education was through student services: "The admissions process is the gateway."
After receiving her master's, she worked for a year in the Department of Genome Sciences before landing a job at UW School of Nursing. This year marks her twentieth at the SoN and her tenth facilitating UW Nurse Camp, but it will also be her last. Later this year, she'll move to Ithaca with her wife to support her as she battles follicular lymphoma.
"We want to be closer to family and that's a commitment I learned through nursing: you have to prioritize your family and health," Chow says. "It's heartbreaking for me to leave because I am a Husky; I feel like I've been given so many opportunities to make a positive impact at the School of Nursing and that this is truly a family."
So what of UW Nurse Camp and the legacy she will leave behind?
"Nurse Camp is about exploring what diversity and equity really means and how that translates to the people who are actually affected by it: our patients and the community," Chow says. "The community has been so great in supporting it and our students know that it's a great program to be involved in. We want to make sure patient experiences are the best they possibly can be from the best providers possible."
"I feel like I can leave now knowing that this will be sustainable."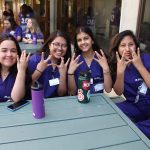 *Lauren Cline, formerly of UWMC, was the other co-founder, along with student founders Kimmy Chu, Steven Simpkins, Kelsey Rounds, Billierose Hair, and Hyacinth Barlow.
Sponsor UW Nurse Camp
UW Nurse Camp is run by the SoN Diversity Awareness Group (DAwGs), a registered student organization. They depend on contributions made by individuals, organizations, community groups and local restaurants. Fund a UW Nurse Camper: It takes about $250 per student for the entire week of UW Nurse Camp. This total includes a nutritious breakfast, lunch, snacks, and related supplies such as scrub tops, volunteer t-shirts, notebooks, pens, and bus tickets so campers can get to and from campus during the week.
Through the generosity of contributors, we are able to keep this camp free of charge for participants. Please consider making a donation: a little goes a long way!
$250 sponsors one camper for the entire week
$50 sponsors one camper for one day of the five-day camp
All UW Nurse Camp donations are tax-deductible.