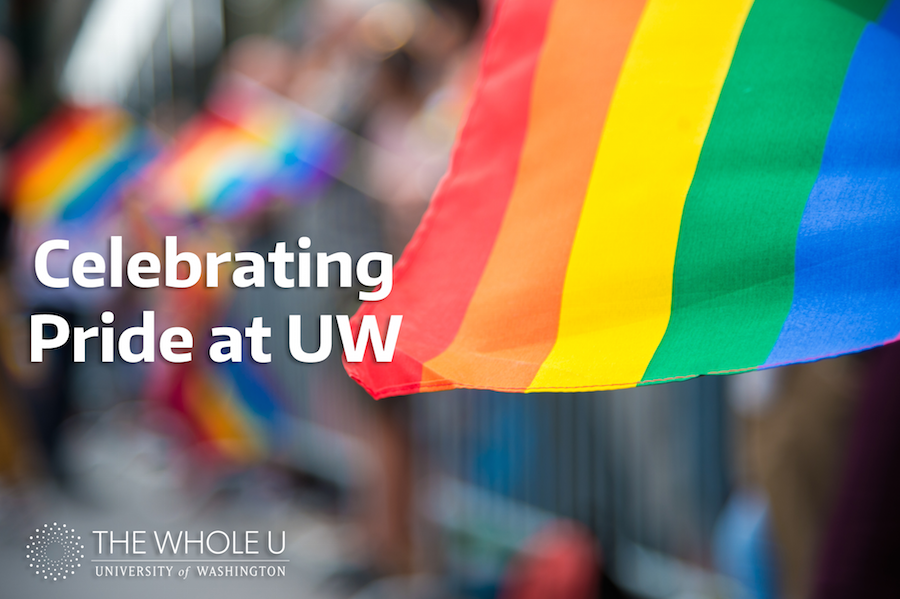 Here at the University of Washington, we are committed to ensuring equality for all of our faculty, staff, and students on campus and for all people who visit our medical centers regardless of sexual and gender orientation. In fact, UW consistently ranks in the top 25 list of LGBTQ-Friendly Colleges and Universities by the nonprofit organization Campus Pride.
June is nationally recognized as Pride Month, a month dedicated to honoring the 1969 Stonewall Riots in Manhattan, celebrating LGBTQ communities, and raising awareness for LGBTQ equality. This year is Seattle's 44th annual Pride Parade, and UW is representing! Check out the following opportunities to celebrate Pride with UW and learn more about the resources available on campus!
---
The Q Center is a professionally-supported resource, advocacy, and mentoring center for queer students and concerns at the University of Washington. The center provides consulting for UW's departments, coordinates programs, social organizations, and educational initiatives. They facilitate and enhance a brave, affirming, celebratory environment for students, faculty, staff, and alumni of all sexual and gender orientations, identities, and expressions. Learn more about what the Q Center has to offer and their initiatives here.
---
UW Q Faculty, Staff & Allies Affinity Group
The QFSA is the University of Washington's association to foster a campus climate where all Q faculty, staff and allies are valued and respected, regardless of sexual orientation or gender identity. Their mission is to ensure the inclusion and success of Q faculty, staff and allies through recruitment, retention and training opportunities. Learn more about GFSA events, initiatives, and resources available here.
---
Pride Night at the Seattle Mariners! — June 16
On Saturday, June 16, join the Seattle Mariners and Greater Seattle Business Association for Pride Night at Safeco Field. With your ticket purchase you will receive a wearable Mariners Pride flag and have access to the pregame event with light appetizers and a cash bar. $5 from every ticket sold through the Pride pricing offer will benefit GSBA Scholarship funds! The deadline to purchase is Friday, June 15 at 5:00 p.m.
To learn more about ticket pricing and event details, visit the Pride night page.
---
UW Medicine Flag Raising — June 18
All four UW Medicine hospitals have been recognized as Leaders in Healthcare Equality, a unique designation that acknowledges healthcare institutions doing the best work in providing equal care for lesbian, gay, bisexual, transgender and Queer Americans and fostering a work environment that treats everyone equally. During Pride Week, June 18 through 24, all UW Medicine hospital and UW Seattle campus will be flying rainbow Pride flags to show support for the LGBTQ communities they serve and to increase community awareness of UW Medicine's commitment and competency in addressing LGBTQ healthcare issues, access, and care. Join one of these locations flag raising on Monday, June 18!
Harborview Medical Center: 10:00 a.m., Harborview Park
Northwest Hospital & Medical Center: 10:00 a.m., Outside the Emergency Room by the campus bus stop
UW Medical Center: 9:30 a.m., Flag pole at front entrance turnaround
Valley Medical Center: 10:00 a.m., 3rd floor, main hospital building, by the fish tank next to the Infusion Center
---
UW Seattle Campus Flag Raising — June 18
For the second year in UW history, the Pride flag will be raised on the UW Seattle campus during Pride Week.  Join the UW Q Center and the UW Q Faculty, Staff & Allies Affinity Group for this special raising ceremony on Monday, June 18, at 10:00 a.m. on Seattle campus at the flag pole located at the Memorial Way turnaround, near Kane Hall. Come show support and wear purple! UW Pride stickers will be handed out to those in attendance!
---
Seattle Trans* Pride Parade at Capitol Hill — June 22
Get your parade marching skills down by joining UW and UW Medicine in marching in the Seattle Trans* Pride Parade on Friday, June 22. The group will meet at 5:00 p.m. at the north end of Seattle Central College, near the ballot drop box. They will then walk over to Cal Anderson Park to assemble and begin marching at 6:00 p.m. Following the parade, UW will have a booth in the south side of the park, toward Bobby Morris Playfield. To sign up and stay current with the event, check out and RSVP to the Facebook event page.
---
Celebrate Pride with the Seattle Storm! — June 22
Join Seattle Storm, Seattle' WNBA team, to celebrate Pride as they take on the Indiana Fever on Friday, June 22 at 7:00 p.m. In honor of Pride all tickets are $15 off their usual price! Seattle Storm is currently ranked number 4 in the WNBA, so grab your friends and family and let's represent the Huskies and Seattle!
---
Attend Seattle's Pride Parade — June 24
Attend the 44th annual Seattle Pride Parade, held at 11:00 a.m. on Sunday June 24 along 4th Avenue in Downtown Seattle. The Parade kicks off at 4th and Union and will last about 2.5 hours, ending at Second Avenue and Denny Way near Seattle Center. Can't make it downtown? KIRO 7 News will be bringing the parade to your home with a live stream of the entire parade from 11:00 a.m. to 2:00 p.m. and an additional one-hour show airing from 11:30 p.m. to 12:30 a.m. that same evening.
---
March with the huskies in the Pride Parade! — June 24
Looking to get more involved? Join us in MARCHING in the parade and handing out thousands of Husky Pride stickers! All University of Washington students, faculty, staff, and alumni, from all campuses, are invited to come march with their fellow Huskies in the 44th annual Seattle Pride Parade. LGBTQ or ally, all are welcome! Dress up in your best Husky gear, pride apparel, rainbows, and purple, and just have fun with us as we process in the parade for 1.75 miles. To sign up and learn more information, view this promotional flyer and check out the event Facebook page.
---
Pride with UW is organized by the UW Q Faculty, Staff and Allies Affinity Group (QFSA), the Q Center, The Office of Minority Affairs and Diversity, and staff at UW Medicine. For any questions please contact UW's Pride Coordinator Wanjiku Gitahi at wanjiku@uw.edu or GFSA Leaders at QFSALeaders@uw.edu.
For more information on all that Seattle Pride has planned this month, check out the Pride Guide—your comprehensive guide to Pride in Seattle. Additionally, the Seattle Pride website provides all details for each Pride Month event and activity, as well as the opportunity to volunteer with Seattle Pride all month long!