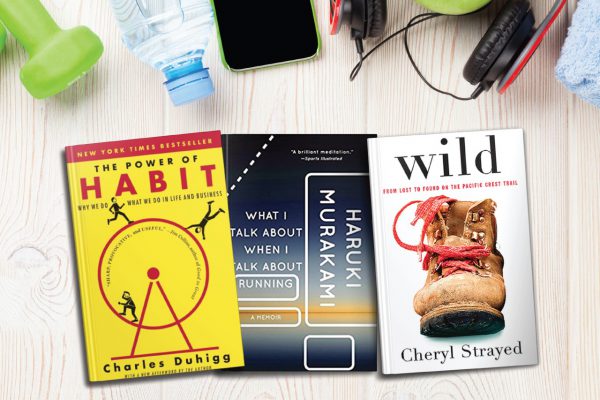 Books We're Running After in 2018
In honor of The Whole U's "Dare to Move" month, we're kicking off this year's Dare to Do challenge with seven enjoyable, informative, and inspiring books that will motivate you to get up and get moving—whichever way suits you.
---
Jump into the mindset of a champion with Ronda Rousey's autobiography. Rousey took the world by storm when she became the UFC Women's Bantamweight Champion, but the match many watched on television was just one of the battles she was fighting.
Find out about the life of an Olympic medalist: from the loss of her father and the guidance of her tough-as-nails mother (the first American to win the World Judo Championship), to high-pressure competitions and painful training sessions. Rousey shares hard-fought, hard-won lessons on how to be the best at what you do, including how to find fulfillment in sacrifice, how to turn limitations into opportunities, and how to be the best on your worst day.
My Fight / Your Fight is raw, real, and packs a motivational punch that will encourage you to find the strength to succeed in whatever you set your mind to.
---
By now, you've likely heard of Haruki Murakami's acclaimed novels (Kafka on the Shore, 1Q84, The Wind-Up Bird Chronicle, Norwegian Wood), but you might not have known he is also an avid runner. Since he started running seriously at age 33, the beloved, best-selling author has gone on to participate in marathons, triathlons, and even a 62-mile ultramarathon.
What I Talk About When I Talk About Running is a memoir, training journal, and meditation on running, writing, and aging full of evocative memories and surprising insights (be on the lookout for the eureka moment when he decided to become a writer). It's an exquisite peek into the brain of the notoriously private literary luminary and the mentality of a runner.
With moments of humor, revelation, beauty, and truth, it's a thought-provoking read for any athlete, writer, or Murakami fan.
---
It's been a few years since Cheryl Strayed's Wild was published, but if you haven't read it yet, it remains as powerful as it was then. This compelling, true story follows a young woman's 1,100-mile hike on the Pacific Crest Trail to heal herself after the loss of her mother and the depression, divorce, and substance abuse that followed.
With the Pacific Crest Trail right in our Washington backyard and Strayed a resident of the PNW, we can't help but feel an extra connection to this classic tale of nature, discovery, and redemption. If you've ever been seized by the urge to spontaneously take off on a journey or just unplug and go into the woods, this is a book for you.
Get inspired to go on a hike, get in touch with yourself, and commune with nature.
---
One of the best things about living in the Pacific Northwest is the easy access to nature. Take advantage of the trails and natural beauty all around us with the Washington edition of The Creaky Knees Guide. Contrary to what you might expect, it's actually filled with plenty of moderately challenging hikes in addition to easier ones.
This helpful reference book rates each hike for difficulty and lists what passes are required, the best seasons for enjoying it, elevation gains, and if four-legged hiking companions are allowed. You can tell from the author's notes and details that Blair has personal experiences with each hike listed.
This a great book for beginning hikers and those looking to get back on the trail. Happy hiking!
---
Enjoy a great workout without going to the gym! Former Special Ops trainer Mark Lauren guides readers through simple, effective exercises that don't require special equipment in You Are Your Own Gym. We like his minimalist approach and anywhere/anytime fitness style.
Rather than using machines, Lauren emphasizes routines that utilize your bodyweight for resistance or can be performed with the aid of common household objects. The lack of equipment is not only economical, but also safer as it causes practitioners to develop balance and stability along the way. Lauren helps readers get their workout plans off the ground and into high gear with motivational techniques, nutritional advice, 125 exercises, and programs for every fitness level.
---
With the 2018 Winter Olympics just a month away, we can think of no better time to read Strong is the New Beautiful by skiing champion and Olympic gold medalist Lindsey Vonn.
Learn about Vonn's training regimen, personal and physical challenges, clean eating, and the philosophy she's used to become one of the top athletes in the world as she interweaves her secrets to wellness, fitness, and recovery with compelling stories of her life growing up, her love of skiing, the challenges she's faced, including injuries, illness, and depression. Practical advice, an empowering message, and workouts you can do at home make this accessible guide to health an enjoyable place to begin—or continue—a fitness journey. Skis not required.
---
"Studies have shown that if you can diagnose your habits, you can change them in whichever way you want."
That's Charles Duhigg, Pulitzer Prize-winning journalist and author of The Power of Habit, investigates the science behind why habits exist and how they can be altered. Everyone has a few bad habits. They might seem hard to break, alter or change, and that's often why many people find it difficult to do something about them. But science says changing habits for the positive is simpler than we might think.
This fascinating and well-researched title gives you the psychological tools to start that new, healthy routine—and make it stick. We expect to be using its techniques throughout The Whole U's 90-day Dare to Do challenge and the year to come.
---
Give your workouts—or work day—a boost with these titles from the University Book Store. Happy reading, Huskies!