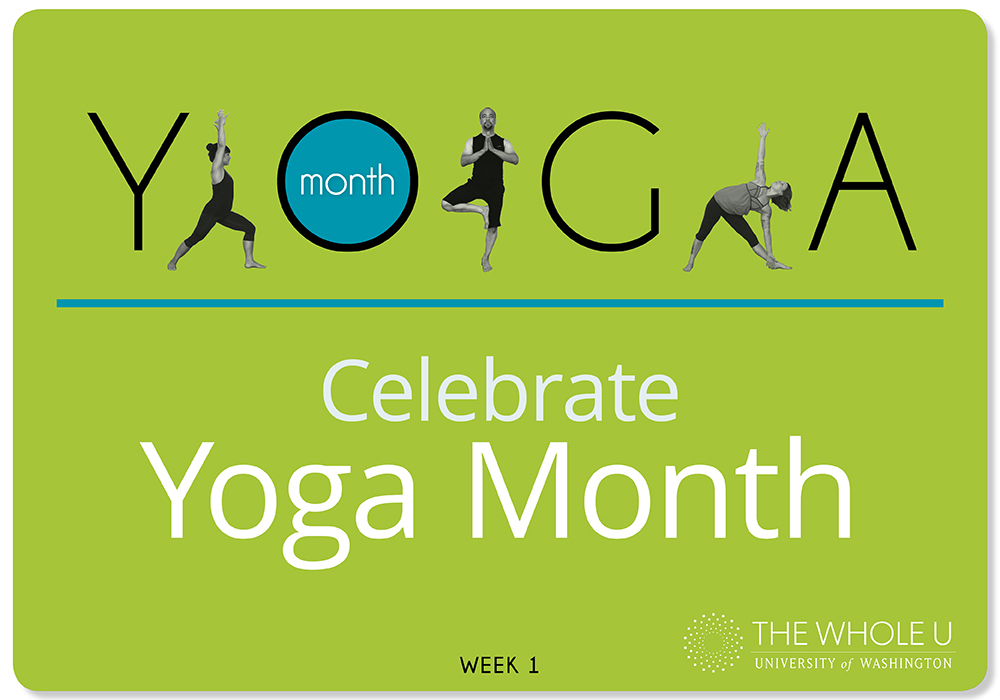 Week One – Let's Celebrate Yoga!
In 2008, the Department of Health and Human Services declared September National Yoga Month. The goal was to bring awareness to the amazing benefits of yoga, and that's our goal all month! Welcome to week one of our celebration. Sign up here if you haven't already!
I was inspired after last year's Yoga Month when over 700 UW faculty and staff committed to trying a pose each day. My exercise of choice has always been running and strength training. Holding a Downward Dog or Tree pose was so uncomfortable for me, I figured I wasn't a yogi and probably never would be. After 21 days of trying each pose and practicing the desk yoga videos, I truly was empowered. Now I do a sun salutation sequence when I wake up, taking a short break during the day to go into Triangle to Warrior to Tree, and in the evenings I do Pigeon, Child's Pose, and Shavasana to calm my mind before bed. Yoga hasn't changed my Type A personality, but it sure has calmed me and given me the ability to find a little more peace. I still have a ton to learn but it's been wonderful and I am so thrilled to celebrate another Yoga Month.
This year we have over 1,000 UW faculty and staff and their families celebrating with us. We have collaborated with our discount yoga partners as well as IMA yoga instructors for yoga videos and free classes. Yoga Month participants may participate in as many as they wish. Here is the schedule and registration information:
UW Bothell Yoga – Tuesday, September 15
UW Tacoma Yoga – Tuesday, September 15
UW Seattle Yoga – Thursday, September 17
District Yoga and Fitness Seattle – Tuesday, September 15 and Thursday, September 17
Leela Yoga  – Tuesday, September 22
Harborview Yoga – Wednesday, September 30
Forrest Yoga – Wednesday, September 30
Ongoing UW Yoga Resources Include:
Yoga at Harborview – Thursdays at 6:30 a.m.
Yoga in the Tower – Thursdays at noon
Be Social!
We want you to engage and inspire each other all month long. Throughout the month of September please email us or post on our Be Active Facebook page how you celebrate yoga. Take a selfie in a pose, snap a group pic doing the style you most enjoy, share inspirational yoga quotes, or even highlight your favorite yoga spot on campus. The Whole U will be awarding participants that choose to engage and inspire with Whole U yoga towels.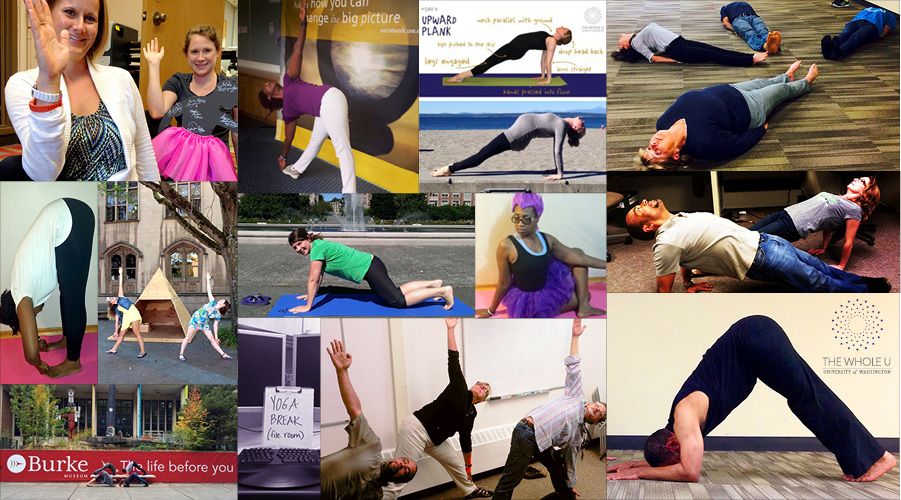 Win Prizes!
Yoga Month sponsor React Mobile is giving away four sidekicks, the world's smallest personal panic button. We'll announce one winner for each of the next four weeks…just one more reason to register now!  All Yoga Month participants can also receive 15% off from sponsor Juju Beet.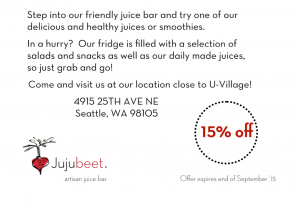 If you are like me and pretty new to yoga, read all of the benefits of a practice. You may change your mind and try it!