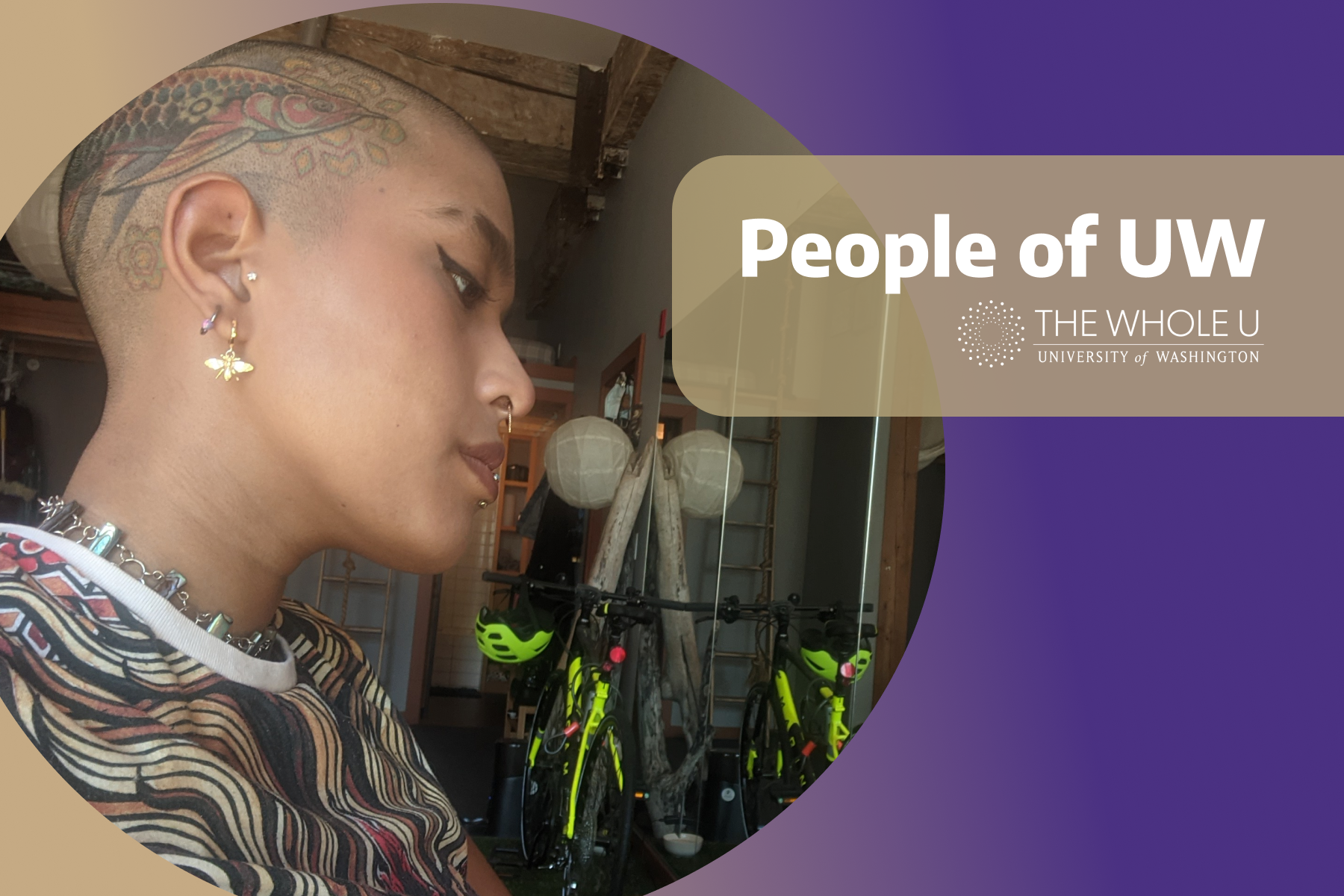 From student activist to intersectional labor organizer: Meet Yasmin Ahmed
Like many first-year college students, Yasmin Ahmed, who uses they/them pronouns, suffered from a bit of imposter syndrome when they arrived at UW in 2014.
Although Yasmin was born in Seattle, they hadn't been in the Pacific Northwest since they were a small child.
Their family lived first in Muscat, Oman—where they recall playing in canals, studying Arabic and caring for stray cats—and later in Chang Mai, Thailand, where instead of snow days they took what students colloquially dubbed "coup days" off from school, and which they consider home.
Unfamiliar with American youth culture and knowing almost no one on campus, Yasmin sought to make friends and meet like-minded people by joining their roommate at a Huskies for Food Justice meeting.
There, students were advocating for ecologically sustainable, locally sourced and humanely produced food to be served in student dining facilities.
Yasmin didn't know it yet, but not only had they had found like-minded people, they had found their calling and their career path.
Now the Assistant Director of Student and Community Engagement at the Harry Bridges Center for Labor Studies, Yasmin has mostly learned to cope with imposter syndrome, operating instead from an intersectional perspective that informs their work to bring visibility to labor issues through intentional partnerships with the UW community and labor organizations.
Organizing for change
As a student activist majoring in Public Health, Yasmin organized with and collaborated with several groups: from climate change to sweatshop labor to prison decolonization and abolition, they called on UW leadership to adopt more sustainable and equitable business and investment practices across campus.
The visibility of their work resulted in a "Husky 100" honor in 2017—recognizing students who demonstrate exceptional dedication to making a difference in diverse communities—as well as the School of Public Health's Outstanding Undergraduate Student of the Year award in 2018.
Yasmin's nascent passion for social justice as an undergraduate has solidified, during their years in Seattle, into committed advocacy for food sovereignty—with particular emphasis on corporate salmon farming and the effect of ocean privatization on coastal Indigenous peoples.
The focus on coastal ecology may be attributed, in part, to Yasmin's dad: a retired professor of marine and microbiology who taught in the School of Aquatic and Fisheries Sciences at UW for three decades, he instilled in Yasmin a deep respect for marine ecosystems and an understanding of the real-world implications of aquaculture research.
As a current UW graduate student in Geography (which is covered by the tuition exemption benefit for UW employees) Yasmin is working with faculty mentors Carrie Freshour and Megan Ybarra to focus their research on food systems, indigenous ecologies and food sovereignty in the Pacific Northwest.
They also hold a particular interest in aquaculture labor in Thailand, a topic that may well result in future dissertation research.
"My family has a deep connection to fishing and agriculture in Thailand," Yasmin said. At the same time, the fishing industry there is notorious, with organizations like Greenpeace mischaracterizing it as "modern day slavery."
Yasmin hopes to redress some of the misconceptions around Thai fishing practices, which they say have been sensationalized by Western media.
Collaborating with BIPOC-led food sovereignty network Uprooted and Rising, Yasmin works to uplift BIPOC knowledge of and connection to our food systems while protecting natural ecologies among coastal Indigenous communities.
Their own mixed identity—Yasmin's mother is Thai and father is Pakistani—informs their relationship to BIPOC food sovereignty movements in the Pacific Northwest and helps to build a broader sense of solidarity among the communities served and those working on their behalf.
In working with diverse communities with specific cultural attachments to food, "I don't want to take my identity for granted," Yasmin said. "It is important to me to be incredibly open to learning and to admit when I lack knowledge."
Creating connections
In a natural transition from student to professional, Yasmin joined the staff at the Harry Bridges Labor Studies Center in 2018, following an internship with the Washington State Labor Council AFL-CIO's Union Summer internship program.
"As someone who has been involved in public health," Yasmin wrote, "I feel the urge to look as far back as possible to see where all movements intersect and have found labor to be at the crux of them."
It was the first time in a while that the Center, which is housed in the Political Science Department at the Seattle campus, had sufficient resources to hire new staff. A diverse group of faculty, along with state legislators, worked tirelessly to get the necessary funding for two new three-quarter time positions.
The effort was worth it. Yasmin and their team have built up the labor studies minor—which comprises students from such diverse majors as sociology, political science, English, business, gender and sexuality studies, biology and geography—from an initial two students to more than 40, and counting.
With students and faculty in departments and schools across all three UW campuses, the Center offers an ever-growing list of student opportunities for experiential learning, including courses, internships, scholarships and research grants.
Indeed, Yasmin has been instrumental in developing a new and highly successful opportunity, the Building a Movement labor internship. Open to any interested student, the paid internship recently wrapped up its second session, hosting 11 interns.
From the program's inception, Yasmin has spearheaded efforts to move it from idea to reality, managing new partnerships with labor unions and organizations, coordinating curriculum development and marketing to prospective students.
Yasmin loves the work and the opportunity it provides students: hands-on experience in labor organizing that has the potential to effect real and lasting change.
"It's been a really incredible experience," they said. "What I especially like about the program is that the students have agency over their curriculum–they help structure it to create a learning experience that is meaningful for them."
Yasmin hopes to increase the number of interns, create satellite programs at the Bothell and Tacoma campuses and build out the breadth and depth of local labor organizations participating in the next iteration of the program this year.
"It's gratifying to see the impact the internship has had on students," Yasmin continued. "Many of them have stayed on with their organization after the internship ended, and others have deepened their relationship with their organizations through speaking engagements and volunteering."
Decolonizing identity
Identifying as BIPOC, queer, gender nonbinary and mixed race, Yasmin considers the work of decolonizing dominant paradigms that perpetuate oppression in all its forms as essential to their personal and professional development.
For one thing, they have a lot of tattoos—even by Seattle standards.
Their skull tattoo of an Asian arowana fish—a tropical freshwater fish native to Southeast Asia—was a conscious choice for Yasmin. The fish symbolizes their efforts to reclaim food sovereignty in marine spaces, as well as their Thai heritage.
The tattoo, which took 10 loud hours to complete at Capitol Hill's True Love, can be covered by growing their hair longer. But why would they do that? Yasmin maintains a shaved head, intentionally choosing to live as their authentic self, even if it means challenging workplace stereotypes of what constitutes professionalism.
"It's been an interesting reflective process to work on understanding that I am the professionalism I bring to the workplace," they said. "Not my external appearance, my skin, or how I dress."
"Visible tattoos may have the effect of making me stand out more, but I blend in better because I actually feel at ease in my body," they continued.
Already a mixed-media artist, Yasmin is self-teaching tattoo art in their spare time.
An occasional platform gamer, they look forward to starting the game Stray, set in a post-apocalyptic world and played as a stray cat. The format of the game was appealing to Yasmin in no small part because of their early experience caring for Muscat's hordes of stray cats.
Their own cats, Vega and Nova, are a source of joy and comfort.
In addition to cat parenting, Yasmin enjoys the opportunity to recharge and get out of the city—they live on Capitol Hill—on short local trips. They recently took a trip to Bellingham's Teddy Bear Cove to see the marine bioluminescence, the emission of light from deep sea fish, that peaks this time of year.
Asked whether they plan to stay in the area, Yasmin was clear: although there exists a strong solidarity between UW students and workers in the area, there is nonetheless much work to be done building relationships among the UW community and local labor organizations.
And occasional residual imposter syndrome notwithstanding, they intend to continue their active contributions to building those relationships.