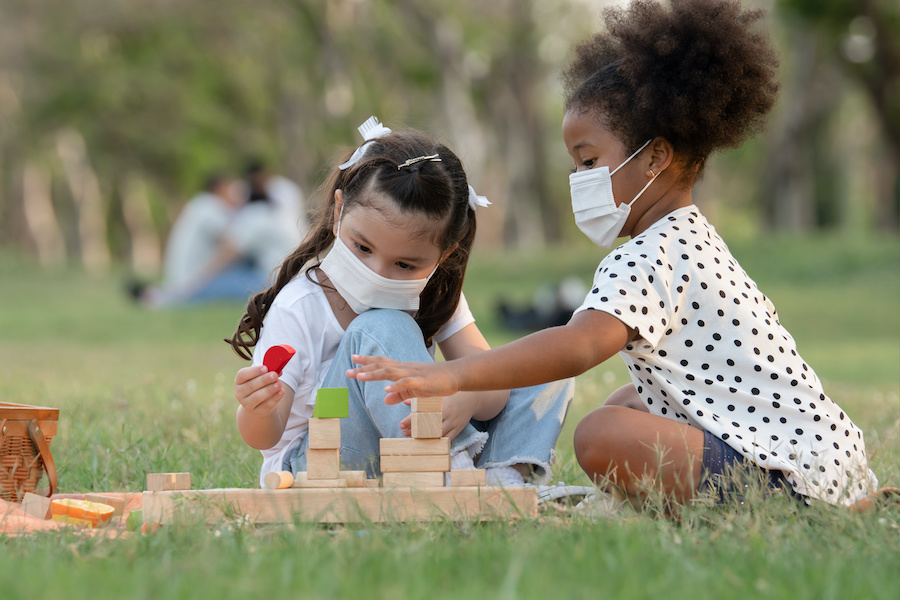 UW Resources To Help Your Family Plan for Summer
Is your family's summer calendar filled with question marks? If so, you are not alone. 
Many families have kept their options for 2021 open, whether by choice or by necessity. Some have found it hard to schedule summer camps and youth programs, which are in shorter supply than they were before the pandemic. Other parents want to schedule around family travels, including long-awaited reunions with far-away relatives, but are waiting to confirm plans until they know whether their child will be eligible for vaccination. Some things may be up in the air, but one thing is for sure – UW parents have access to support and resources to help them plan, or do a quick pivot, to make the most of another COVID-summer.
Are in-person camps and youth programs available?
Yes! Washington's Department of Health has provided guidance for day camps and youth programs that offer in-person opportunities and include special guidance for overnight camps. Many of these programs were open at lower capacity during summer 2020 and some operated during the school year, as well. The good news is that youth program leaders and staff now have significant experience with implementing safety protocols and adjusting quickly to changes in their county's Healthy Washington status.
The number of slots in camps and youth programs continues to be lower than before COVID-19, however, and some providers have decided to offer virtual programs only. Caroline Shelton, director of the Office of Youth Programs Development and Support, works closely with youth program providers at UW and in the community.
She strongly encourages parents to put your child on summer program waitlists. Providers will often open a new section if they see waitlist demand. Plus, some families' plans will change which may create an opportunity for your child(ren). Shelton also encourages parents to ask about refund policies and partial-pay options so you know in advance if you'll be expected to pay if your child is excluded because of COVID-like symptoms or if your family's plans change.
Need help finding summer program options?  Parent Map magazine hosts a searchable database of summer camps and classes in the Puget Sound area.
Do you need more flexible summer care options?
Can't find full-day care, every day? These resources available to benefits-eligible UW employees and UW students may help you fill gaps in your family's plan.
Right at School offers summer camps in elementary and middle schools located in twelve school districts near all three UW campuses. (Seattle Public Schools and Tacoma Public Schools do not currently participate in Right at School.) Through Bright Horizons, UW employees and students can now access a 20% discount for "Right at School." 
SitterCity can help your family find sitters for routine and occasional care. UW employees and students receive a free membership – plus free unlimited, basic background checks. For tips on safety, click here.
Backup child care is available for school-aged children, in-home, in-center and at participating day camps. Reserve care up to thirty-days in advance through Bright Horizons (provides in-home, in child care centers and in day camps) or through KinderCare (provides in-center, including backup care for kids in K-6 grades at select locations).
Steve and Kate's camps provide a flexible model where parents can purchase day passes individually and in-bulk and receive refunds for unused passes at the end of the summer. Through Bright Horizons, UW employees receive $10 off per day when they reserve one or more weeks of camp and $300 off summer enrollment. Passes may be used at participating camps around the nation.
If your child wants to keep learning this summer, register with Bright Horizons for tutoring, test-prep, and academic support providers, offering a variety of online and in-person options with exclusive discounts at a variety of price-points. 
Is there help paying for summer activities?
Paying for summer programs can create financial strain for many families. Be sure to ask whether programs you are interested in provide financial assistance or sibling discounts. If you participated in the Dependent Care Assistance Program (DCAP) in 2020 and did not use all of your funds, you can claim eligible expenses incurred through December 31, 2021 against your 2020 DCAP balance. If you have both a 2020 and a 2021 DCAP account, your 2020 DCAP funds will be prioritized for claims so that you are less likely to forfeit any unused balances.
Looking to save money on activities your entire family can enjoy?  You'll find deals for the following local businesses and more on the The Whole U Discounts website: Clipper Vacations; Bike Works; Beeline Tours; Vertical World and the Woodland Park Zoo.
Need more creative ideas?
UW's working and student parents have come together throughout COVID-19 to offer support and ideas to one another. If you have a suggestion for making the most of summer 2021, please share them in the comments. Here are a few examples to get you started, shared by parents in The Whole U's First 90 program:
Last but certainly not least, subscribe to the UW parenting listserv.
The parenting listserv was created by UWHR Work-Life to make it easier to communicate with UW employee and student parents. Work-Life uses parenting@uw.edu to share resources that can help employee and student parents do their best at work, school and home while supporting their own well-being. You'll receive invitations to events created for parents and caretakers at the University of Washington and important updates regarding childcare and parenting resources and services.