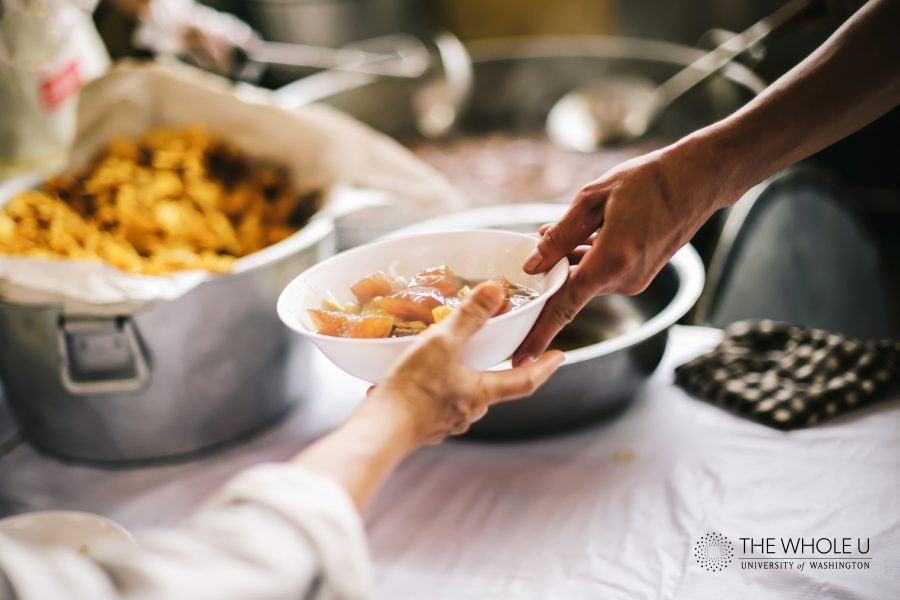 Increase the Bounty: Expanding Your Holiday Table
Folks who know me in real life know that I am feeder. I come from a family of feeders. It is one of our love languages. As I plan a small holiday dinner for my immediate family, I do so from a place of privilege. I have a roof over my head, a table to gather around and FOOD.
As many already know, this year's UW Combined Fund Drive featured charity is Northwest Harvest. Their mission is leading the fight for hungry people statewide to have access to nutritious food while respecting their dignity and promoting good health. Their vision is ending hunger in Washington.
Northwest Harvest is the only nonprofit food bank distributor operating statewide in Washington with a network of 375 food banks, meal programs and high-need schools.
Food is a critical part of many holidays and plays a central role in many of my fondest holiday memories. I can't imagine the holidays without lefse and green bean casserole. But, this year, hundreds of thousands of our neighbors in the state are experiencing food insecurity.
The number of people using food banks has doubled and one in four people in Washington is going hungry, according to a new report from Northwest Harvest. The state's hunger rate is much higher than originally forecast at the outset of the pandemic.
As you shop for your holiday fixings this year, consider adding a little extra food to your cart and donating to the food bank bin at the grocery store. Or, make a financial gift to your favorite food bank. There are opportunities to volunteer, to make and distribute food bags, and deliver food to folks who can't make it to the food bank – see below.
To honor my grandma, I plan on making a monetary gift to the senior center where she volunteered. She might not be able to serve food there this year, but I'll feel a little better knowing that meals will be served in her honor – my generational gift from one feeder to another.
You can make someone's holiday a little happier by making a payroll deduction gift to your favorite hunger relief program here.
Local Volunteer Opportunities
Consider giving your time to one of these UWCFD member organizations providing food and senior support in our region:
Sound Generations, which serves older and disabled adults in Puget Sound, has a variety of immediate opportunities available, including volunteer transportation driver, Meals on Wheels, community dining and senior center support.
Phinney Neighborhood Center offers opportunities to be a hot meal program assistant, host a hot meal drive, and adopt a senior to support, among others. PNA is located in the Phinney Ridge/Greenwood neighborhood.
Northshore Senior Center serves Bothell, Woodinville, Mill Creek, Kirkland, and Kenmore and seeks volunteers to run food drives, participate in the virtual "Kindness Crew" or work in-person in the food pantry or as kitchen helpers.
Ballard Food Bank needs volunteers to recover and sort food, stock shelves, and help clients shop. Additionally, they need people to provide home delivery routes to housing programs and The Tiny Villages, as well as to homebound seniors.
Food Lifeline has volunteer opportunities for individuals, school groups, and corporate groups age 14+ in their SoDo Warehouse. There are also opportunities to help shoppers at any of their many regional distribution centers; Spanish-speaking volunteers are particularly in need at their distribution sites.
Union Gospel Mission serves Seattle's homeless and has volunteer opportunities serving or delivering meals to their shelter, in addition to opportunities sorting donations of food, clothing and supplies.
---
The holiday season has a special way of reminding us that we are all connected. Share your fortunes this year with those in need of a warm meal and food to spread around the table.