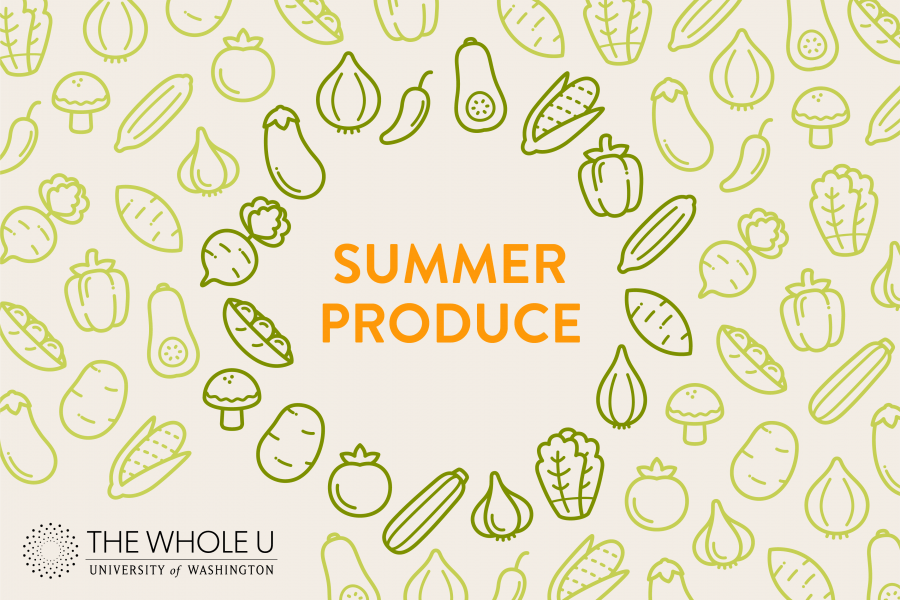 Whole U Guide to Summer Produce
Summer is a great time to learn how to cook with an abundance of seasonal fresh fruits and vegetables! Local farmers' markets and backyard gardens are bursting with gorgeous fruits and vegetables: sweet corn, juicy tomatoes, jewel-like berries, and many more.
Sustaining a healthy diet by increasing the amount of produce on your plate can help you lose weight and reduce the risk of cardiovascular disease or stroke. Eating a variety of colorful fruits and veggies–or "eating the rainbow"–can also help increase fiber in your diet, which helps with both weight management and blood sugar control, among other benefits.
Store your fruits and veggies in an easy-to-see place in the refrigerator or arrange them in a bowl on the counter. This way, you'll be more likely to reach for the good stuff when hunger strikes. In this guide, we will give you some tips for buying, storing, and preparing the best of the season. Plus, we have some summer-ready recipes for you to enjoy!
---
Peaches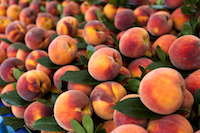 How to Choose:
A perfect peach should feel soft when gently pressed, but not squishy. Smell your fruit! It should give off a strong peach-y aroma when ready to eat.
How to Store and Use:
If unripe when purchased, store in a paper bag for a day or two. Refrigeration will prolong freshness but dull the fruit's flavors, so keep at room temperature and eat immediately. Or, keep in fridge to extend freshness but bring to room temperature before eating.
---
Cantaloupes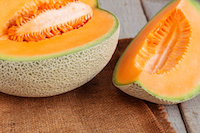 How to Choose:
When ripe, these melons should have a sweet fragrance and become slightly soft at the stem end. Tap with your knuckle – a dense, juicy fruit will make a deep sound.
How to Store and Use:
If you will eat it within a day or so, leave it out on the counter. Otherwise, refrigerate for up to 5 days. Be sure to rinse the outside skin prior to slicing.
---
Summer Squash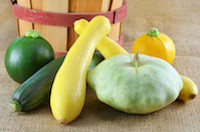 How to Choose:
The smaller, the better. Look for firm squashes with unblemished skins.
How to Store and Use:
Cook as soon as possible after buying, particularly the yellow squash, as they are more fragile than the zucchini. Store in a plastic bag in the fridge.
---
Green Beans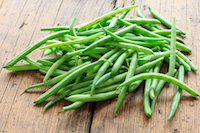 How to Choose:
Look for bright pods that are firm and plump but not bulging with beans. They should break cleanly when snapped.
How to Store and Use:
Store in a plastic or produce bag in the fridge for up to a week.  Green beans are great for speedy, savory dishes such as stir-fries or a quick-sautéed side dish.
---
Corn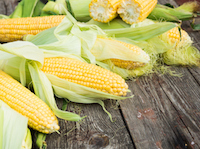 How to Choose:
Seek out bright green husks, glossy silks, and a moist stem end. Kernels should go all the way to the tip of the cob and be plump enough to feel through the husk.
How to Store and Use:
For the best flavor, eat at once. If you must store it, keep it in a plastic or produce bag in the refrigerator for a couple of days at most.
---
Tomatoes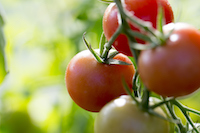 How to Choose:
Smell before buying! Tomatoes should be very fragrant. Ripe tomatoes come in many colors, but they should feel heavy and have shiny, unbruised skins.
How to Store and Use:
Do NOT refrigerate! Keep at room temperature; they become mealy and flavorless if chilled. When at the peak of the season, simple is best: dress with salt, extra virgin olive oil and herbs.
---
Blueberries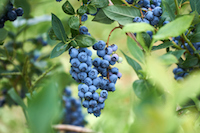 How to Choose:
Whenever possible, taste a few prior to purchase!
How to Store and Use:
Store in a dish lined with paper towels, cover with plastic, and refrigerate for a few days. Blueberries also freeze especially well; spread cleaned blueberries on a baking sheet and freeze 2 hours, then store in an airtight container for up to 6 months.
---
For a full list of vegetable growing seasons, click here. For a full list of fruit and herb growing seasons, click here.
In the Seattle area, there are weekly farmers' markets throughout the city and in many other nearby towns. There are also several co-ops in Seattle and produce marked as "local" in bigger grocery stores!
Another option is becoming a CSA (community sustained agriculture) member – this provides a direct connection between consumers and farmers. Members pay either a fee each time a box is delivered or pay up front during the growing season in exchange for a box filled with local and organic produce.
Peach, Heirloom Tomato and Burrata Salad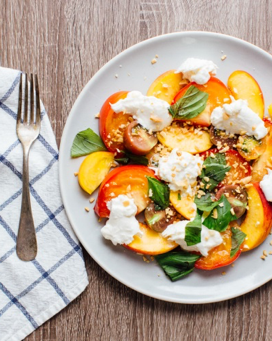 Ingredients:
2 ripe peaches
2 large ripe heirloom tomatoes, sliced
1/2 cup multicolored cherry tomatoes, halved
2 4-ounce balls burrata cheese
10 leaves basil, torn
2 tablespoons slivered almonds
Kosher or sea salt
Instructions:
Slice the peaches and tomatoes and arrange on plates. Sprinkle with kosher or sea salt. Tear the burrata cheese into pieces; arrange on top of the tomato slices and sprinkle with torn basil leaves. Sprinkle almond slivers on top.
Recipe adapted from A Couple Cooks; Pretty Simple Cooking.
---
Kristine Carlson is a registered dietitian and certified nutrition support clinician who works in the Surgical, Medical and Oncology Intensive Care Units at the University of Washington Medical Center. Outside of work she enjoys exploring the beautiful Pacific Northwest, hiking, yoga, cooking, swimming and spending time with her dogs Charlie and Zachary.