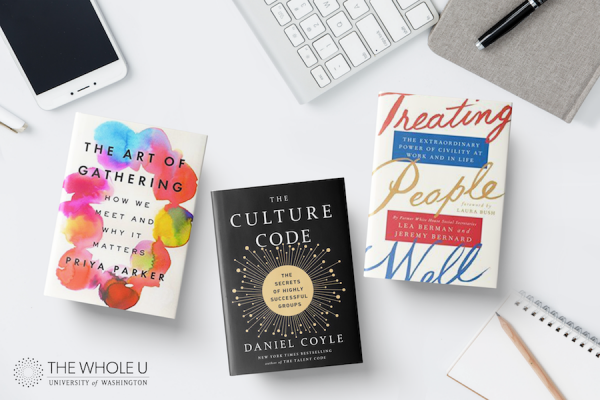 5 Books for Building a Better Work Life
Summer is the perfect time to reboot your work routine. Whether it's your own way of getting things done or your interactions with colleagues, learn how to reinvigorate your workday with these five selections from the University Book Store that will challenge you to rethink habits, collaborate better, and build a happier, more productive work culture. Start reading now and be primed for the Raise the Bar summer challenge for wellness in the workplace when it begins July 9.
---
The Art of Gathering
By Priya Parker
If you're not a fan of meetings, you're not alone. Too often they can feel inefficient, unproductive, and long. Priya Parker knows that's not how they have to be.
Not only is Parker trained in conflict resolution, she has also studied organizational design at M.I.T, public policy at the Harvard Kennedy School, and even founded a company that helps corporate execs, elected officials, and philanthropists hold fulfilling and effective gatherings.
Discover how a few simple, yet powerful changes can improve business meetings and conferences and transform celebrations and social get-togethers into something more enjoyable, meaningful, and impactful. You'll completely reevaluate your approach to hosting and participating in meetings after learning Parker's formulas, best practices, and planning tips.
---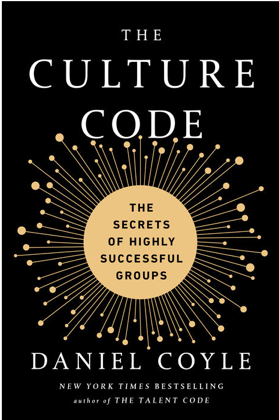 The Culture Code: The Secrets of Highly Successful Groups
By Daniel Coyle
How did the U.S. Navy's Seal Team Six get so good? How about the San Antonio Spurs, Pixar, shoe retailer Zappos, or a crew of jewel thieves? New York Times best-selling author Daniel Coyle digs into what makes the world's most effective organizations work in The Culture Code: The Secrets of Highly Successful Groups.
Using real-world examples, cutting-edge science, advice from industry leaders, and tips for practical application, Coyle offers insight into what it takes to create an environment of trust and collaboration.
Find out about three key skills that promote cohesion and cooperation, how to reform a negative work culture, and tips for making your workspace the kind of place where ideas can flourish, problems get solved, employees feel safe, and people are united by a common vision.
---
Pour Your Heart into It
By Howard Schultz
In Pour Your Heart into It, former Starbucks CEO Howard Schultz explains the guiding principles that allowed him to transform a small Seattle coffee retailer (with just five locations at the time he joined) into the biggest name in the business.
When it comes to local success stories, Starbucks is one of the first businesses that come to mind. Since its 1971 beginning as a café in Seattle's Pike Place Market, it has grown into over 1,000 stores around the world.
Hear first-hand the story of how Starbucks began with a passion for world-class coffee and was transformed into an international coffee powerhouse through core vision, values, and competitive drive.
Managers, marketers, and entrepreneurial dreamers can all learn something from this Washington-made Cinderella story.
---
Treating People Well: The Extraordinary Power of Civility at Work and in Life
By Lea Berman and Jeremy Bernard
Former White House Social Secretaries Lea Berman (who worked for George and Laura Bush) and Jeremy Bernard (who worked for Barack and Michelle Obama) teach readers about the power and importance of modern social skills in their entertaining and educational book Treating People Well: The Extraordinary Power of Civility at Work and in Life.
Etiquette is more than knowing which fork to use. Focusing on this often-underrated skill set, Berman and Bernard cover everything from how to make friends in a room full of strangers and deal with difficult coworkers to social media manners and the power of good posture. This book is filled with presidential anecdotes and humorous tidbits, in addition to practical advice. It's an enjoyable read that will help you work better with colleagues, establish a likeable, trustworthy reputation, and enjoy great professional and personal success.
---
Work Clean: The life-changing power of mise-en-place to organize your life, work, and mind
By Dan Charnas
There's more to be learned in a professional chef's kitchen than how to make the perfect cordon bleu. Work Clean takes us behind the line to learn about the French culinary system of mise-en-place ("putting in place") that allows cooks to produce high-quality work at breakneck speeds in the intense environment of a successful restaurant.
Drawing from interviews with world-class chefs and executives like Thomas Keller and Alfred Portale, award-winning culture and business writer Dan Charnas introduces readers to a remarkable organizational system that can add efficiency to any environment: kitchen, office, or home. Learn about the ten principles of mise-en-place and enjoy seeing an increase in efficiency and teamwork!
---
We can't wait to see the positive changes you make over the next several months!