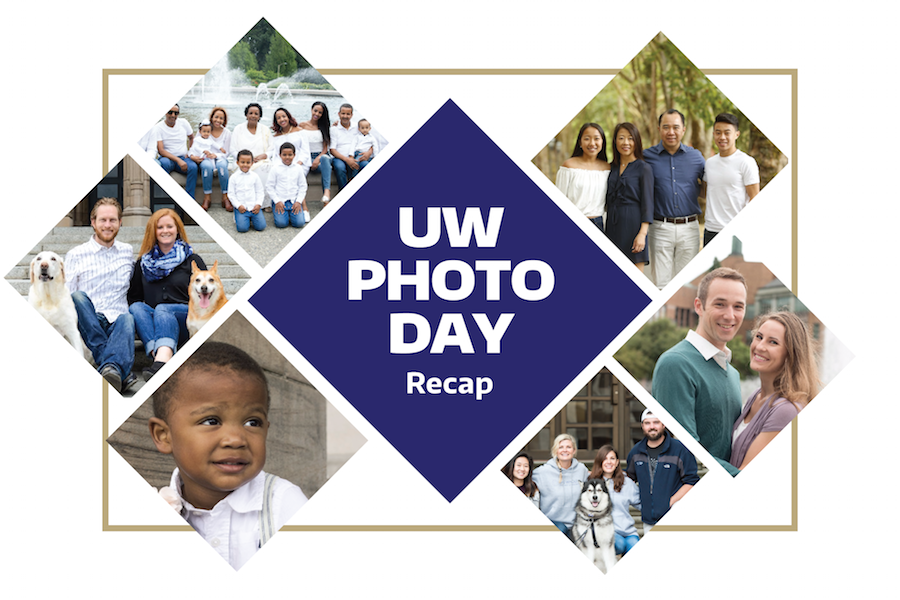 Snap Happy: UW Photo Day Recap
UW Photo Day Draws Record Crowds, Rave Reviews
Sunday, August 13, the skies cleared up just in time for The Whole U's fourth annual Photo Day. At eight campus locations from Suzzallo to the Quad, thirteen of Seattle's best local photographers dedicated their day to capturing the smiles of over 2000 UW faculty, staff, students, and their families for free!
The day got underway in the morning with a guest appearance from Dubs, our beloved mascot, who set the tone by turning up in his finest fur coat. As noon neared, the Seattle campus was practically buzzing with excitement for a Sunday in Summer; little ones laughed as their faces were getting painted and dogs wagged their tails as they trailed their owners from one photo station to the next.
We know you're excited to see your photos, but hang tight! Our photographers are hard at work on finishing up processing and retouching thousands of photos until they're just right. Keep an eye out, though, as we'll be sending you an email to view and download your high-resolution photos within the next few weeks.
The Whole U would like to extend a warm round of thanks to our talented photographers and all those who attended. After the event wrapped up, we asked participants what they thought of the day. Check out what they had to say:
---
"Thank you for putting on Photo Day. It was fun to see friends and coworkers all dressed up with their family making memories. It is one of my favorite events that you put on and all the hard work that goes into it is greatly appreciated. "


– Annie Alidina, Department of Medicine

"I thought this was a GREAT event! Everyone was so friendly and kind, including the photographers and assistants, as well as the participants. The UW is such a great community; this makes it such a great place to work!  Thank you!"

– Susan Ann Allain, School of Medicine: Surgery

"Thank you thank you thank you!!  My family has never had a chance to quite get ourselves organized for professional photos, and have hesitated to commit to paying for a session due to our daughter's young age and unpredictable nature. The face painting was also AMAZING!!! My daughter was in heaven over her 'rainbow tiger' face all day and we are looking forward to the additional professional photos of it we took afterwards, too."

– Jennifer Baugh, School of Medicine: Global Health

"All the volunteers we interacted with at the event were very helpful and friendly. The photographers we visited were great. We admired their stamina and cheerfulness in photographing such a large volume of people. Everyone attending seemed to be having fun and enjoying the family time that the event fostered."

– William Davis, Library and Acquisitions and Rapid Cataloguing Services

"Thank you sooo much for this annual event! I really appreciate it as a benefit to working at UW. It was really fun to bring my two little kids and show them where I work then have photos taken. My eldest loved the face painting!"

– Lauren Lederer, College of Arts and Sciences: Applied Mathematics/Grad Advising

"Our family loves UW Photo Day! We've come back every year for this. It's a great way for our family to explore the campus and take great family photos! Please continue to have this so we can keep this annual family tradition alive! 🙂 Thanks for throwing such a great event for staff, faculty & students!!!"

– Mely S. Wu-Buckmeier, School of Medicine and Office of the Deans
---
As families made their rounds on campus, photographers worked tirelessly to capture the day's most precious moments. Here's a sneak peek at some of their favorites:
---
If you work on the Bothell campus and missed Photo Day, you'll have another chance to nab some sweet snaps! On September 24 at 11 a.m. to 2 p.m., photographer Brian David Casey will be taking portraits in front of the W for the first annual UW Bothell FREE Photo Day. All faculty and staff are invited to this event to experience a beautiful and memorable day with your family, friends, and pets.
Register here to ensure that you and your guests secure a spot. More information and details about the event day and photo retrieval will be communicated via email upon registration.