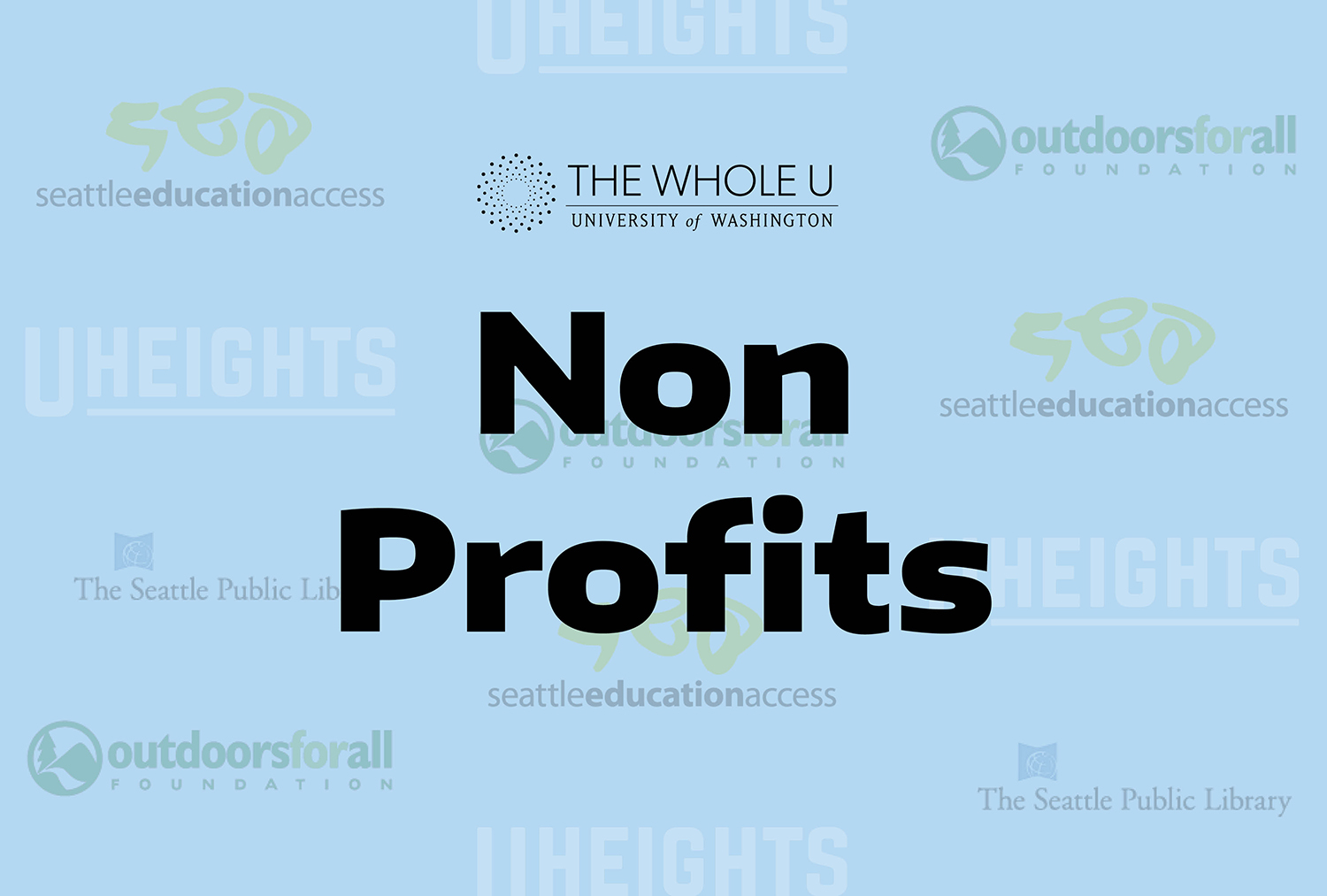 U-District Discoveries: Community and Education Nonprofits
With the annual UW Combined Fund drive, work makes it easy to donate to some of your favorite nonprofits, but what if you took your dedication one step further?
It might sound daunting at first, but donating your time could be an integral piece of a nonprofit's lifespan or ability to serve even more folks in their communities than they do already. Luckily, you won't have to travel far to get involved – there's a number of neighborhood nonprofits in our backyard, right here in the U-District.
When you think of going on a nature hike or white-water rafting, you might not realize how much your body can do. For people with disabilities, hiking and rafting might not always be available without some assistance. Outdoors for All specializes in providing that assistance.
Founded in 1979, Outdoors for all aims to give folks with disabilities the opportunities to enjoy some of the Pacific Northwest's best nature activities, from rock-climbing to kayaking and skiing. Though the organization originally specialized in winter sports, they've since expanded to include a range of activities for nature lovers during all seasons.
According to their website, Outdoors for All is currently accepting applicants for their winter volunteer opportunities. The first training was last week, but there are two more before their next 7-week program begins. If you can't quite commit to an entire series, feel free to sign up as a part-time volunteer and spend time with participants with a personalized schedule that works for you.
You might have heard somewhere that education is the great equalizer, but what if someone couldn't access their education? The folks over at Seattle Education Access (SEA) – as you might have guessed – are there to grant it.  
"Seattle Education Access is the only nonprofit in Washington helping students whose education has been derailed and have not been able to complete their GED or high school credentials get into post-secondary education," Ryan Bolding, SEA's community access coordinator wrote in an email. "We focus on helping students complete their GED or high school credentials and then continue on to a post-secondary education."
Primarily driven by student need, SEA serves over 700 students a year achieve their goals for academic and professional success. Navigating higher education's complicated systems is tough, so by using their mentorship program and providing other resources, they make it possible for students to make personal connections and succeed.
But what if you don't have time to continuously mentor students? No problem, Bolding wrote, because SEA has a scholarship interview panel that makes an impact just as vital.
"Being part of a GAP Scholarship Interview Panel is very unique and rewarding," Bolding wrote. "You are able to hear student stories and help them in such an important way, yet, it only requires a commitment of one to three days a quarter."
If mentoring or interviewing isn't your thing, that's fine too – they do their best to make sure volunteers with unique skills and interests can find meaningful places to work with the organization to enhance the experience for everyone. Check out their website to learn more about getting involved with mentorship or scholarship panels because there are some great opportunities coming up this December!
Bounties of books are offered at the store, but why spend the money when you can rent them for free? With resources like that, anyone can get their hands on a nice fall novel to keep them company. Give back to the Seattle Public Library by being a resource of time – and even literature.
With over 28 locations throughout the Seattle area available to any King County resident, there's a lot to be done to keep our communities book-bound. Seattle Libraries offer all kinds of programs too – for kids, adults, and even new language learners. They've got a full list of ongoing volunteer-run activities, and some of those include:
story time assistance for leading kids and families through stories, songs, and crafts;
adult tutoring for those who want to practice their reading, writing, and comprehension;
Spanish circle facilitation to help Spanish language learners converse in a welcoming, educational environment;
talk time facilitators to help non-native English speakers hone their skills;
Homework helpers for after school kids to get their work done for classes;
And much more!
There's even a separate nonprofit from the library that focuses on supporting their efforts through fundraising, special event support and advocacy, called The Friends of the Seattle Public Library.
Of course, they're always looking for book donations too, so get in touch with a local branch today and see where you fit in!
Did you know that the University Heights Center is haunted? No, really! Don't let it scare you though – the center is very much alive and an essential piece of the U-District community.
Not only is the center a meeting point for a number of different service projects throughout the year, but it's also a place where children and community members go to learn more about arts, culture, and civic engagement. Their staff is pretty small for such a large facility, but their easy-to-navigate website can get you connected with different opportunities to lend a hand.
From gardening to office jobs and handy-work, there really is a place for anyone to get going with service at the community center. The building itself is over 100-years old, so there are plenty of projects to keep volunteers busy with upkeep and organization.
They also have special events throughout the year for more short-term commitments. The U-Heights Center partners with folks from all over the district, including the weekly farmer's market on The Ave.
Check out more of what they do here, and be sure to fill out a volunteer form once you know what you can bring to the table. They appreciate any and all hands-on-deck, so get going!