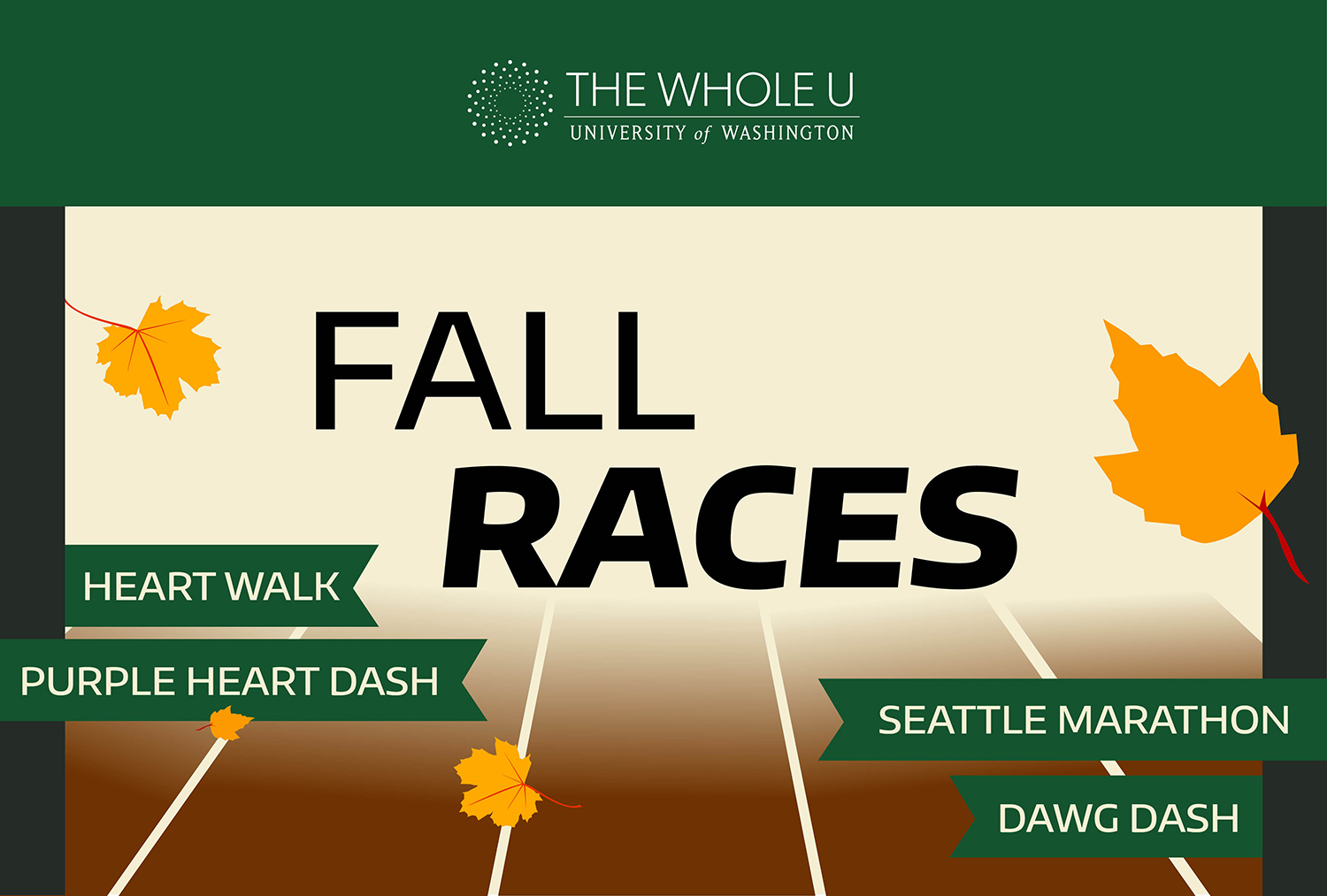 Race for a Cause: Autumn Races
Walk or run with purpose this Fall at four upcoming races. Each event supports a different cause, so pick a race that speaks to you, or participate just for the fun of it! Whether you're looking to complete a 5k or the full marathon, The Whole U can help prepare you for race-day. Follow our training guides to help you reach your personal best.
Saturday, October 15 – American Heart Association's 2016 Puget Sound Heart & Stroke Walk
Heart Walk is the American Heart Association's premiere event to raise awareness and funds to combat America's number one and number five leading causes of death: heart disease and stroke. With roughly 85.6 million Americans living with some form of cardiovascular disease or the after-effects of stroke, we can all relate to someone who has been impacted or knows someone that has been impacted by heart disease. Join over one million people in over 300 cities as they come together for the cause.
Registration for Heart Walk is free and you can raise funds either as an individual member, through joining an existing team, or by starting your own team. You can also support the association via donations alone. Funds raised from Heart Walk will go towards efforts such as medical research and increasing awareness. Even the smallest of donations can make a large impact. With just $5, the AHA can teach more than 100 adults how to save a life by recognizing the signs of a heart attack or stroke and demonstrates how to administer CPR or use an AED.
Gather your friends, family, and even four-legged companions on October 15 to take a stand against heart disease.
Get more information and register for the event here.
---
Sunday, October 23 –  Dawg Dash – Seattle
Make your way through one of the nation's most beautiful college campuses during the Dawg Dash. With a 10k race, 5k race, and Husky Pups Run for children, the 31st annual Dawg Dash gives everyone the opportunity to take in the iconic sites of the UW Seattle campus while raising money to fund student scholarships. Dogs are welcome too! Water bowls are present at all designated water stations so even our furry friends can stay hydrated.
Stick around once you cross the finish line; the Post-Dash Bash offers free food, beverages, and entertainment will be provided. Race participants will also receive free commemorative long-sleeve shirts. For the little Dawgs in attendance, there's a family-fun zone featuring games and activities.
If you'd prefer not to participate in the race but would still like to help, Dawg Dash is looking for volunteers! Sign up here to volunteer and as a thank you, you'll receive a free Dawg Dash shirt.
Be part of a long-standing tradition, meet fellow Huskies, and help future Huskies rise to their potential at Dawg Dash. Hope to see you all Sunday, October 23 – and as always don't forget to rock your purple and gold gear.
For more information and registration, click here.
---
Sunday, October 30 – Purple Stride
The 2016 Purple Stride Puget Sound presented by Seattle Cancer Care Alliance hopes to gather the community in a 5k race to wage hope. This run supports pancreatic cancer research. While pancreatic cancer survival rates have been improving from decade to decade, the disease is still considered largely incurable. According to the American Cancer Society, for all stages of pancreatic cancer combined, the one-year relative survival rate is 20%, and the five-year rate is 7%.
As you may know, our much-beloved Huskies coach, Don James, died of pancreatic cancer three years ago this month. Let's show our support and represent UW! This event is family friendly and is held at the oh-so-scenic Magnuson Park.
For more information and registration, click here.
---
Sunday, November 6 – Purple Heart Dash
Support wounded veterans and their families by participating in the Purple Heart Dash 5k. Revenues raised from race registrations go toward the Semper Fi Fund, a nonprofit organization providing critical resources to service members and their families – resources that will help them return to a normal lifestyle.
Run individually or in a team of four that undergoes the "fire team challenge." The "fire team challenge" involves working together with your teammates to finish the race while carrying a simulated wounded member of your team. The wounded member can be switched throughout the duration of the race, but one member must be carried at all times. Get your cardio and arm workout all in one!
Whether you make this race a personal best or bump up the difficulty level with the "fire team challenge," celebrate UW's Veteran Appreciation Week with the Purple Heart Dash.
To register for the race and reserve your Purple Heart Dash T-shirt, click here.
---
Sunday, November 27 – Seattle Marathon and Half Marathon
What began as a group of UW students wanting to host their own marathon has now grown into the largest marathon/half marathon in the Northwest. Walk or run alongside the anticipated 15,000 participants and take part in one of the nation's top ten largest races. All participants receive awesome swag including a long-sleeve technical fabric shirt, a goody bag, food and drinks, a space blanket, and of course, the coveted finishers medal and certificate of completion.
While the race registration fee funds administrative and associated race expenses, participants have the option to donate directly to charities involved in the Seattle Marathon's Charity Partner program. Charity partners include the American Association for Cancer Research, Boys & Girls Club of King County, and Seattle Children's Hospital to name a few. To find the full list of partners and discover more about the charities, click here.
If you're looking for an option for the kids, Nov. 26 is the Seattle Children's Kids Marathon.
For information on the Seattle Marathon for adults and children, click here.