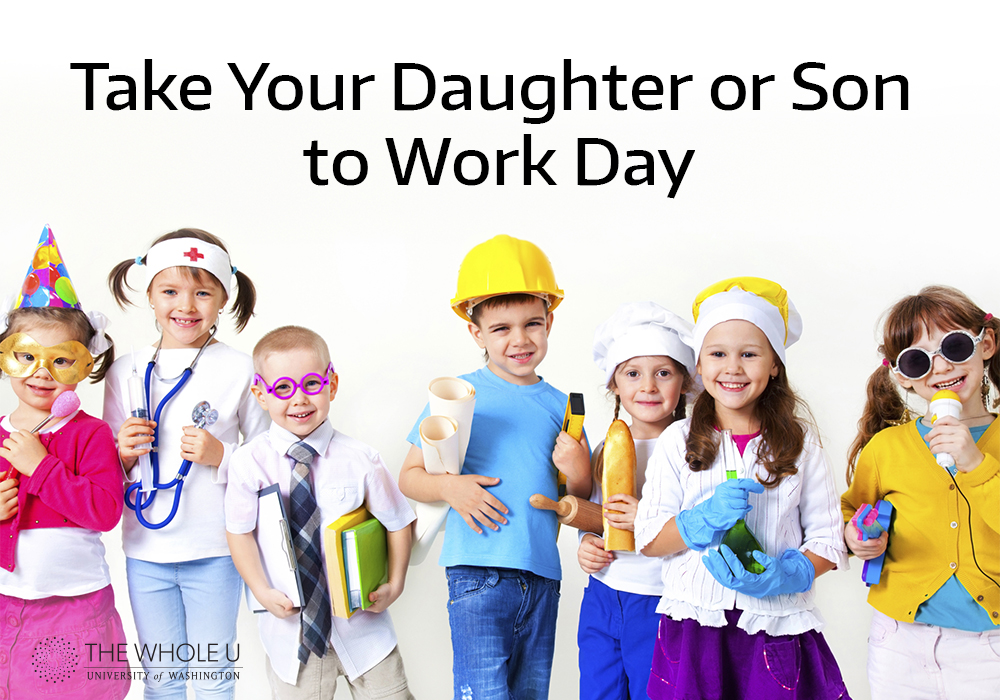 Take Your Daughter and Son to Work Day
What do your kids want to be when they grow up? My son always says a landscaper, just like Daddy, and my daughter says she wants to do wellness, just like Mommy.
As much as we are flattered, we look at our children and see their interests focus more on technology, engineering, or science. Maybe if we brought them to work they would get a better understanding of what we do and experience other opportunities that may spark their interests. Or maybe they'll realize that they really do want to follow in our footsteps.
Every year across the globe, working parents celebrate Take Our Daughters and Sons to Work Day. This year it is celebrated on Thursday, April 28 as a way to share an enriching educational experience with children ages 5 – 18. While not every position or department at the UW is able to participate, The Whole U is helping those that can with some special activities that will get you and your kids exploring campus and understanding why working at UW is cool!
Register for any or all activities below:
10:00 a.m. – 10:45 a.m. UW Campus Walking Tour of Sustainability
UW Sustainability staff will lead a walking tour of campus, with an eye on UW's sustainability features. Learn about how UW works to protect the environment while discovering pockets of forest and wildlife in the midst of campus.
11:00 a.m. – 12:45 p.m. Fun & Games at the IMA!
Show your kids that we know how to play at the UW. Recreational Sports Programs invites you to bring your child to the IMA Building for drop-in games, 11:00 a.m. – 12:45 p.m.  Rec Sports staff has waived their fees and the 16-and-older age restriction for this event and will be on hand to help you have fun playing badminton, table tennis, basketball, volleyball, pickle ball, and dodge ball. You (or your kid) pick the games you want to play. Dawg Bites Café is available for lunch or refreshments while you're here. Take a break at the IMA!
12:00– 12:45 p.m. Parent/Child Bootcamp Class at Tacoma University Y
The Univeristy Y is opening up their gym for parents and kids to participate in a parent/child bootcamp class to demonstrate the importance of being physically active. The class will be divided into age groups. Please dress in comfortable clothes and wear tennis shoes.
1:00 p.m. – 1:45 p.m. Tour the Husky Hall of Fame & Husky Stadium
Participants will look around the Husky Hall of Fame, then go down and look at the arena from the ground floor. From there you will head onto the field of Husky Stadium where you and your kids can bring a ball to toss around, be inspired, and take pictures. Meet outside the Alaska Airline Arena Team Shop.
2:15 p.m. – 3:00 p.m. HUB Rm 334 – Neuroscience activity at the HUB
Do your kids have an interest in science? Meet UW Neuroscientist Eric Chudler and see how a robotic gripper works. Learn how robotic body parts work and experience the electrical activity of your own muscles.
IMPORTANT: Check with your supervisor if you are uncertain if your department is able to participate in Take Our Daughters and Sons to Work Day. The national organization offers guidance for how children spend their time with you at work.
What do your kids want to be when they grow up? How are you helping them make it a reality? Share in the comments below.