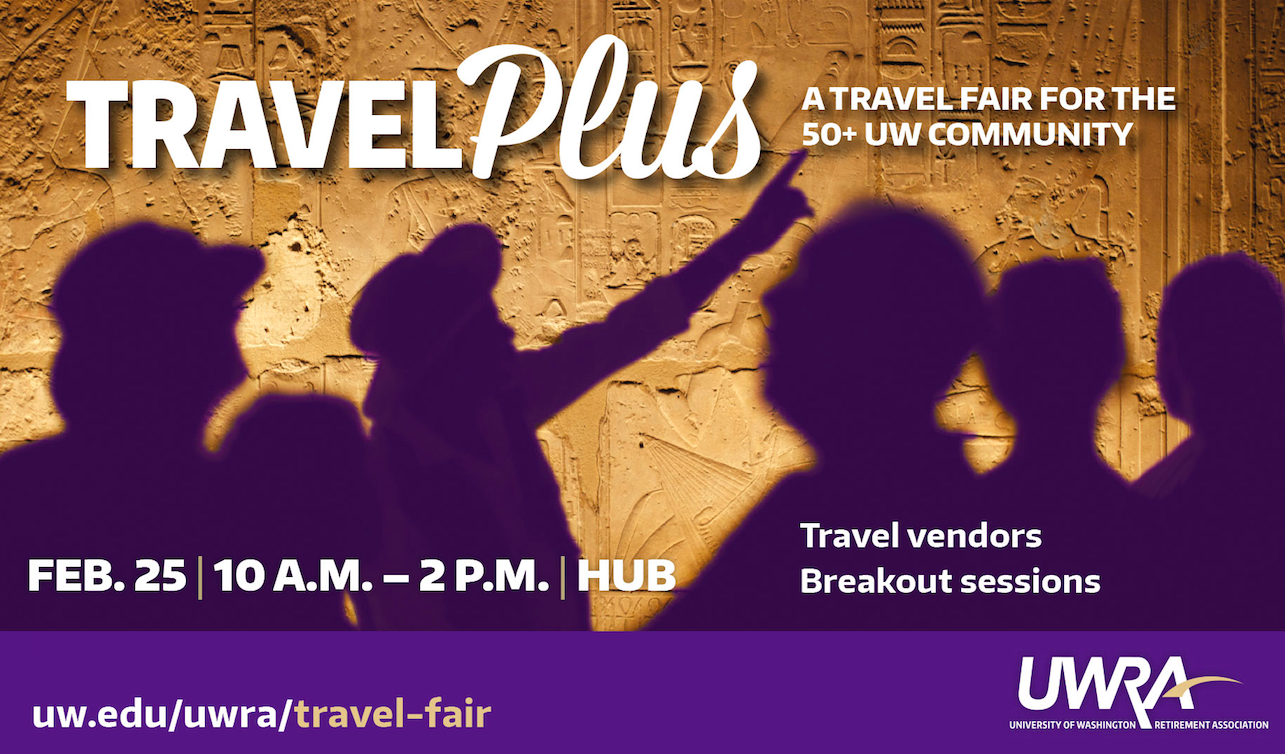 Travel Fair Coming to the HUB
How are you doing with this Seattle winter? Has the feeling that the gray days may never end led you to dream of far-off destinations? We've got you covered with Travel Plus, a travel fair hosted by the UW Retirement Association. Vendors and speakers will provide you with information and images to fuel your daydreams well into spring.
Join in the fun on Thursday, February 25 from 10 a.m.– 2:00 p.m. in the HUB south ballroom.
Explore a wide variety of travel opportunities. Each guest at the fair offers something extra, no matter what kind of trip you're seeking…
Cultural expertise: Alki Tours & Great Train Escapes, Caravan-Serai Tours, France: Homestyle, Mills Africa, and Rick Steves' Europe
Action and adventure: Bike & Barge Holland Tours, Evergreen Escapes, and Un-Cruise Adventures
Expert-led education: Road Scholar and Semester at Sea's Lifelong Learning Program
Ways to serve: Earthwatch Institute, Habitat for Humanity's Global Village, and the Peace Corps
That special UW touch: UW Alumni Tours, University of Washington Botanic Gardens, and the University Book Store
Breakout sessions in HUB classrooms will give you the chance to explore travel topics in more depth:
France with Steve Smith of Rick Steves' Europe. Steve Smith is best known as Rick's France tour guide in several episodes of Rick Steves' Europe on public television, and as the co-author of Rick's France and Paris guidebooks (11:00 a.m.)
Travel Safely and Travel Well with Anne C. Terry, MN, ARNP, manager of UW Medicine Travel Clinic at Hall Health Center. Anne C. Terry is a nurse practitioner who works in primary care and travel medicine. Her special interests include pre- and post-travel assessments, infectious disease challenges, and dermatology. (11:00 a.m. and again at 12 p.m.)
Adventure Travel Roundtable Discussion led by Evergreen Escapes International Travel Specialist Kirsten Gardner, who has led and planned trips abroad for nearly a decade and has guided trekking and culinary tours in Latin America, Europe, and the United States. (12 p.m.)
The vendors specialize in travelers over 50, but the fair is free and open to the entire UW community. Visit uw.edu/uwra/travel-fair for full details and a link to register. You can also contact UWRA by email or by calling 206.543-8600.
See you February 25!

Cathy Randolph is the Associate Director of the UW Retirement Association. She loves talking with UW retirees about their many travel adventures. Really. She's not jealous at all.
The UW Retirement Association informs, connects, and advocates for UW retirees and pre-retirees. The UWRA encourages continued engagement with the UW and fosters a purposeful retirement through educational and social programs.