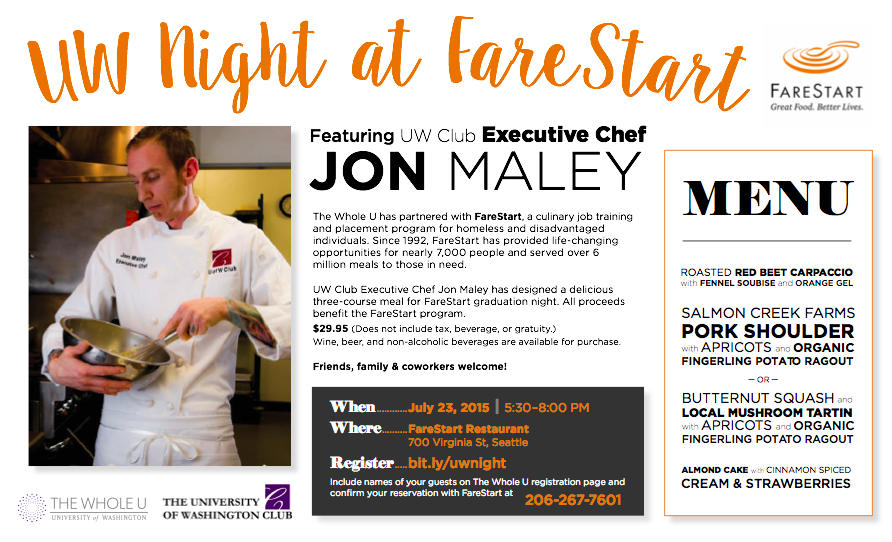 A FareStart Graduate's Story
Thursday, July 23 will be the first-ever UW Night at FareStart. The three-course meal will benefit an incredible cause, and friends and family are welcome. Register now.
Chef Jon from the UW Club designed the menu, so we know that it will be delicious, but what exactly does FareStart do? To explain, they shared this incredible story with us.
Graduate Story: Johnny
It was 48 square feet, three walls of concrete, one row of bars. The Washington State Department of Corrections calls it solitary; Johnny called it home.
"I was content. No one bothered me. I had my own space. I was going to get a television. I was fine with spending the rest of my life there," explains Johnny.
The Long Road to FareStart
To say Johnny has had a tumultuous life is an understatement. Born into a high-profile Filipino family, Johnny's early life seemed idyllic. Then, when he turned four, his life changed. His mother left the family, creating a scandal in the tight-knit, Catholic family. "My father couldn't deal with it, and turned to drinking, gambling, and eventually heroin. I still remember him leaving me and my brother in a car all night in Chinatown while he went gambling. When he came back and drove us home, he was driving fast and weaving all over the road. I didn't understand what he was doing. At that time, I thought it was fun. It wasn't until a few years later that I figured out he was drunk," said Johnny.
Although Johnny was a smart child and easily excelled in school, his home life "changed his compass" and he soon found himself lured to life on the street. "I was smart, but precocious. I'd get sent to the principal's office for questioning the teachers. Eventually I dumbed down and acted like everyone else," said Johnny.
School boy misbehavior turned grown up when his girlfriend became pregnant. The couple married, and had a second child, but the marriage was short-lived. By this time, Johnny's street life was in full swing, as he hustled to earn money and street cred every way he could. "All I wanted was my father to be proud of me, to earn his love and respect," said Johnny. "My brother took the high road – college, athletics, family. My dad had a plan for me, but I didn't want to do it. I thought I could make him proud by owning the streets."
Johnny's "success" on the streets soon caught the attention of Seattle PD, and Johnny began his new career as a prison inmate. "All together, I've spent more than 20 years in prison," said Johnny, who turns 48 this November. "I became a made man in prison. Eventually I became the 'chief' or 'El Jefe'. I had lieutenants. The times when I got out of prison felt like a furlough; prison was my home."
The Turning Point
"I was in solitary when my father died," explains Johnny. "I was able to go to his funeral – in shackles and with two armed guards. At the funeral this one boy kept walking past me, giving me the eye, walking past me. I thought someone had put a hit out on me."
The "hit man" it turns out, wasn't a hit man… it was Johnny's son.
"My own son. I didn't even recognize him. I went back to jail and (later) learned that my son had changed his name. He didn't want anything to do with me. My dad had just died, my son didn't want to know me… I just wanted to disappear. Then it hit me. I remembered the look in my son's eye. Even though my kids hated me, I knew they needed me. They needed to know me, to know how they got their traits, their chin, their smile. I knew I couldn't go on the way I was."
Determined to change his life when he got out of prison, Johnny tried a variety of services and programs in the Seattle area. He did "the Home Depot thing" and sponsored others at the shelters he stayed in. But it wasn't working. "I was older, there just weren't any opportunities for me. The doors were closing. I thought I'd just go back to prison and be king of the mountain again. Then my brother offered to let me live with him and his family if I enrolled in FareStart," explained Johnny. "I had cooked before so I wasn't that interested in a culinary program, but I wanted to reconcile with my family so I did it."
"At first I was cautious. I thought it was going to be an 'us vs. the man' type thing. Then I really watched and listened, especially in Phase 1 of the program, and realized that they [the chef trainers] are everyday people. They serve as an example. Some of them have had the same issues and if they can make it I can make it."
Although Johnny enjoyed the culinary training, it was the life skills classes that changed his life. "The life skills class gave me inspiration and encouragement, without being patronizing or condescending. It taught me that you just have to be accountable and responsible and do what needs to be done and you can change your life."
"FareStart trains anybody who is willing to do the work on how to be employed in any professional kitchen or restaurant in the food service industry. But you have to be determined, once and for all, to make that decision to change your life."
It wasn't only the training and classes that helped Johnny transform his life. "Knowing that you are part of a family and they have your back and they are always going to be there for you – that gives you balance. It helps you take the shackles off."
Life After FareStart
Not only has Johnny reconnected with his brother ("now my second favorite person after my mom"), his children and many of his extended family, he also reconnected with his second wife. "Even though I wasn't able to reconcile with my father, everyone here knows I love them. When I was asked to speak at (FareStart's) Gala, mom was so proud of me, she even posted to Facebook!"
Within a week of graduating from FareStart, Johnny had a job offer. Within nine days, he had two more. Now, almost a year later, Johnny still gets calls for interviews. "FareStart is very effective at breaking down a lot of barriers. The stigma of homelessness, incarceration is almost reversed. People know we come from disadvantaged backgrounds, have barriers like criminal history or substance abuse, but they know that if you make it through FareStart that you are trained to be a professional."
Although Johnny continues to work in the food service industry, his goal is to serve others looking for a new life. "I've always had a love for people but I needed to excise my own demons. Now I have an obligation to pay it forward. Whatever is in my power, I will do. To tell people that they are okay, that there are no limits. It's not going to happen overnight, you can have do-overs, but you just can't quit. The chefs at FareStart taught me this."
"I know I am a part of something. Most of us just chased our tails and did nothing but destroy ourselves. With FareStart there's hope. If you want to do something besides be inside a concrete box, as long as you have breath in your lungs you have a chance."
How UW Night Makes a Difference
UW Night at FareStart is also graduation night for those who are currently in the program. If you attend, you'll get to hear directly from the graduates who have worked so hard to turn their life around.
The cost of your meal will go into FareStart's general operating budget to keep the program going strong. Because the UW Club is donating the food and the servers for the night are volunteers from the UW, only 35 cents of every dollar goes to overhead. The dinner is $29.95 plus tax, beverage, and gratuity. To give you an idea of what that money funds…
$10,000 gives an adult student the ability to transform their life at FareStart
$5,000 allows a homeless youth to change their life through training and education
$2,500 invests in transformative counseling and life skills training for one student
$1,000 keeps a graduate in his/her job with 8 months of support
$500 ensures one student can get to and from job training and search every day
$250 pays for kitchen shoes and a uniform
$100 provides professional chef knives for a student at graduation
Join us for a dinner that makes a difference.