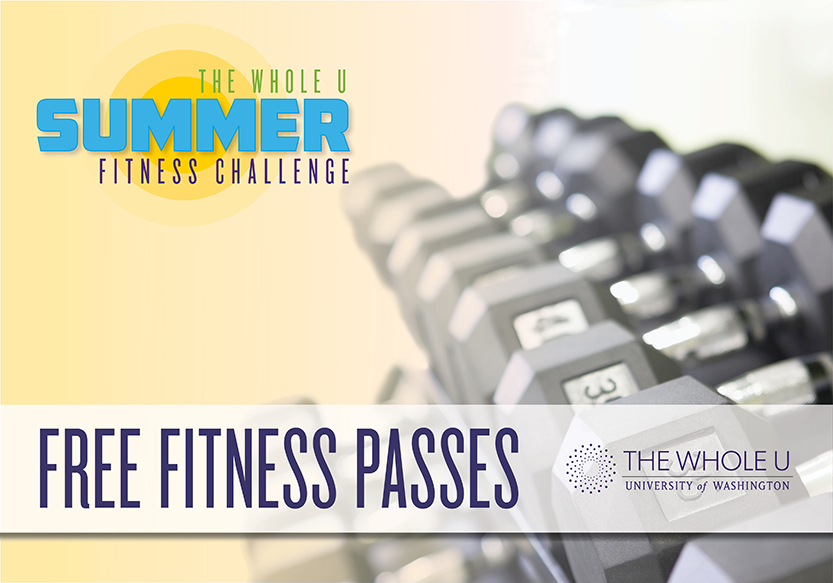 Find a Free Gym Near You This Summer
Ready to try something new? Join the Summer Fitness Challenge! In addition to events at the UW, we've partnered with nine of our Discount Fitness Network facilities to offer free gym passes to everyone who is part of the challenge. You can also add team members as guests in your challenge registration, including family, friends, or colleagues.
Anyone who is part of the Summer Fitness Challenge can participate in the free trials to any or all of the following facilities (jut make sure you have your punch card present to use through the 8-week challenge).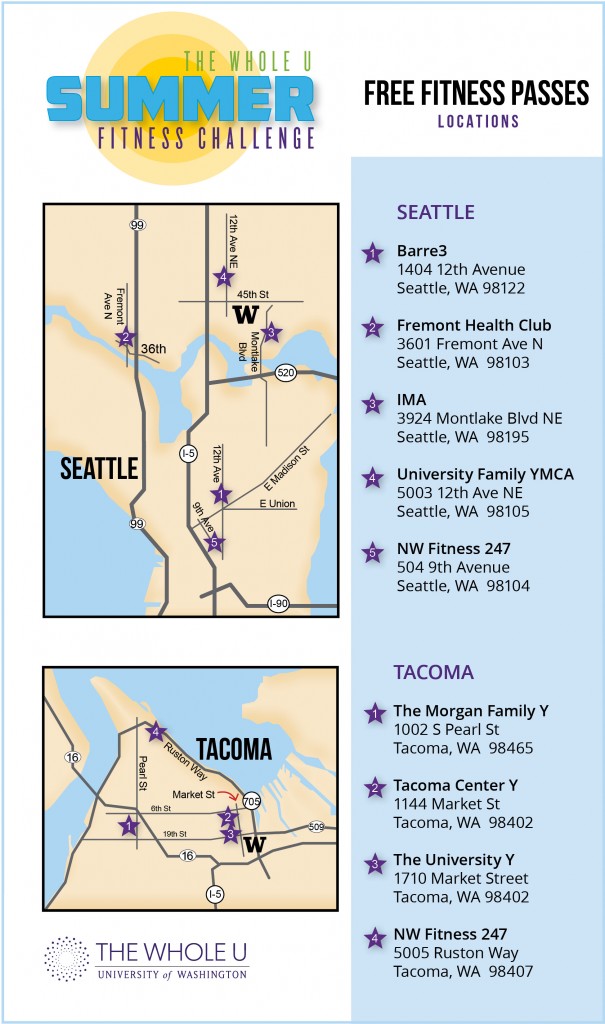 Barre3: Three free classes. Barre3 evolves the dancer's workout by combining the grace of ballet, the wisdom of yoga, and the strength of Pilates. Classes are set to an upbeat soundtrack and follow a vigorous pace as you move through a sequence of postures designed to shape and lift the entire body. They even offer childcare to make it easier fit in the 60-minute workout. Located in Capitol Hill.
Fremont Health Club: Three free visits. Located by the Freemont Bridge, this club offers personal training as well as classes from yoga, Pilates, Zumba, and barre.
IMA: Two free visits. The IMA is located on Seattle's campus. The fitness center has cardio machines, a variety of weight machines, free weights, and an indoor track. They also offer fitness classes, personal training, indoor courts, and a swimming pool. (This option is only available only to faculty, staff, and their spouse/domestic partners and does not include children or friends.)
University Family YMCA Seattle: One week pass. This YMCA offers a fitness center and exercise classes including step, strength training, cycling, and bootcamp. This location also offers gym classes for kids. The pass must be used consecutively.
NW Fitness 247: Five free visits. Their facilities are open 24 hours and offer ellipticals, treadmills, bikes, free weights, circuit training, Move Strong functional fitness center, personal training, and aerobics classes. They have a location in Tacoma and another in Seattle, near Harborview.
Thank you to our partners who have given these passes to our community! Most facilities will also be offering weekly workouts to try their personal trainers. Inquire when you use your first pass.
You can use the passes any time during the Summer Challenge, which starts June 29 and runs through August 22. Throughout the eight weeks participants will also receive weekly tips on produce that is in season, exercise tips, and access to fun group workouts and picnics.
You can check out our Fitness Discount Network all year long for over 40 fitness facilities offering 10-25% off their membership or classes. If your favorite fitness center is not listed, please email us at wholeu@uw.edu and we will try to get a discount!