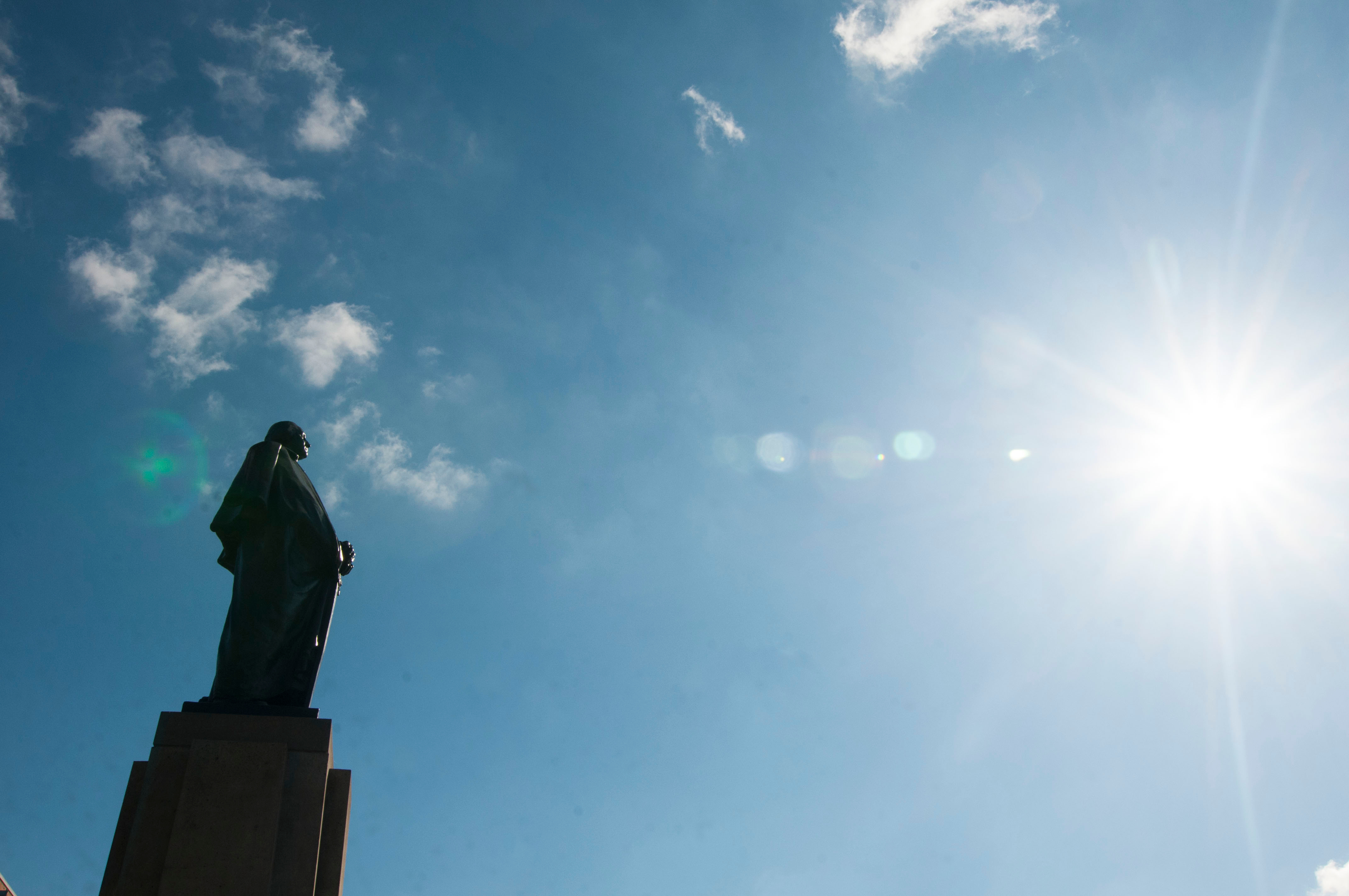 8 Very Different Ways to Volunteer at the UW
Volunteering is a great way to feel good while meeting like-minded people in your community, but it can be challenging to fit it in. Luckily, there are a variety of volunteering opportunities that match different skills, interests, and time availability right here at the UW. Whether you are a gardening guru or an arts enthusiast, you can find the volunteering opportunity that is right for you. We've put together a list of ways you can give back to the community while making friends and developing new skills.
UW Medicine
Volunteers play a very important role at UW Medicine. They provide thousands of hours of service each year in many different roles at UW Medical Center, UWMC Roosevelt clinics, and Harborview Medical Center. You can volunteer as a lobby ambassador or patient escort and play a central role in providing a warm and welcoming environment for UWMC's visitor. Or you could help out with clerical and office-related tasks in a variety of clinics and units. Whatever you choose, you'll have a key role in supporting UWMC's belief that "Patients Are First." To learn about volunteer opportunities at UW Medicine click here.
Burke Museum of Natural History and Culture
Are you a people person? You could be an event volunteer, helping out at special events and family days. Are you interested in teaching in a non-traditional learning environment? You could volunteer as a docent, making exhibits come alive for museum visitors of all ages. To learn about volunteer opportunities at the Burke Museum click here.
Henry Art Gallery
The Henry Art Gallery, the oldest public art museum in the state, regularly needs volunteers for exhibition openings, artist talks, performances, family programs, receptions, and special events. Added bonus? Henry volunteers get free admission to events. To learn about volunteer opportunities at Henry Art Gallery click here.
UW World Series
Are you an arts aficionado? The UW World Series at Meany Hall for the Performing Arts "provides audiences of all ages access to critically acclaimed artists of diverse cultural and artistic perspectives from across the globe." They look for volunteers who could help implement donor events in conjunction with concerts. For event work, they offer their volunteers one complimentary ticket to an upcoming performance. To learn about volunteer opportunities at UW World Series click here.
UW's School of Drama
Are you a theatre enthusiast? You might consider a volunteering position at UW's School of Drama. You could even join the School of Drama Advisory (SODA) Board, which advocates for the Drama community by supporting students during their time at the University of Washington and throughout their professional careers. To learn about volunteer opportunities please contact Sam Read, director of external relations, at samread@uw.edu.
UW Farm
Does digging through dirt to plant beautiful, tasty produce sound more like fun than work to you? Consider helping the UW farm achieve its mission of "becoming the campus center for the practice and study of urban agriculture and sustainability, and an educational, community-oriented resource for people who want to learn about building productive and sustainable urban landscapes." All are welcome to stop by and visit the farm or volunteer during any of the farm's volunteer hours, which are posted quarterly. You can help out at different locations: the Center for Urban Horticulture, Mercer Court Apartments, or the Botany Greenhouse. To learn about volunteer opportunities at the UW Farm click here.
University of Washington Botanic Gardens
The University of Washington Botanic Gardens, which unite the gardens and programs of the Washington Park Arboretum and Center for Urban Horticulture, depend heavily on volunteers. More than 500 volunteers give 10,000 hours each year, contributing to plant conservation and education. You can, for example, volunteer as a garden assistant at the Center for Urban Horticulture Gardens and help with weeding, mulching, planting, and pruning. Or, if you are great at computer programming you could help develop Android, iPhone, and Windows apps for visitors of the Arboretum. To learn about volunteer opportunities at the University of Washington Botanic Gardens click here.
College of the Environment
The College of the Environment has numerous opportunities for volunteers to engage on important issues and projects that require a diversity of perspectives and skills. You could even be a citizen scientist, which is when amateur or nonprofessional scientists conduct scientific research. The University of Washington hosts some of the largest citizen science projects in the nation, offering the possibility to volunteer in many different fields. You could play an active role in marine conservation by volunteering for COASST, the Coastal Observation and Seabird Survey Team, or you could help scientists recover Arctic and worldwide weather observations made by U.S. ships since the mid-19th century by transcribing ship logs. To learn about citizen science volunteering opportunities click here.
---
If you know of more volunteering opportunities here on campus that we haven't included in this article, please let us know!