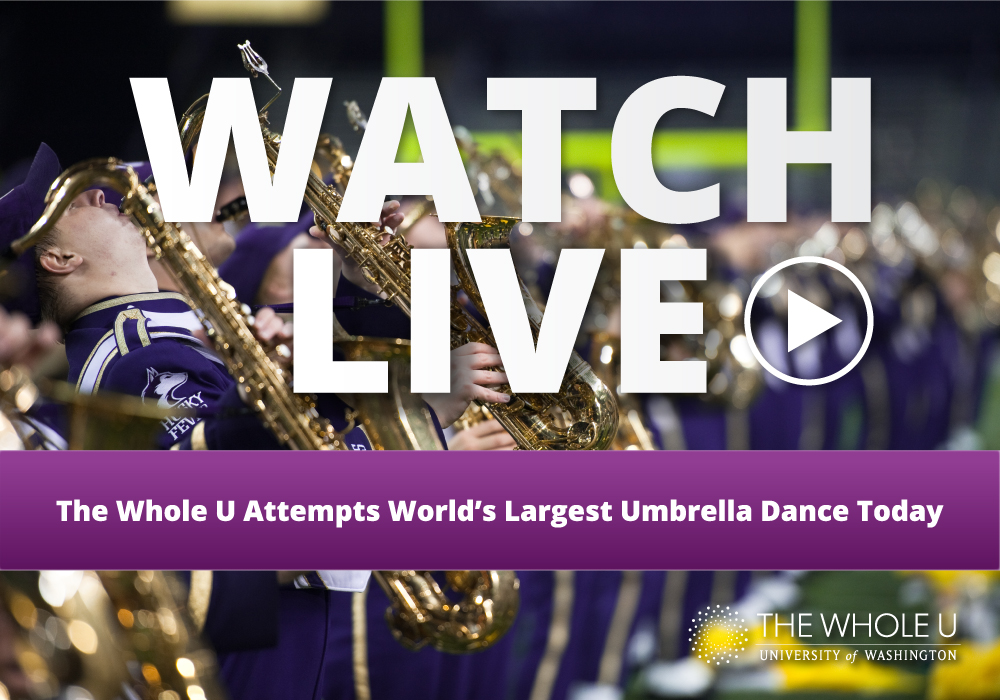 Watch: Whole U Attempts World's Largest Umbrella Dance Today
Happy National Fun at Work Day! There is nothing more fun than daring to do something unexpected, and today 2,000 UW faculty, staff, students, and retirees will attempt to break the Guinness World Record for the World's Largest Umbrella Dance. The event will take place at noon at beautiful Husky Stadium. The Husky Marching Band, UW Cheer Team, Harry the Husky, and Dubs will all be there to celebrate. It's not too late to join us as a participant or spectator! If you can't make it to Husky Stadium, see it all in real-time by watching UWTV's webcast. The webcast will start around 11:30 a.m.:
 We will also be live-Tweeting the event. You can chime in with questions and comments using #wholeushake
Thank you to our sponsors for making this event possible: UW Medicine, UW Athletics, and University Book Store. Snacks were donated by Whole Foods, Full Circle, Bay Laurel Catering, Zico Coconut Water, and Coca Cola. Prizes were donated by Instacart, Core Power Yoga, Tara Brown Photography, University District Farmer's Market, and Tickets at Work.
UPDATE: We did it! The event and live-feed has ended, but we will be sharing the video on YouTube as soon as possible. Follow us on Facebook, Twitter, or Instagram for updates. Thank you to everyone who made this event a success!