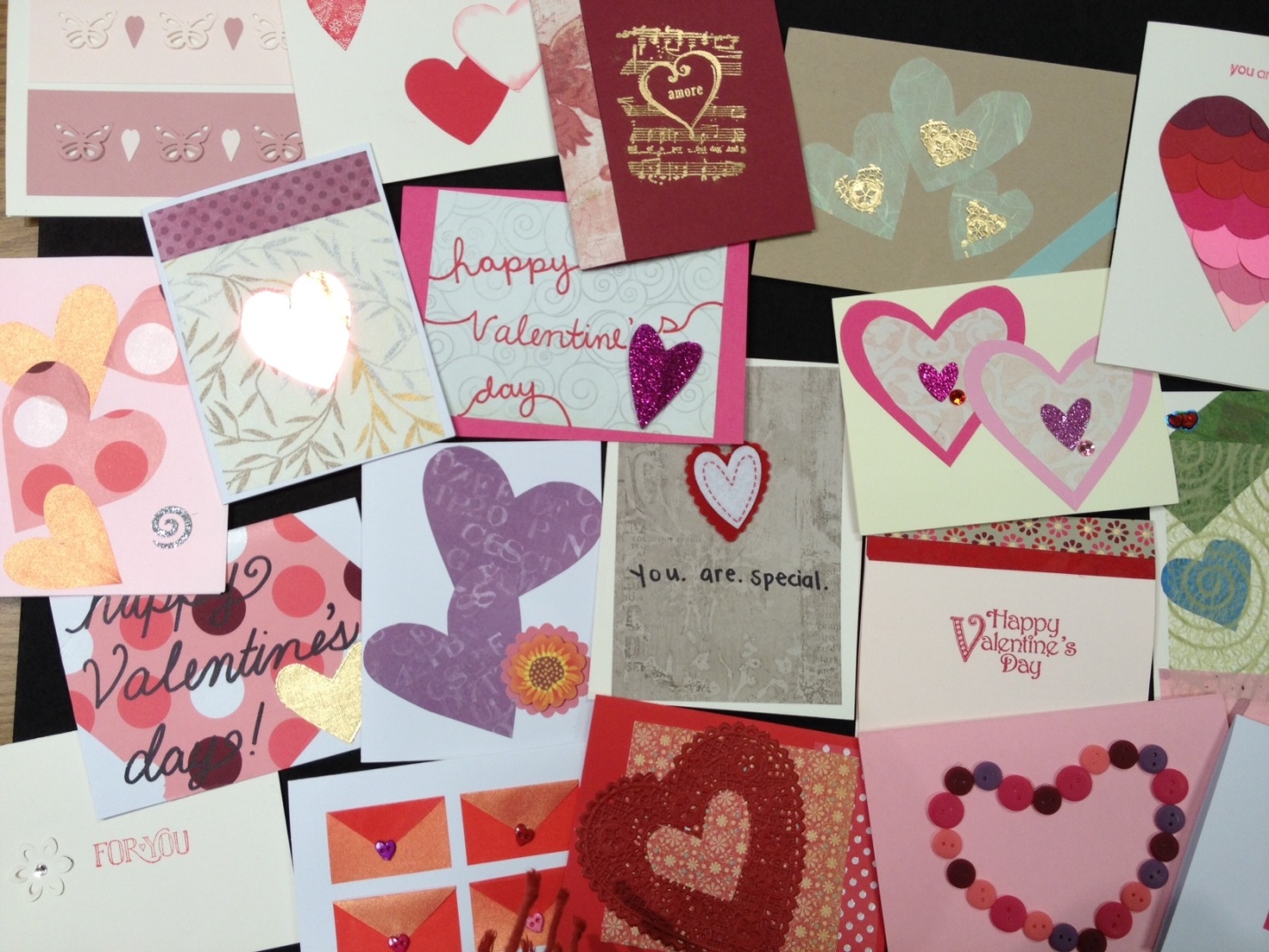 Make a Valentine for a UWMC Patient
UWMC's Art Program invites you to participate in our seventh annual Valentine Card Project. Our goal is to create 500 handmade Valentines for all UWMC inpatients, which will be delivered on February 14. Everyone is welcome to join in the fun and be a part of this beautiful tradition, including UW staff, family, friends, volunteers, and community members. Creativity is contagious and no art experience is required!
No need to register. Join us in the Plaza Café, rooms C&D:
Tuesday, January 20, 2015: 8:30 a.m. – 5:00 p.m.
Wednesday, January 28, 2015: 10:30 a.m. – 5:30 p.m.
Friday, February 6, 2015: 10:30 a.m. – 5:00 p.m.
Patients love receiving their handmade valentines. We've heard that patients have posted them in their rooms during their entire hospital stay. Our patient population is all adults, many of whom come from outside the greater Seattle area – from as far away as Alaska, Montana, Wyoming, Idaho and even internationally to receive specialized care at UWMC. One thoughtfully made Valentine can brighten the day for a very sick patient.
UWMC's Arts in Healing staff will be on hand to be your creative resource, if needed.
Come before or after your shift, during your break or lunch. Bring your co-workers or friends and join in the fun. As an additional bonus, after making a card for a patient, you will be able to make a card for someone special to take with you.
If you are unable to attend one of the events, art materials will also be available for pickup in the Volunteer Services office (NN303) from January 8 – February 6 from 8 a.m.-4 p.m. You are also welcome to use your own materials.
What we're looking for:
One or more Valentine's Day cards
Maximum size: approx. 5"x 7"
No envelopes please
Please include a personalized message inside. A few examples are: "Thinking of you today," "Happy Valentine's Day," etc. Please keep the message secular in nature.
Sign your card. Signatures can be more general than your name. A few examples are: "From all of us at UWMC," "From UWMC's Accounting Dept.," "From the Smith family," etc.
Cards may be dropped off at the Volunteer Services office (NN-303), put in campus mail, or U.S. mailed to UWMC Volunteer Services, 1959 NE Pacific St., Box 356144, Seattle, WA 98195
Valentines are due in UWMC's Volunteer Services office by Monday, Feb. 9
For any questions please contact Karen Neuhard-Forsythe, UWMC's Art Program Manager at 598-6308 or email neuhardk@uw.edu
Let's keep this tradition going strong and brighten someone's day!