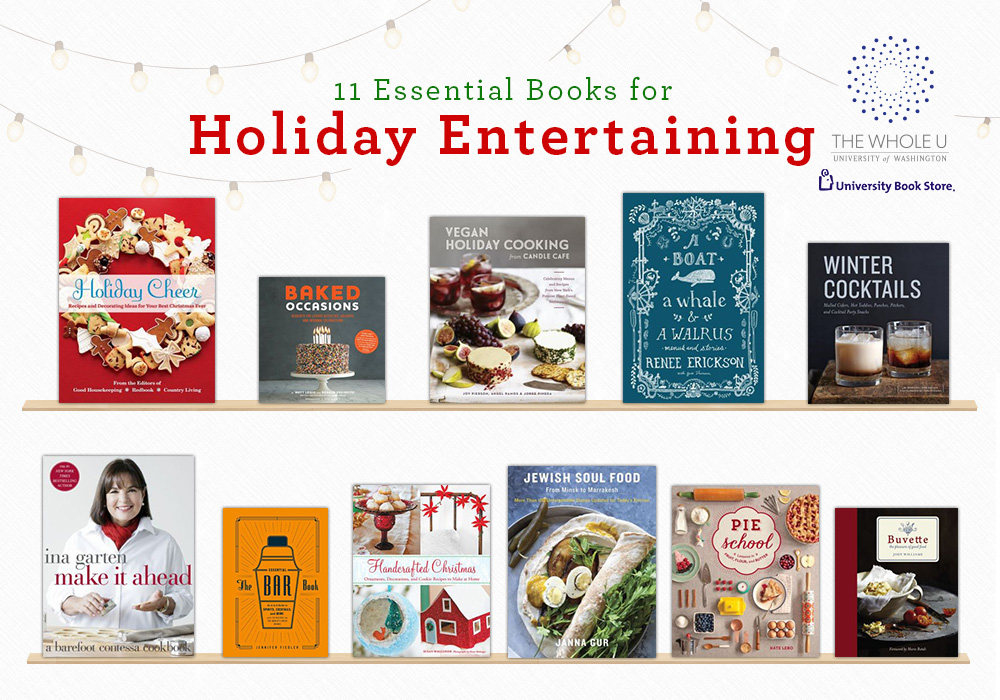 11 Essential Books for Holiday Entertaining
At University Book Store, we know that the holiday season can be a crazy time of year. But whether you're the one playing holiday host or you're looking for the perfect gift for someone who is, these great books on cooking and entertaining will make turning the holidays into a festive time full of flavor and cheer easier — and more delicious! — than ever.
Seasonal Cocktails
The Essential Bar Book by Jennifer Fiedler
As any bartender will tell you, the art of mixing great cocktails takes practice. But with The Essential Bar Book, even novice mixologists can learn what they need to know to make any classic or modern cocktail that holiday celebrations call for. With tips for creating a home bar and stories behind many of the drinks, the jam packed book will also turn you into an entertaining host who's ready for anything.
Winter Cocktails by Maria del Mar Sacasa
From cranberry punch and hot toddies to mulled ciders and spiked coffees, winter cocktails are the perfect way to keep warm during cold winter months. And with Maria del Mar Sacasa's new book of winter cocktails, infused liquors, and appetizer recipes, you'll have all you need to warm up any holiday gathering and fill the air with uniquely seasonal flavors mixed into every drink you serve.
Memorable Meals
A Boat, A Whale, and a Walrus by Renee Erickson, owner of Seattle's The Boat Street Cafe, The Whale Wins, and The Walrus and The Carpenter
As the head chef and owner of several popular Seattle restaurants, Renee Erickson serves up French-inspired Northwest cuisine filled with flavor and ease. In A Boat, A Whale, and a Walrus, the award-winning chef invites others to bring the spirit and philosophy of her kitchen home through an artistic mix of stories and recipes featuring themed menu selections, seasonal ingredients, and tables full of the Pacific Northwest's bounty. This is one of the University Book Store's Delicious Picks for 2014, which means it's 20% off.
Buvette by Jody Williams
In New York City's popular French/Italian bistro Buvette, chef Jody Williams welcomes diners to experience the joy of informal eating brought to life with unique presentations and unforgettable taste combinations. In her cookbook by the same name, she shares her secrets to simple and sophisticated entertaining with surprisingly easy food and drink recipes, unique serving techniques, and helpful tips to keep things simple and create a truly memorable dining experience at the same time.
Jewish Soul Food by Janna Gur
During the holidays, much of the food we make and gatherings we attend revolve around tradition. In Jewish Soul Food, Israeli food writer Janna Gur gathers the culinary masterpieces of traditional Jewish cuisine — an endangered collection of foods and flavors that survives in only certain communities in Israel — and passes their flavors as well as their history, culture, and the traditions onto new generations around the globe.
Vegan Holiday Cooking by Joy Pierson, Angel Ramos, and Jorge Pineda
From the visionaries behind New York's premier vegan restaurants, this festive new cookbook features a collection of vegan holiday recipes that both vegans and non-vegans will love. Innovative and full of flavor, their creative holiday menus are designed to benefit the mind, body, and spirit and include everything from main dishes and appetizers to drinks and desserts for nearly every holiday of the year.
Make It Ahead by Ina Garten
For celebrity chef Ina Garten, one of the questions people most often ask her is — "Can I make it ahead?" — especially when it comes to cooking during the busy holiday season. In her new cookbook, she combines stress-free recipes featuring large portions of prep that can be done ahead of time with delicious flavors and holiday favorites, so that you can take it easy after busy days of holiday bustle and get out of the kitchen and enjoy your company during holiday gatherings.
Holiday Cheer from Good Housekeeping, Redbook, and Country Living
If you're looking for festive main dishes, desserts, and decorations to bring the holidays to life in your home, this book of more than 100 holiday recipes, craft projects, and handmade gift ideas drawn from the pages of Good Housekeeping, Redbook, and Country Living literally has them all in one place. Whether you're planning Christmas dinner, decorating for a party, or looking for unique gifts to give to friends and family, this book of holiday cheer will have you covered.
Delectable Desserts
Pie School by Kate Lebo, owner of Seattle's Pie School
Offering group classes on pie making, local poet and pie pro Kate Lebo has been sharing the secrets, history, and lore of pie since 2012. In her new book filled with recipes for perfect crust, fifty different pies, and ruminations on the art, science, and significance of pie making, she opens her "Pie School" to everyone just in time for the holidays, inviting bakers everywhere to use their senses to turn pie into much more than just a dessert.
Baked Occasions by Matt Lewis and Renato Poliafit
Celebrating a year in desserts, Matt Lewis and Renato Poliafit of New York City's popular dessert destination Baked have filled their new cookbook with both expected and unexpected desserts for every festive occasion imaginable. From Pumpkin Swirl Cheesecake Brownies for Thanksgiving to Rum-infused Hair of the Dog Cake for New Year's Day, their recipes are sinfully delicious and perfectly capture the spirit of each celebration in a way that is guaranteed to stand out at any holiday gathering.
Festive Decor
Handcrafted Christmas by Susan Waggoner
Featuring 40 seasonal craft projects ranging from punched-tin votive holders to a charming gingerbread house that's also completely edible, the new crafting book by Susan Waggoner not only provides artistic types with fun activities for the holiday season but is full of easy-to-make ideas and engaging facts about holidays past that will fill any home with timeless beauty and vintage holiday cheer.
What are your go-to books for holiday cooking and entertaining? Tell us on Facebook or Twitter today!
Thanks to the University Book Store for filling us in on the latest and greatest books on holiday entertaining! For more tips and tricks, join The Whole U Stress Less Holiday Challenge. We'll send you a recipe, workout, and article each week until January 1. Join here.