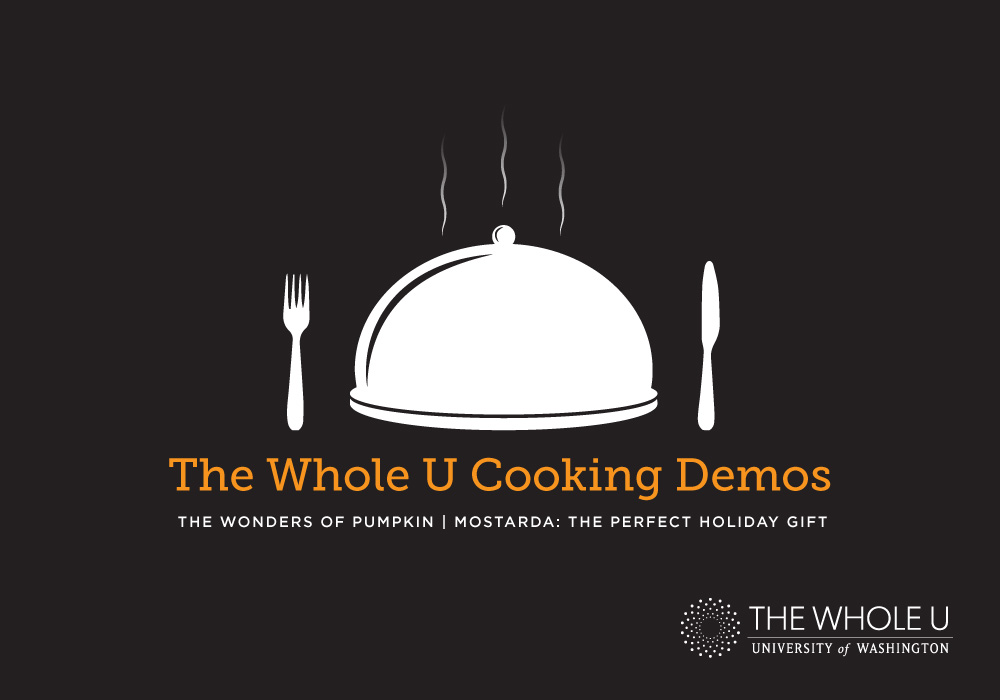 Two New Whole U Cooking Demos for the Holidays
Chef Tracey is back with two great cooking demos! Mark your calendar for either November 20, December 11, or both. First up:
November Cooking Demo – The Wonders of Pumpkin
Thursday, November 20, 2014
5:15 – 6:15 p.m.
Local Point Chef's Table, Lander Hall
Thanksgiving festivities are quickly approaching. While good ole' mashed potatoes are a staple in my Thanksgiving feast, why don't we shake things up a bit this year and add, dare I say, PUMPKIN to the mix? UW Executive Chef Tracey MacRae has a killer recipe for Yukon gold mashers with pumpkin, arugula, and roasted garlic. I'll give you a second to salivate over this. The recipe only calls for four main ingredients and other additions that are likely sitting in your fridge or pantry already.
For a Thanksgiving feast host such as myself, this recipe fits the bill. It doesn't call for too many or too crazy of ingredients, and the directions are quick and simple. I cheated the system a bit by trying the recipe at home and let me tell you, you will be going back for another round of samples once the cooking demonstration is over. Next up:
December Cooking Demo – Mostarda: The Perfect Holiday Gift
Thursday, December 11, 2014
5:15 – 6:15 p.m.
Local Point Chef's Table, Lander Hall
They say the way to anyone's heart is through their stomach. So, instead of stressing out over gift giving this holiday season, save yourself some time and headache and give the gift of food! It'll be a thoughtful and memorable gesture to warm everyone's hearts (and stomachs).
In the December Cooking Demo, Chef Tracey will show us how to make Cranberry Meyer Lemon Pear Mostarda. Haven't tried mostarda? You're in for a delicious treat. It's an Italian spread, similar to chutney, made from fruit preserved in sugar with mustard seed. Traditionally served with boiled meats in northern Italy, you could also serve it with crackers and cheese as part of an appetizer spread.
To make this Mostarda "giftable", pour it into a cute glass container (mason jar anyone?), attach a pretty ribbon, add a little handwritten label or note, and VOILA, you've got a fantastic gift. Consider making a big batch and bring mostarda as host(ess) gifts to all your holiday parties. You'll be seen as the well-cultured, creative, and thoughtful gift giver.
Attend the cooking demos and you'll receive a copy of the recipe and a sample of the dish after the demonstration. Only 50 seats are available for each demo, so register now!
To request disability accommodation, contact the Disability Services Office at 206.543.6450 (voice), 206.543.6452 (TTY) or dso@u.washington.edu, preferably at least 10 days in advance of the event.