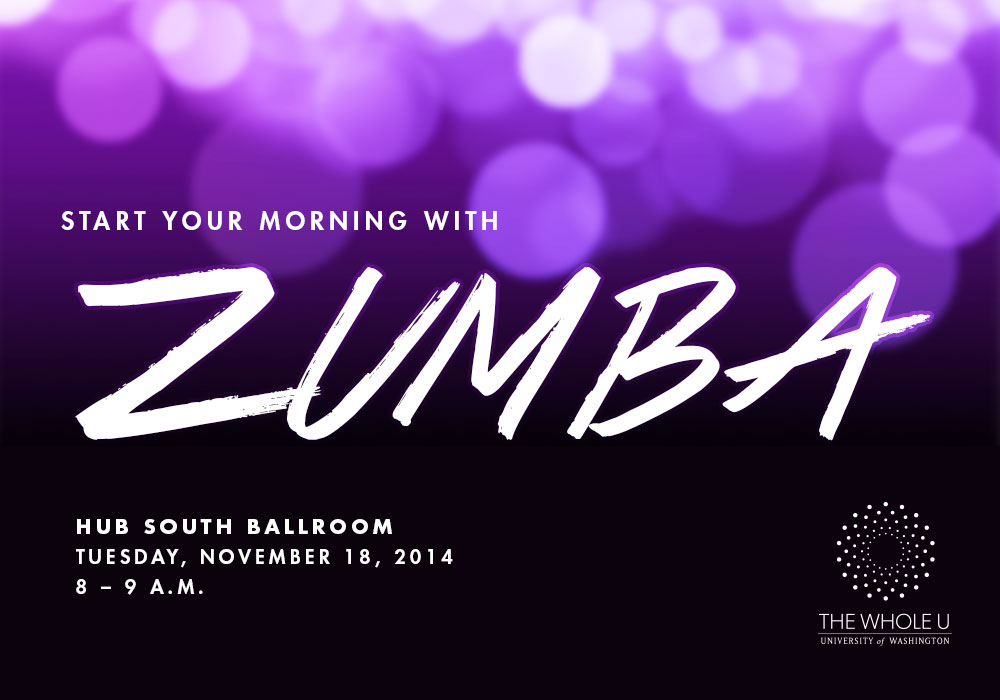 Exercise Your Way Through Stress with ZUMBA®!
Forget all the curveballs life throws at you this holiday season; de-stress by dancing!
Start your morning off with Zumba®! The Whole U is hosting a free Zumba workout in the HUB South Ballroom on Tuesday, November 18, from 8:00 – 9:00 a.m. Dancing not only releases endorphins to boost happiness, but also increases your energy for the day, and decreases your stress. So much can come from a dance workout.
Unfamiliar with Zumba? In a nutshell, it's a dance fitness party. Inspired by various Latin American dance styles such as salsa, merengue, and the cha-cha-cha, Zumba also mixes in hip-hop. Participants learn to swivel and shake their hips to energetic beats all the while benefiting their heart, head, and waistline.
Grab some colleagues, try something fun and new, and unwind for an hour. And if you're a Zumba veteran, show us your awesome moves – this Zumba routine is appropriate for all-levels.
This workout will be led by your UW colleagues Daren Wade, clinical instructor for Global Health and director for the Global Health Resource Center, and Meghan Fitzpatrick, communications specialist for the Northwest Center for Public Health Practice. Both are licensed Zumba instructors and will demonstrate a typical routine.
Be sure to bring workout clothes, athletic shoes, a towel for sweat, and a water bottle – you'll be tearing up the dance floor!
Free Zumba Workout
Tuesday, November 18, 2014
8:00. – 9:00 a.m.
HUB South Ballroom
We are piloting a new registration system that was developed just for The Whole U by our friends in HR Information Systems. When you register for Zumba, you will be one of our first users of the new system. Please send user feedback or requests for troubleshooting to kmishra@uw.edu.
To request disability accommodation, contact the Disability Services Office at 206.543.6450 (voice), 206.543.6452 (TTY) or dso@u.washington.edu, preferably at least 10 days in advance of the event.
UPDATE:
We received a few requests for the set list from this event. Here is the ZUMBA! song list.
Peligro, Reik
Bounce (clean version), Iggy Azalea
Luna Barranquillera, Margarita La Diosa de La Cumbia
Boom, Grupo Treo
Shake it Off, Taylor Swift
Berraca Berraca, El Alfa & Pablo Escobar
Mambo Salsa, Zumba Fitness
Make My Heart Go, Gloria Estefan
Velocidade 6, Mulher Melancia
Badtameez Dil, Benny Dayal & Shelia Alvaris
Un Cachito, Kola Loka
Vamos a Pasarla Bien, Wisin y Yandel
MTBD (CL Solo), 2NE1
Mexe As Cadeira, Ceceu Muniz
Bailando (feat. Descember Bueno & Gente de Zona), Enrique Iglesias
Love on Top, Beyonce