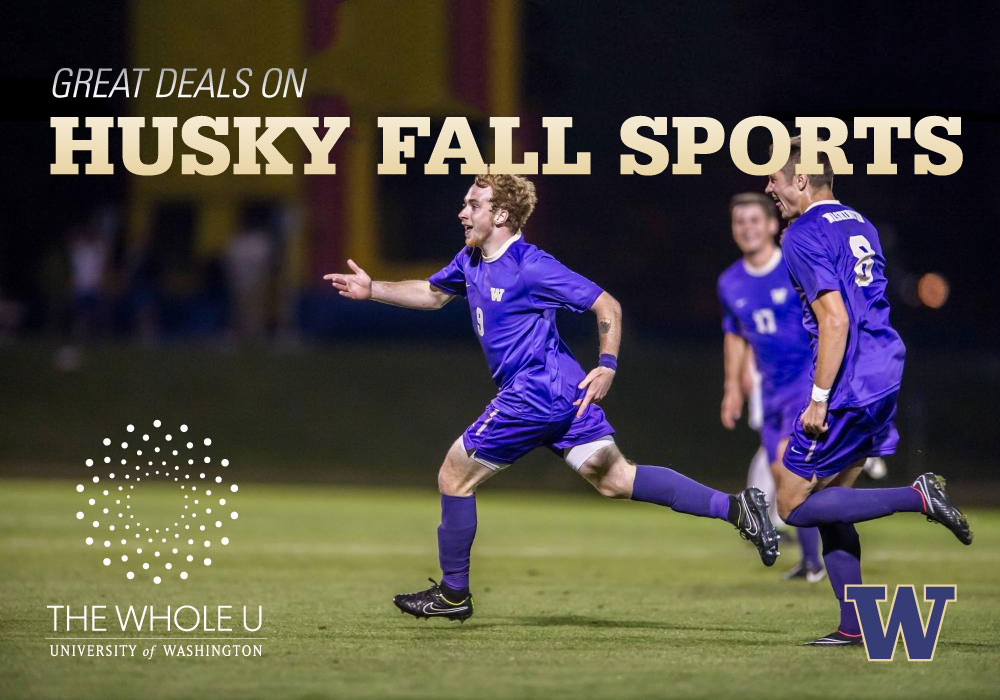 The air is getting crisper, the leaves are changing colors, and the students are finally back on campus. Sounds like it's time for some Husky Fall Sports, and we've teamed up with Husky Athletics to bring you fun and free opportunities. Bring your family and friends for some Husky Men's Soccer, Women's Soccer, and Women's Volleyball.
Receive FREE general admission for yourself and up to four guests by presenting your Husky Card at the gate. Be sure to sit in The Whole U section for some giveaways!
First, join us for the Men's Soccer team on Sunday, October 5 at 5:00 p.m. as they take on Stanford. Considering that the Huskies are 9-1 and Stanford is 7-1, it should be a great match-up at Husky Soccer Stadium. This is also the Sustainability game, so show up for some fun promotions!
Next, see the Women's Soccer team battle it out against Arizona on Sunday, October 12 at 1:00 p.m. These Dawgs beat the Sounders Women back in April, showing that they are an incredible team to watch.
Last but not least, make your way to Alaska Airlines Arena on Sunday, October 26 at 1:00 p.m. for an exciting match between our very own Husky Women's Volleyball team and the Colorado Buffs! As an undefeated PAC-12 team, the PAC-12 2013 champions, AND competitors in the 2013 Final Four, this is match that you don't want to miss! There will also be an autograph session following the match!
Want more options? These games aren't part of this promotion, but they are themed!
Women's Soccer: Friday, October 31 at 4:00 p.m. vs USC is the Halloween game (free admission if you wear a costume!)
Men's Soccer: Sunday, November 16 at 3:00 p.m. vs Oregon State is Senior Night, so come support the talented and hard-working seniors at one of their last Husky games.
Women's Volleyball: Sunday, November 23 at 11:00 a.m. vs Arizona State is the Thanksgiving-themed game where you get a FREE GA admission with your Oregon State ticket stub!
Lastly, check out these fantastic clubs for your own Husky pups to join:
Dubs Club: Presented by Whole Foods Market, this club for children 13 years and younger aims to inspire an active and healthy lifestyle for our youth. As a participant of Dubs Club, your child receives one FREE game ticket to selected Husky games (the last this fall is Women's Volleyball on November 9) and discounted group tickets for their families. Whole Foods Market also provides special promotions for all members.
Dads & Daughters: This program creates opportunities for fathers and daughters to spend time together at Husky Women's sporting events throughout the year. By paying the $25 registration fee, participants receive one adult and one youth ticket to six different sporting events, at which members will receive special behind-the-scenes experiences and create amazing memories that inspire exercise and sportsmanship. You even get t-shirts!
Whether you're bundled up in scarves and coats for an October soccer game or nice and toasty within the volleyball arena, be sure to make this fall memorable by seeing our talented student athletes. We can't wait to see you and your loved ones cheering from the stands. Go Dawgs!
UPDATE: Check out faculty & staff enjoying the men's soccer game on October 5.