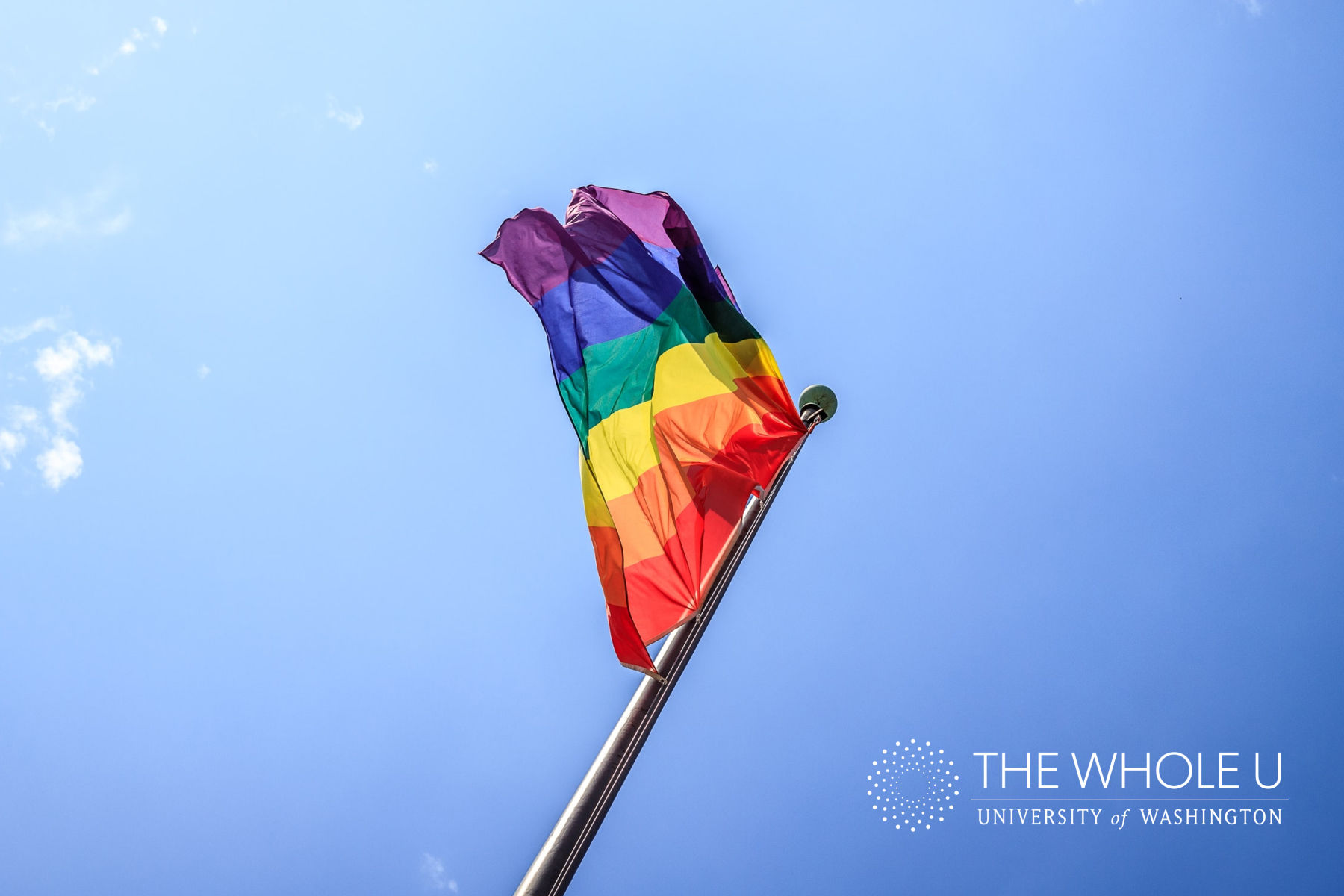 Events & Activities to Celebrate Pride Month
June is nationally recognized as Pride Month, a month dedicated to honoring the 1969 Stonewall Riots in Manhattan, celebrating LGBTQIA+ communities, and raising awareness for LGBTQIA+ equality.
This June many Pride Month events are returning in person after a few years of being mostly virtual. We invite you to explore ways to engage with Pride Month and resources for LGBTQIA+ communities at UW below.
---
Local Events & Activities
---
Seattle Pride
Each year, Seattle Pride brings to life a wide variety of ways to engage in the LGBTQIA+ community, learn about advocacy efforts, celebrate Pride Month, and connect with local artists and musicians. Explore all that Seattle Pride has to offer in 2022 here and view a list of events here.
There are many opportunities as well as information on how to further get involved. You can even tune in on YouTube with a livestream!
---
Seattle Pride Parade
On top of ongoing events and activities to get involved with, Seattle Pride's annual Pride Parade is back in 2022 in full force!
On Sunday, June 26 all are invited to attend the largest parade in Washington for its' 48th year of celebration. The Seattle Pride Parade is an opportunity to commemorate the past, celebrate new wins for equality, and get encouragement for the work yet to come.
Learn more and view the Parade route here. 
---
Seattle Pride Speaks
Pride Speaks is a free, quarterly speaker series that focuses on issues impacting the LGBTQIA+ community, viewed through an LGBTQIA+ lens.
Tune into previous Pride Speaks sessions, recorded to YouTube, alongside a wide variety of video content to celebrate and connect with the LGBTQ+ community. Click here to see all that is available for viewing. 
---
Seattle PrideFest 2022 – June 25-26
 Another popular Pride celebration in the greater Seattle area is Seattle's PrideFest, a 2-day event that takes place each year in the Capitol Hill neighborhood and Seattle Center. PrideFest spans multiple city blocks full of fun, vendors, food, and more to take in and celebrate.
Click here to learn more and attend. 
---
Regional Celebrations
All month long you can find a wide variety of celebrations and activities in honor of Pride Month. Click here to view a list of local events including celebrations in Tacoma, Renton, Burien, Yakima, Anacortes, and more local cities.
You can also connect with local nonprofits and advocacy groups hosting webinar and lecture events, as well as local restaurants and bars offering special Pride events. There's truly no shortage of ways to celebrate Pride this June in Seattle, or your local region.
---
UW Resources
---
Pride Month U Book Store Reads
Staying at home and want to pass time with a good read?
The University Book Store has compiled a list of rich, eye-opening books to read for this Pride Month.
Check out 7 fantastic titles highlighting queer stories. From non-fiction, memoir, to riveting novels, each one of these books reveal different aspects of queer life.
---
The Q Center
The Q Center offers professional resources, support, and a mentoring center for all queer University of Washington students. From counseling to social events, the Q center has moved online for the spring but continues to offer gender discussion groups, queer mentoring programs, and more.
The Q Center facilitates and enhances a brave, affirming, liberatory, and celebratory environment for students, faculty, staff, and alumni of all sexual and gender orientations, identities, and expressions.
---
UW Q Faculty, Staff & Allies Affinity Group
The University of Washington Queer (Q) Faculty, Staff, and Allies Affinity Group is an association whose vision is to foster a campus climate where all Q Faculty, Staff and Allies are valued and respected, regardless of sexual orientation or gender identity. Their mission is to ensure the inclusion and success of Q faculty, staff and allies through recruitment, retention and training opportunities. Learn more about QFSA events, initiatives, and resources available here.
---
Support
---
Connect with organizations through the UW Combined Fund Drive
You can help support LGBTQIA+ nonprofits through the UWCFD. Nonprofits need your support now more than ever. The COVID-19 pandemic has slashed nonprofits' revenue.
We invite you to be offer support to and show your pride by supporting LGBTQIA+ organizations in this time of unprecedented need.
Click here to view a full list of organizations working within LGBTQ+ communities and advancing advocacy and equity for LGBTQ+ identities.
---
Our celebration of the LGBTQIA+ community shouldn't stop once June concludes. Check out the Seattle Pride website for future events celebrating the unique communities in the Seattle area! We invite you to share with us more virtual Pride Month events and activities to add to the list.