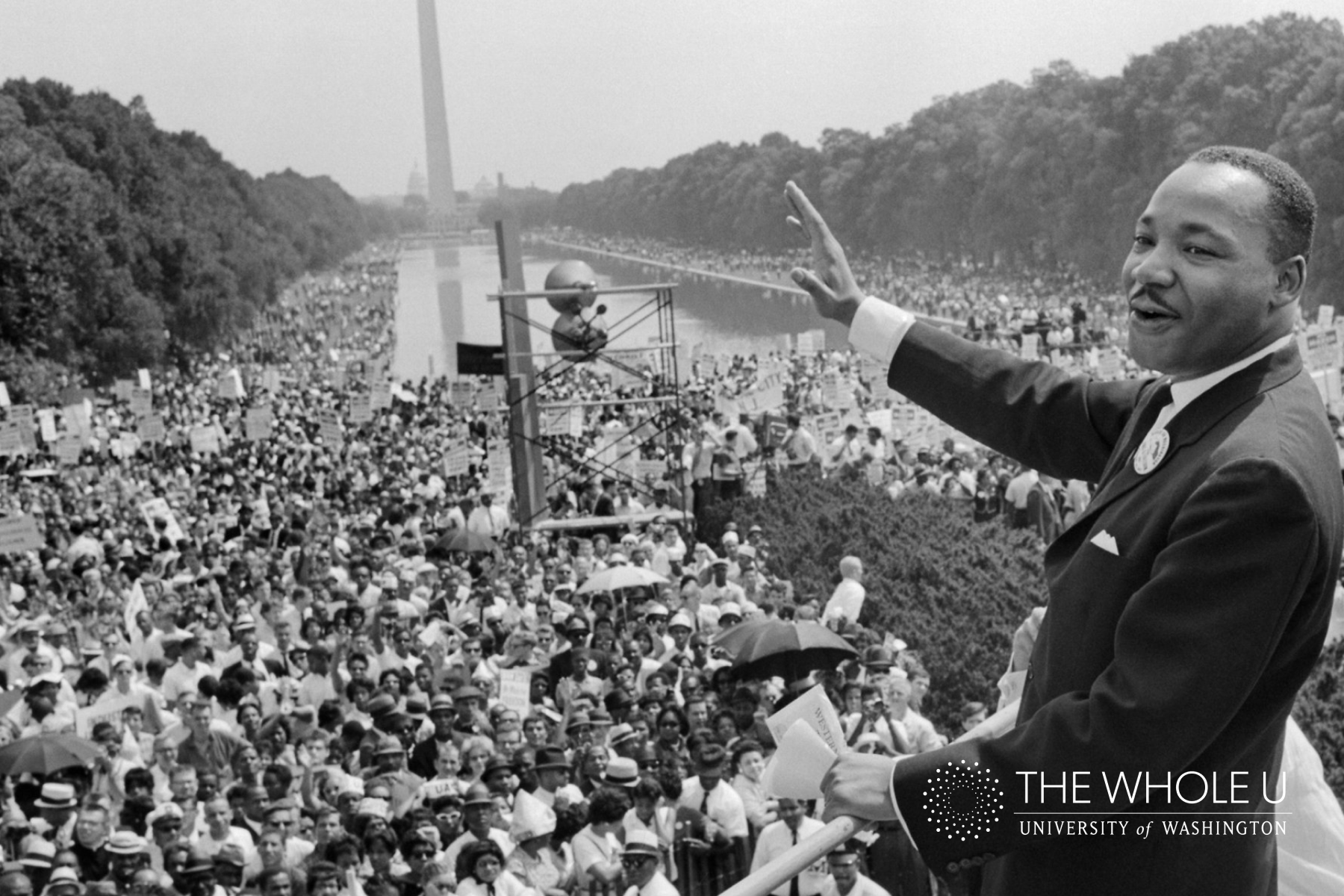 Honoring MLK: Practicing Advocacy and Compassion
"Our lives begin to end the day we become silent about things that matter." 
 – Martin Luther King, Jr.
The University of Washington celebrates the life of Reverend Martin Luther King, Jr. and pays tribute to his legacy of justice and social advocacy. As members of the community, it is our civic duty to work towards peace, justice, and racial reconciliation to create a space that is safe and inclusive for all. 
As we start the new year, let us not forget the Black Americans who have lost their lives due to the harmful and unjust systems and institutions in place. Rest in peace and power to George Floyd, Breonna Taylor, Tony McDade, Ahmaud Arbery, Elijah McClain and many others. MLK Week is a reminder that the work is not yet done, and that "injustice anywhere is a threat to justice everywhere." 
The Whole U recognizes that social advocacy and activism is an ongoing process and commitment that requires compassion, consistency and an eagerness to learn. Join us as we celebrate MLK Week through events that include virtual workshops, panels, discussions and more.
---
A website in celebration of Martin Luther King, Jr.'s legacy, recognizing members from the UW community who have dedicated themselves to lives of service. Although this year we cannot all gather together in the same room, UW Health Sciences Administration and University of Washington Medical Center have created this website to continue our tradition of sharing inspiring stories, powerful music and an overwhelming sense of hope and unity.
2021 Distinguished Service Award: Estell J. Williams, MD
Website launches Thursday, January 14 at 12:30pm
---
January 12-16 (times vary) | Zoom Webinar
Join the Seattle MLK Coalition workshop series to delve deeper into issues of anti-racism, social advocacy, racial reconciliation and more. All webinars are free and accessible through zoom. Register here.  
---
January 14 at 1 PM | Zoom Webinar 
Christian Paige, an Emmy nominated poet, an educator and a passionate community advocate from Tacoma will be the guest speaker. For the last decade Christian has dedicated himself to eliminating barriers for students in education. As a writer, Paige believes in the responsibility to speak truth to power and to creatively challenge broken ideologies. He believes one of the most important pieces of his identity is his community, his love for it fuels him, inspires him and reminds him of his responsibility to move the world through spoken word and tell the truth at all cost. Hosted by the Center for Culture, Inclusion and Community (Cascadia).
---
January 16, 23 and 30 at 10 AM | Virtual Event Series
Learn why it's important to talk about race and racism with kids, and how to do it. These conversations help build the foundation for raising compassionate children that embrace and value differences. Register and learn more here.
---
January 15 at 12 PM | Rally
This rally is led by a team of passionate teen leaders and features musical performances, community speakers, and student reflections on the life, work, and legacy of Dr. King. Participate socially distanced or view the virtual livestream here. 
---
January 18 at 12 PM | Virtual Event
This virtual celebration features Dr. Brenda Salter McNeil, a highly acclaimed speaker, author, professor and reconciliation thought leader. Alongside this, joining the event will be local Northside Step Team, beloved gospel-jazz vocalist Josephine Howell, musician Al Price, and guest speakers Cirila Potter & Mikayla Weary. Register and learn more here.
---
January 18 at 11 AM (march begins at 12:30 PM) | Garfield High School
Every year, the Seattle MLK Jr. Organizing Coalition does what they can to tell our civic leaders that Martin Luther King Jr.'s dream is alive and well–2021 is no different! See the event website for important details about this year's event. Find us on Facebook or at #MLKSeattle.
---
January 18 at 11 AM – 4 PM | Virtual Event
Celebrate Dr. Martin Luther King, Jr.'s legacy with the History Museum, Tacoma Arts Live, Write253 and Valencia Carroll, presenting virtual programs and activities. Activities include live poetry, artmaking, panels and more. Register and learn more here. 
---
January 20 at 8:30 AM | Volunteer Event
This year, join City Year Seattle/King County in a day of service at Concord International Elementary School. The day will include murals, outdoor projects, social justice conversations, opening program and lunch
---
January 21 at 6 PM | Zoom Webinar 
In this virtual panel, The United Way of King County will discuss the watts that philanthropy can be an effective and impactful way to move racial equity forward. Register and learn more here.
---
Honor and celebrate the legacy of Dr. King by attending one or more of these great community events. Please share with us other events in honor of MLK Day in the comments below.