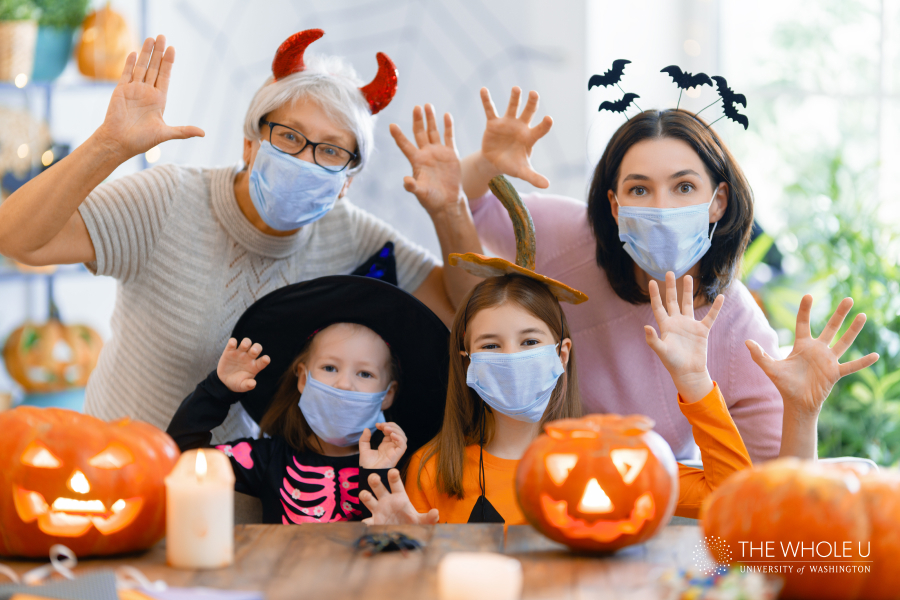 Planning for Halloween During COVID-19
Dr. John Lynch, medical director of infection prevention & control and employee health programs at Harborview Medical Center, loves Halloween. He also has two daughters, ages 11 and 13, who are eager to dress-up and go door-to-door.
Lynch was initially unsure about whether trick-or treating could be done safely during a pandemic. So, he did what UW Medicine experts do every day – reviewed research and consulted with other infectious disease specialists. Luckily for local kiddos, and for Lynch's Halloween-loving family, the outlook is promising. Provided our community's transmission rate stays steady or continues to decline, Lynch thinks UW families can celebrate a relatively traditional Halloween.
He shared the following advice for having a safe holiday and encourages parents to also check out these Halloween tips from Public Health Seattle & King County.
Have fun outside.
We hear daily that the safest way to socialize during the pandemic is to be outdoors while maintaining physical distance. Luckily, trick-or-treating is an outdoor activity and families should use that to their advantage. Plan ahead for costumes that will hold-up to rain, wind or cold weather that could threaten your family's plans. Unfortunately, indoor parties are not a safe back-up option this year. Lynch understands the temptation to invite our "Halloween COVID pod" inside when the weather changes but reminds us it is not as safe to socialize indoors, even in groups of two or three families.
Practice social distancing.
The good news is that trick-or-treating involves brief interactions which are generally low-risk for COVID-19 transmission. However, it is still essential that families maintain safe physical distances by staying with their household and keeping six feet from other groups. If you are giving out treats, you can guide children by spacing markers every six feet leading up to your door – think skulls, bones, giant spiders or black cats marked on the ground or on sticks. Kids are now used to seeing these sorts of markers in stores and in public spaces. Create space between yourself and trick-or-treaters by sliding candy down a tube, using decorated tongs or spacing treats on a grab-and-go table.
While the risk of contracting COVID-19 from surfaces is low, Lynch advises against having children reach into a bowl to grab candy bowl this Halloween.
Wear a mask.
Masks that come with costumes are not enough to protect others from the virus so make sure your family's are clean, well-fitting and meet public health standards. It is important to wear masks consistently and avoid taking them on-and-off as this increases the likelihood children will touch their noses or mouths while trick-or-treating. Be sure to wear a mask if you are giving out treats, too. As an extra precaution, you may want to wear safety glasses or regular glasses while distributing candy, to reduce the likelihood you will touch your eyes in between hand-washings.
Practice hand-hygiene.
Speaking of hand cleansing – do it! Parents and children should carry alcohol-based hand sanitizers and use them regularly while trick-or-treating and candy-givers should wash or sanitize hands regularly, too. Lynch explained that researchers have learned a lot about touching things and that there is a low likelihood that candy or other surfaces contain enough virus to transmit COVID-19. The risk is not zero, however, and wearing a mask and good hand hygiene are our best defense. Lynch shared that he'll make sure his daughters wash their hands when they eat candy Halloween night but knows some parents may also opt to keep Halloween candy from their children for a day, so virus that may be on wrappers has time to die.
Keep up healthy practices and stay informed.
Lynch emphasized that his advice for going door-to-door this Halloween is based upon our community's COVID-19 transmission rate. The incidence rate has been going down in the Puget Sound region thanks to our individual daily actions. That trend can change if we don't maintain practices like masking, physical distancing and hand washing which are even more important as people spend more time indoors. Continuing to be responsible in our daily actions can lead to a happy and safe Halloween and also keep COVID-19 rates low as head into cold and flu season.(Don't forget that getting the flu vaccine is more important than ever and check-out the 2020 Flu Shot Clinics offered by The Whole U.)
Parents should monitor the news about virus incidence in our area and prepare children for the possibility that Halloween plans may need to change if the positive trend changes. The bottom-line is that if we stick with what we have been doing the past few months – socializing outdoors, maintaining physical distances, wearing masks and practicing good hand hygiene – Halloween shouldn't be tricky at all. And won't that be a treat!
---
This article was written and produced by Kathleen Farrell, director of Work-Life at UW Human Resources. Learn more about UW Work-Life's resources and programs here.