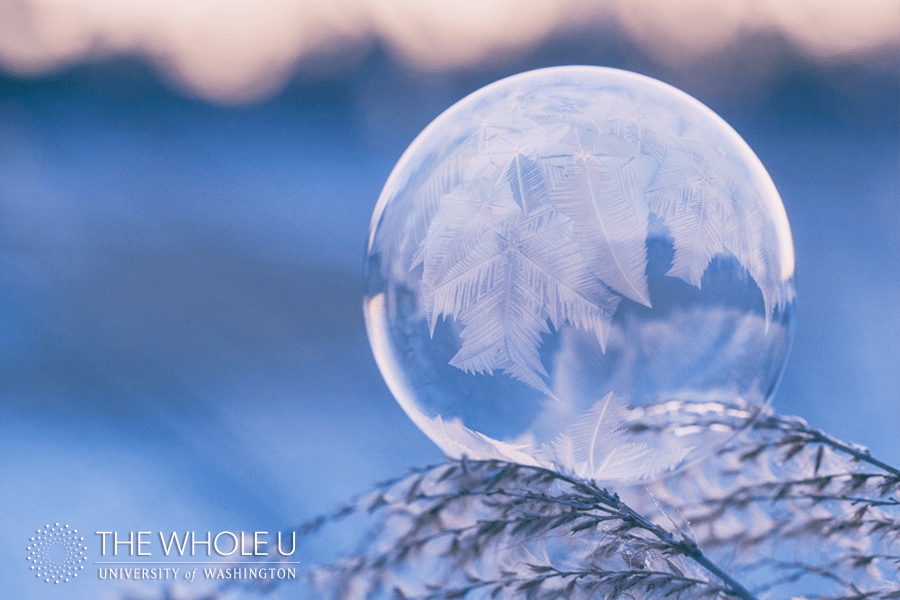 Tips for living sustainably this winter
As a time of year when we are spending more time indoors, winter presents a wonderful opportunity to think about how we can get more from life by living with less. As a time of new beginnings, winter is also a great time to act on your goals of living more sustainably with respect to how our daily doings impact the environment.
"The average American generates 5 pounds of garbage a day," says Kristi Straus, who teaches Environment 239: Sustainability: Personal Choices, Broad Impacts, a course in within the University of Washington's Program on the Environment that combines lecture with readings, discussions, and research- and reflection-based writing exercises to encourage students to consider the meanings of "sustainability" in individual, communal, and cultural contexts.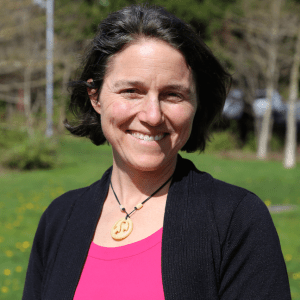 "The goal—the backbone—is to have students do personal sustainability activities where they either change their behavior or examine their behavior and reflect on it," Straus says. "It inspires students to think about what sustainability is, how do we define it, how do we move toward sustainability, and how much our individual choices actually matter."
We caught up with Straus, who has received past recognition as a recipient of UW Sustainability's Husky Green Award and UW's Distinguished Teaching Award, to learn more about how we can all takes steps to live sustainably this winter!
Read our Faculty Friday spotlight on Kristi and her work here.
Living sustainably at home
---
Decreasing shower time
Straus says decreasing shower time can be a great place to start when trying to be more sustainable at home: "There is seemingly a limitless amount of water, but it is not limitless. You don't need to shower and wash clothes every day. You are probably clean enough. Save some time too!"
Make it a 'Dare to Do' challenge: "You have to earn your shower," Straus suggests. Tie your shower or bathing routine to a regular fitness goal—such as taking a walk or run or completing reps of any indoor exercise to start or end your day.
---
Dial back the heat in favor of warmer clothes
"A hot house takes a lot of energy," Straus says. "Figure out a temperature that is comfortable for you and adjust to your personal needs." Wearing socks, sweaters, and layers inside can make a big difference as they allow your body to retain more of its heat. You might also find that layering clothing can also be a more precise way of regulating comfortable body temperature from within without needing as much heating help from without.
Using less heat not only saves energy, it also saves you money that can be put toward other aspects of living well! Make it a 'Dare to Do' challenge: You'll be more likely to layer up with ease if you know where all your cozy, cold-weather apparel is. Spend some time organizing a closet or set of drawers and make it easy to find items that you'll love wearing when at home.
---
Eating sustainably in winter
---
Eating less meat
Whether it be your hearty holiday dishes to your healthy new year recipes, food substitutions are an easy way to be sustainable, try something new, and even save some money. Eating less meat can be a great way to experiment with new and different foods, flavors, and textures that are less resource-intensive to cultivate than most meats you buy at the supermarket. Kristi says that, on an individual level, "one of the most significant things to do is eat less meat. Chicken or fish can be substituted for beef and lamb especially to lower carbon emission, land use and water use." If going vegetarian is too drastic of a lifestyle change, Kristi suggests incorporating more lean meat and vegetables into your meals.
Consume locally
Shopping for your groceries locally not only supports our local farms and businesses, but also makes for a fun, sustainable adventure at the local farmers market. The key aspect of shopping locally is the reduction of fuel and resources used to ship produces and goods to grocery stores. Transporting foods in long distances can drastically increase air and water pollution. Straus says, "there are wonderful local foods, veggies, meats that can be used to make a brilliant holiday meal," and recommends checking out U District and Ballard Farmers Markets for a fun morning adventure with friends or family.
Gift Giving Sustainability Tip: Gift friends or family an amount of money to spend at your local farmers market together. Straus says, "gifting an experience is not only more sustainable, but can be more meaningful too".
---
Traveling sustainably
Commercial air travel takes a large toll on the environment, but sometimes that is our only option. "Air travel is irreplaceable sometimes, but considering taking the train instead of an airplane," Straus suggests. "The gorgeous scenery adds to any travel experience." If you have the option to drive or take a train, try that instead of flying! It is usually cheaper and, especially, if you are carpooling with others, it is eco-friendlier and a great bonding opportunity.
If you're considering traveling for work, really consider if the business can be handled with a conference call or digital meeting instead of agreeing to go on a business trip.
---
Gift-giving tips
From holiday gift-giving to winter birthdays and celebrations, choosing presents can be a tricky process. With sustainability in mind, Kristi challenges us to ask ourselves when buying gifts, "Do they need it?" She suggests utilizing a visual known as the gift-giving pyramid. The gift-giving pyramid is an interactive measurement of how sustainable a gift is.
The top level of the pyramid is primarily consisted of gag gifts that "clutter, take up space all while using up our planet's resources". The level under that is consumable gifts such as compostable or edible goods. The next level below that is gifts that people love. The last and best level of gift-giving is items one needs. These gifts are ones that your friends and family almost cannot live without.
Experiences can be the best kind of gift. Straus suggests gifts like "tickets to the movies, massage sessions, art classes" can make for memorable, growthful presents.
---
Even during the large family gatherings and magical winter moments, there are many ways to tweak your lifestyle decisions to better our environment. Remember that implementing sustainable choices does not need to be extreme and it is still important to respect your own and other's traditions. As the winter season begins, reflect on how you can act mindfully to conserve and respect natural resources and encourage others to do the same!
---
Kristi Straus holds a BA in Biology from Colby College and a PH.D. from the University of Washington's School of Aquatic and Fishery Sciences.