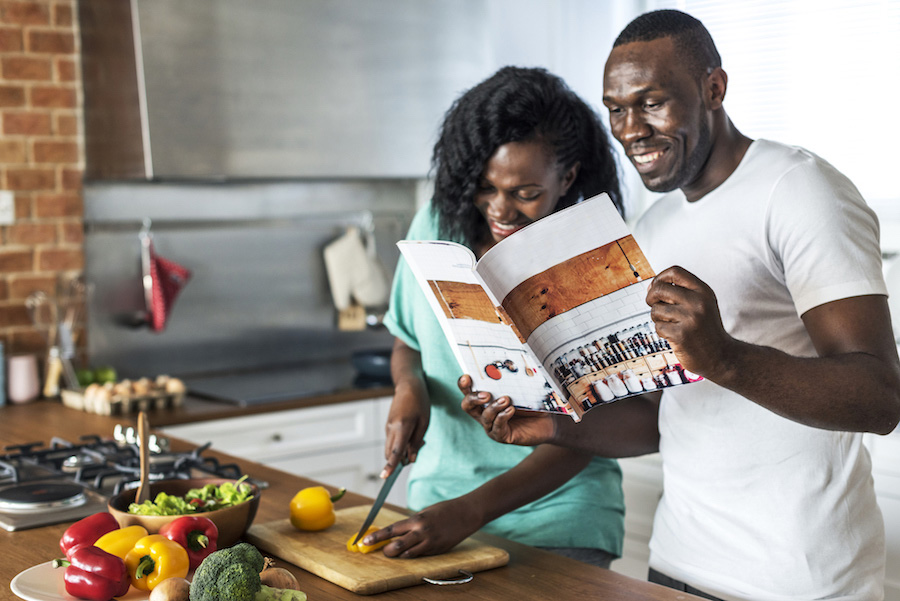 Spring Kitchen: 5 Healthy Cookbooks
As March is the Dare to Fuel month in our 90-day Dare to Do New Year's challenge, our friends at the University Book Store served up five enticing cookbooks whose recipes will energize you to work out and inspire you to eat in.
By Joe Wicks
UK-based personal trainer and Instagram star Joe Wicks (a.k.a. "The Body Coach") helps readers get the results they want with quick meals and HIIT (high intensity interval training) home workouts that let you eat more and exercise less.
Power up with 100 accessible recipes that are ready in just 15 minutes such as the Incredible Hulk smoothie, big barbecue chicken wrap, quick tortilla pizza, or banana and blueberry overnight oats. Then, get in shape with his signature HIIT exercise guide, which focuses on workouts you can do at home and features plenty of photo demos and transformation inspiration. Combine the two for a holistic personal plan that will help you increase energy, burn fat, and develop lean muscle.
---
By Yotam Ottolenghi
Israeli-born chef Yotam Ottolenghi offers a fresh perspective on vegetables with his book Plenty. The London-based restauranteur and omnivorous writer for The Guardian's New Vegetarian column shares 120 recipes showcasing bold flavors from around the world and seasonal ingredients that both meat eaters and non-meat eaters will enjoy.
Try your hand at North African shakshuka, spicy Moroccan carrot salad, sweet potato cakes, artichoke gratin, cardamom rice with poached eggs and yogurt, surprise tatin (a delightful potato stuffed tart), fava bean burgers, and more. Recipes are paired with sumptuous photography by Jonathan Lovekin and interesting little notes about the origins of the dishes.
---
By Danielle Walker
Do you (or someone in your life) eat grain free, gluten free, or dairy free? Danielle Walker has you covered. In her New York Times best-selling cookbook, Against All Grain Celebrations, she removes the fear of cooking for special diets with a delectable selection of recipes for all occasions—but especially the ones worth celebrating.
Find the perfect contribution to an Easter brunch, 4th of July barbecue, kid's birthday party, or Thanksgiving feast with 125 recipes that are completely free from these potentially troublesome ingredients. Foolproof dishes like butternut sage carbonara, Buffalo wings with herb ranch dressing, Blender bread, and roasted garlic mashed cauliflower please palates and are even Paleo-friendly.
---
By Amy Pennington
Urban farmer, cook, author, and Seattleite Amy Pennington makes getting greens into your diet fun and tasty with 75 simple salads. Zesty dressing and creative combinations give this classic course a fresh sense of excitement. Detailed directions, glossy photos, and interesting tidbits about the ingredients enhance the cooking and reading experience.
From grain bowls to noodle salads, winter greens and fruit salads, Pennington has a recipe for every craving. Dig your tines into butter lettuce with strawberry fennel vinaigrette, little gem lettuce with shrimp and coconut avocado dressing, or buckwheat noodle and sticky salmon. Salad for breakfast? You bet! Never underestimate the power of the salad again.
---
By Thug Kitchen
In their latest New York Times bestseller, the cooks at Thug Kitchen tackle the biggest reason people don't cook more at home: time. Thug Kitchen 101 is a delicious, humorous, back-to-basics cookbook sure to spice up your weekday routine. Treat your taste buds to a wealth of mouth-watering recipes in the 5 – 45 minute range, which take special consideration for everyday constraints.
Clean up the fridge with practical recipes like leftover roasted veggie risotto or ready your forks for explosively flavorful firecracker salad, turmeric and sweet potato soup, pineapple salsa, and more. Each recipe features helpful icons that let you know which recipes are freezer-friendly, reheat well, make great weeknight meals, or offer dinner party wow factor. Their recipes are healthy, tasty, and plant-based to boot.
---
Fuel up for spring with recipes so good that you'll forget they're actually healthy. Maybe try one out as part of our ongoing National Nutrition Month potluck challenge. Happy reading—and eating—Huskies!