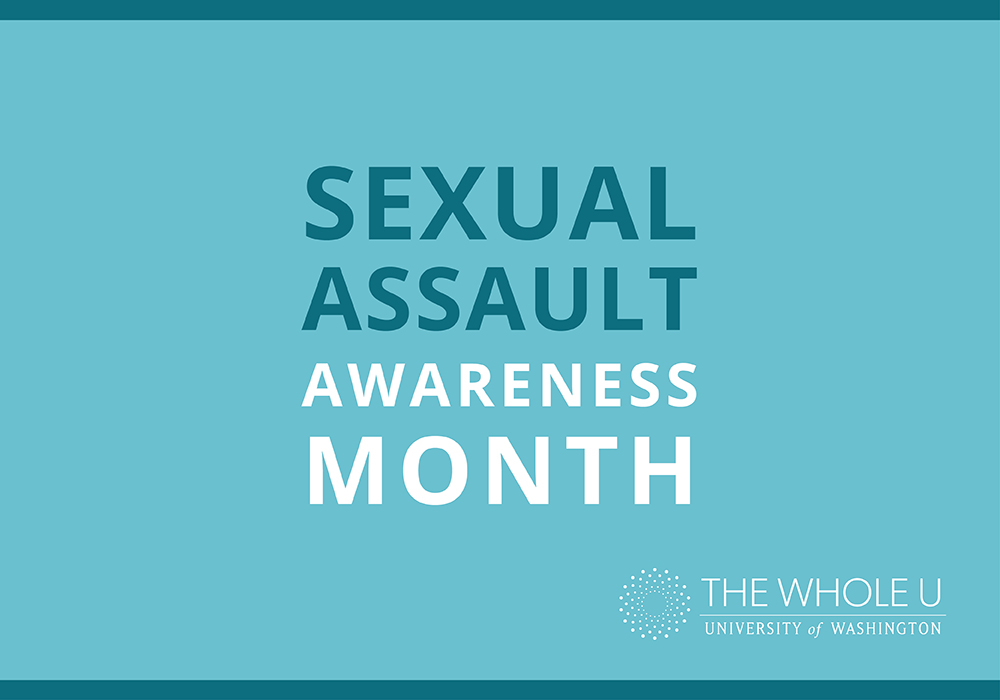 3 Steps for Helping a Sexual Assault Victim
If a student or colleague let you know they had been sexually assaulted, would you know what to do?
The first person a victim opens up to is the most important. If that initial interaction is supportive, it sets them up for a much smoother healing process and helps them access support in the future.
If they come to you, it's because they trust you. That can feel like a lot of pressure, but you don't need to be an expert on sexual assault. Luckily, UW has two advocates who specialize in helping students, faculty, and staff with everything related to sexual assault, relationship violence, stalking, and harassment. Here are three steps for helping a victim connect with the right resources:
Validate – Thank them for trusting you. Your job is not to investigate, but to support them. You could say something like, "Thank you for sharing this with me. I know this is so difficult. I want to help connect you to the right people and don't want to ask a lot of questions, but do you have any immediate safety concerns? What can we support you with right now?"
Consult – If you need immediate assistance, call 206-543-9337 to speak with an advocate or SafeCampus (206-685-SAFE) if it's after business hours.
Refer – Advise them to connect with an advocate: call 206-685-4357 or email hwadvoc@uw.edu if they are a UW Seattle student or 206-543-9337 dolcin@uw.edu if they are faculty, staff, or a student in Tacoma, Bothell, or Seattle. You can also offer to reach out to the advocate for them if they'd prefer to be contacted instead.
Advocates listen and provide the information that best serves their client's needs. They let them know their options, but they won't pressure them to take one action over another.
Dana, an advocate who primarily works with undergraduate and graduate students, explained, "We help them understand what their experience will be like. 'If I choose to go to law enforcement, what could I expect? If I did X, what could I expect?' They don't even need to tell me the details if they don't want to."
This service is unique because it is confidential. The information advocates hear does not need to be reported to law enforcement or to UW's administration (exceptions include risk of suicide, homicide, and cases of child endangerment).
Another resource just came to UW Medical Center: on-call sexual assault nurses "who [are] specially trained to conduct a forensic examination, provide emergency contraception, and treat potential sexually transmitted infection." Anyone can go directly to the ER and say that they would like an exam. The sooner treatment is received, the better: evidence is best collected with 120 hours or 5 days. Receiving this medical care does not trigger the involvement of law enforcement unless the victim requests it.
If a victim chooses to report, the advocates provide accompaniment and support. They can be present for law enforcement interviews, court appointments, or filing protection orders.
They also help clients come up with an individualized safety plan. "We think about safety in all aspects of life: on campus, in the workplace, at home, transportation, and even technology such as social media and phones," Dana explained.
Just as important, the advocates can help their clients find counseling services, navigate insurance, and find specialized services such as LGBTQ support and culturally specific resources. They can make connections to resources in their home community if they prefer not to be treated on or near campus.
 The advocates can help even if the incident didn't happen at UW. It doesn't matter where or when it happened, and they have experience with survivors of childhood sexual abuse. And the client doesn't need to be the victim. Student bystanders often want to know how to support a friend and get them connected to the right resources. And faculty and staff can always consult with an advocate. If there's a student you're concerned about because you've noticed changes in their demeanor, or they've been hinting that things aren't OK in their life, you can ask for advice.
You may not be an expert in this area, but now you know someone at UW is here to help. Natalie Dolci, one of the advocates, explained, "Far too often, people who have experienced stalking, sexual assault or relationship violence, don't know where to turn to get support and information. I am grateful that UW has two advocates on campus where survivors can go to be believed and get their questions answered. We work with clients to come up with an individualized plan. We also respect a survivor's pace. A client doesn't have to make any decisions on the spot. We like to have ongoing conversations with survivors about their needs and priorities."
This article was written in honor of Sexual Assault Awareness Month. One way to honor this month is to sign up for the Green Dot Emotional First Aid trainings, which work to equip faculty and staff with practical skills to be an active bystander. You will learn, discuss, and practice intervention skills related to preventing and responding to sexual assault, relationship violence, stalking and harassment, and generally supporting students in distress. There are upcoming trainings on Friday, April 29 and Friday, May 13. Register here.
Learn more about UW's resources for victims here.