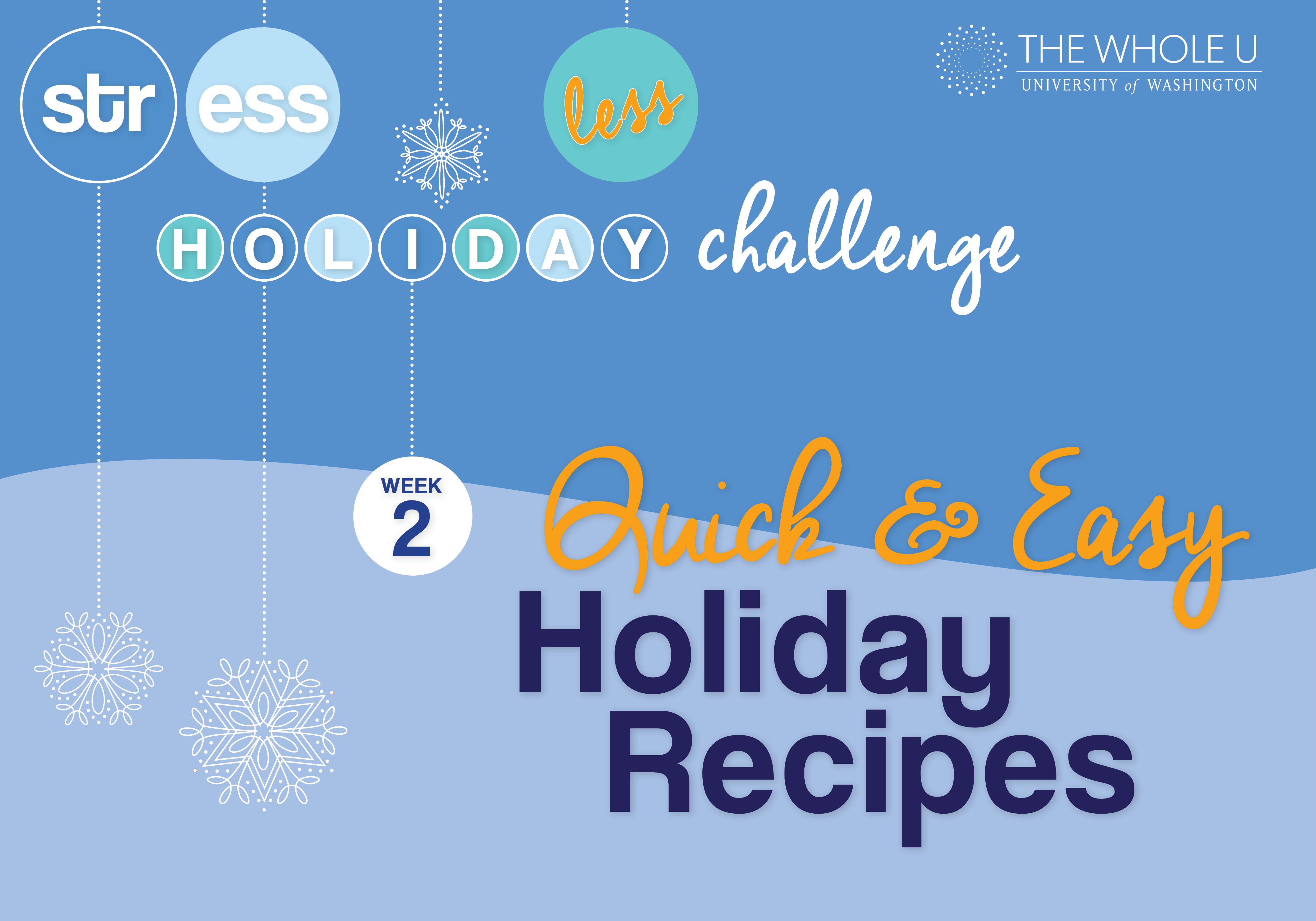 Stress Less with Quick & Easy Recipes
Cooking for my family and friends is one of my favorite things to do. And yet, whenever the holiday season approaches, I get nervous: I know I will choose overly complicated recipes and end up spending the whole time in the kitchen instead of enjoying the evening with my guests.
So this year I've decided to make it easy on myself and choose fast, simple dishes that still deliver a ton of flavor. My guests will get to enjoy a delicious homemade dinner and I will get to experience this special time with them (instead of disappearing in the kitchen).
I've put together a few recipe ideas for you to try: pick a few dishes and create your holiday menu. You can start with a couple of appetizers, choose one main course, a side dish, and a dessert. Nobody will know you didn't spend the whole day in the kitchen! And if you'd like even more recipes, sign up now to receive the Stress Less Holiday Challenge email each week.
Appetizers
Orange and fennel salad
Ingredients (serves 4)
1 red onion
3 oranges
2 Tbsp orange juice
1 fennel
3 oz. black olives
¼ cup extra-virgin olive oil
salt
freshly ground pepper
Using a mandolin, thinly slice the onion and soak in cold water.
Peel the oranges, remove the pith with a knife, and slice.
Cut the stalks and fronds from the fennel bulbs and reserve some of the leaves for later. Cut each fennel bulb in half and remove the core. Slice lengthwise.
Arrange the oranges on a platter, add fennel, drained onions, olives, and fennel leaves.
For the vinaigrette, whisk together the orange juice with the olive oil, and add salt and pepper to taste.
Drizzle the vinaigrette on the salad and serve.
Smoked Salmon Rolls
Ingredients (makes 12 rolls)
12 slices smoked salmon
6 oz. goat cheese
1 cup arugula, chopped finely
1 Tbsp. chives, chopped finely
2 tsp. extra-virgin olive oil
salt
freshly ground pepper
Place cheese in a bowl, and add chopped arugula, olive oil, salt and pepper to taste. Combine until smooth and blended.
Spread a spoonful of cheese mixture over each slice of salmon, and roll into a log.
Once you have made all 12 logs, arrange on a platter and sprinkle with the chopped chives. Can be made up to 2 hours in advance and kept in the fridge.
Main courses
Walnut Pasta (from The Food of Italy)
Ingredients (serves 4)
2 cups shelled walnuts
1/3 cup roughly chopped parsley
3 tablespoons butter
¾ cup extra-virgin olive oil
1 garlic clove, minced
1/3 cup Parmigiano Reggiano, grated
½ cup heavy cream
13 oz. pasta, such as tagliatelle
Lightly toast the walnuts in a dry frying pan over moderately high heat for 2 minutes, or until browned. Set aside to cool for 5 minutes.
Put the walnuts in a food processor with the parsley and blend until finely chopped. Add the butter and mix together.
Gradually pour in the olive oil in a steady stream with the motor running. Add the garlic, Parmigiano, and the cream. Season with salt and black pepper.
Cook the pasta in a large saucepan of boiling water until al dente. Toss through with the sauce to serve.
Salmon in puff pastry
Ingredients (serves 4)
3 tablespoons extra virgin olive oil
1 garlic clove, lightly crushed
½ lb. fresh spinach
12 oz. salmon fillets
salt and pepper to taste
3 tablespoons feta cheese – optional
2 sheets of ready to bake puff pastry, thawed
1 egg
In a pan, heat 2 tablespoons of the olive oil. Add the clove of garlic and brown lightly. Add the spinach, season with salt and pepper, and cook for 4 minutes. Remove the garlic and remove from heat.
Season the salmon with salt, pepper, and brush with remaining olive oil.
Open up the puff pastry sheet and place on a slightly floured sheet of parchment paper.
Cut a strip of pastry slightly larger than the salmon fillet. Top the pastry with the spinach and sprinkle with the feta cheese. Lay the salmon fillet on top and cover everything with the remaining strip of puff pastry. Close around the edges and cut off the excess dough.
Poke the dough a few times with a fork. Beat 1 egg and 1 tablespoon of water in a small bowl with a fork. Brush the puff pastry with egg mixture.
Bake in 400° oven for 20 minutes, or until the pastry is golden brown. Remove from the oven, let rest 5 minutes and cut into thick slices.
Side Dishes
Greek Lemon Potatoes  
Ingredients (serves 4)
5 Yukon gold potatoes; cut lengthwise into 8 wedges each
½ cup water
¼ cup olive oil
2 garlic cloves, slightly crushed
2 tablespoons fresh lemon juice
zest of 1 lemon
¾ tsp. sea salt
fresh ground black pepper
Preheat oven to 450°.
Mix potato wedges, olive oil, lemon juice, lemon zest, oregano, garlic, salt and pepper in a baking pan. Pour the water over them. Bake for 50 minuets or until golden brown and tender, mixing after 25 minutes.
Crispy Brussels sprouts (from the Chic Site)
Ingredients (serves 6)
1 lb. Brussels sprouts
1/2 cup almonds
1/2 cup sliced scallions
1 Tbsp. olive oil
1 tsp. salt
1 tsp. pepper
1/2 cup balsamic vinegar
2 Tbsp. low-sodium soy sauce
1 tsp. honey
Preheat oven to 425°. Line a baking sheet with foil, and set aside.
Use a pairing knife to cut the Brussels sprouts in half. Then, separate the leaves as best you can. Toss the leaves, almonds, scallions, oil, salt and pepper in a large bowl. Spread them out into one even layer onto the prepared baking sheet.
Roast for about 10 to 15 minutes or until crispy and slightly charred.
In the meantime, make the sauce. In a small pot, combine the balsamic vinegar, soy sauce, and honey.
Cook over low heat until it has reduced by half and is syrupy. Pour over the Brussels sprouts and toss to fully coat. Enjoy right away!
Desserts
Ricotta, coconut, and cocoa bon bons (adapted from Il Mondo dei Dolci)
Ingredients (serves 4 people)
1 1/3 cup ricotta
½ cup sugar
2/3 cups shredded coconut, fine shred
¼ cup sweetened cocoa powder
2 Tbsp. rum
Place all the ingredients in a bowl, keeping ¼ c. of coconut on the side. Mix well.
Make small balls, roll them in the reserved shredded coconut, and place on a plate.
Place in the fridge for 30 minutes and serve.
Pears in Chocolate (from The Silver Spoon)
Ingredients (serves 4)
2 tablespoons superfine sugar
4 pears
3 ½ ounces semisweet chocolate, broken into pieces
1 ½ Tbsp. unsalted butter
1 – 2 Tbsp. pear brandy
Preheat the oven to 325°.
Sprinkle half the sugar evenly over the bottom of a 6-cup oven-proof dish. Peel, halve, and core the pears, place them in the dish, and sprinkle with the remaining sugar. Bake for 15 minutes.
Meanwhile, melt the chocolate and butter in a heatproof bowl set over a pan of barely simmering water. Add the brandy and stir until smooth and velvety.
Pour the chocolate sauce over the pears and serve warm.
Do you have any quick and easy holiday recipes that you love? Please share in the comments!