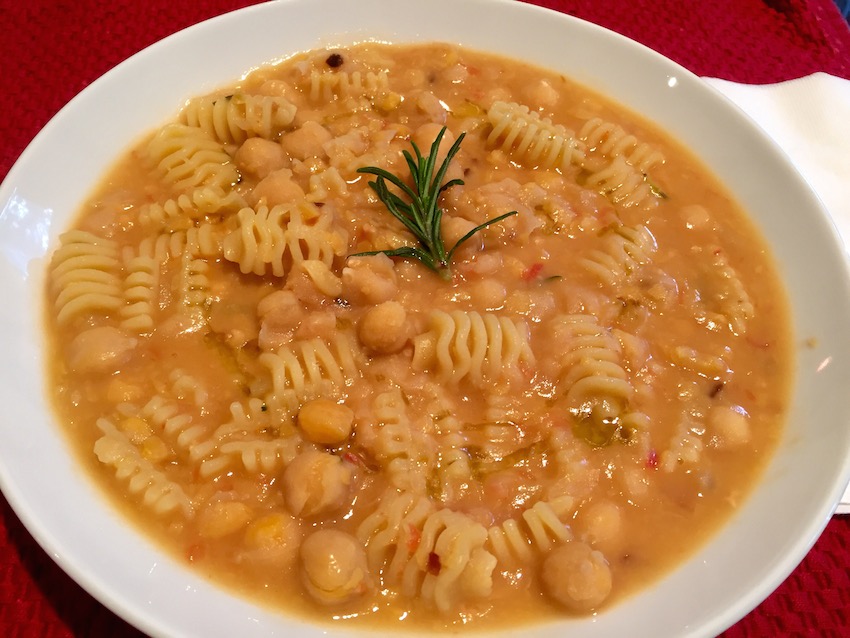 4 Soup Recipes for Winter
What's my favorite thing about winter? Soup. On a cold, dark, and rainy day, nothing sounds better than warm, delicious soup. Prepping my ingredients and cooking them over the stovetop instantly puts me in a good mood. But I'm even happier when I get to taste the first bite.
I like making big batches of soup so I can leave some for the next day or freeze it for later. That way I can have a warm and healthy homemade meal even on days when I have little time to cook. You don't need to work for hours to enjoy a tasty homemade soup. In fact, some of the recipes below take less than half an hour to make. And soup doesn't have to be rich and creamy to be satisfying (my favorite soups don't use butter or cream).
Here are some soups for you to try this winter. Some come from magazines and cookbooks, while others are my personal family recipes that I have been making for years. Enjoy!
Minestrone
Minestrone is an Italian soup made with vegetables and often pasta. There are countless versions of minestrone, depending on the Italian region where it is prepared and what vegetables are in season. I usually make it with whatever I find in my pantry and fridge. It might be a little time-consuming to wash and chop all the vegetables, but it is absolutely worth it. And you can make a big batch and freeze the rest for later if you don't add the pasta.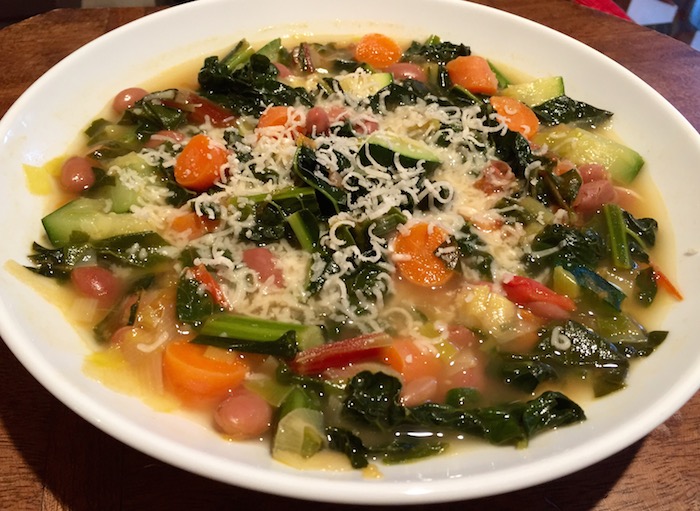 Serves 4
Extra virgin olive oil
1 cup leeks, diced
1 cup carrots, diced
2 Plum or Roma tomatoes, diced
2 bunches of chard, lacinato kale, Tuscan cabbage or collard greens, roughly chopped
3 cups low sodium vegetable broth
1 8-ounce can cannellini or borlotti beans, washed and drained
1 cup zucchinis, chopped
salt and pepper
1 cup any small pasta
Freshly grated Parmigiano Reggiano cheese, for serving
Heat 2 tablespoons olive oil over medium heat in a large, heavy pot.
Add leeks, carrots, tomatoes, and greens and cook over medium heat, stirring occasionally, for 10-15 minutes, until the vegetables begin to soften.
Add broth and bring to a boil. Add beans and zucchini and cook 5 more minutes. If soup looks too thick, add water.
Add salt and pepper to taste.
Meanwhile, bring a pot of salted water to boil, add pasta and cook until al dente.
Drain pasta and add to vegetables.
Plate the soup in bowl, add a drizzle of extra-virgin olive oil, and top with grated Parmigiano Reggiano cheese.
Pasta e Ceci (Garbanzo Bean Soup)
This is the dish I always turn to when, after a long and busy day, I open the fridge only to find it absolutely empty. Instead of putting my coat and shoes back on to grab take-out, I just head to my pantry and grab a couple cans of garbanzo beans. In less than 20 minutes, I have a delicious bowl of homemade soup on my table.
Serves 4
Extra virgin olive oil
2 garlic cloves, crushed
red pepper flakes
3 cans of garbanzo beans
1/3 cup crushed tomatoes
1 rosemary spring, leaves removed from stem
4 cups low-sodium vegetable broth
2 cups any small pasta
Heat three tablespoons of olive oil in a large saucepan, add garlic and red pepper flakes and cook until garlic is browned.
Remove garlic and add garbanzo beans, including juice, and crushed tomatoes. With a potato masher, crush about half of the garbanzo beans, while leaving the rest whole.
Add vegetable broth and bring to a boil. Sprinkle with rosemary leaves. Add pasta and cook until al dente. Stir frequently and add water if soup looks too thick.
Plate soup and add a drizzle of extra virgin olive oil.
Spicy Shrimp Noodle Soup
Adapted from Cooking Light magazine. The ingredient list to make this Vietnamese comfort-food classic is pretty long, but this soup comes together in minutes.
Serves 4
3 cups low-sodium beef broth
3 cups water
1 teaspoon minced garlic
1 tablespoon sambal oelek (ground fresh chile paste) or ½ teaspoon crushed red pepper
1 to 2 tablespoons fish sauce
1 to 2 tablespoons lower-sodium soy sauce
2 cinnamon sticks
1 8-ounce bottle clam juice
1 ounce fresh shitake mushrooms, chopped
1 (1-inch) piece peeled fresh ginger
1 star anise
1 pound large shrimp, peeled and deveined
8 ounces uncooked flat rice noodles
½ cup fresh bean sprouts
½ cup diagonally cut green onions
¼ cup fresh cilantro leaves
12 small fresh basil leaves
4 lime wedges
Combine first 11 ingredients in a large saucepan. Bring to a boil; reduce heat, and simmer for about 10 minutes.
Add shrimp; cook 4 minutes until done. Remove cinnamon, anise, and ginger; discard.
Cook rice noodles according to package directions; drain. Place ½ cup noodles in each of 4 bowls, and top each serving with 1 cup stock mixture and about 5 shrimps.
Sprinkle evenly with bean sprouts, green onions, cilantro, and basil.
Serve with lime wedges.
Chile-Chicken Tortilla Soup
Adapted from The New American Heart Association Cookbook. This is such a great soup for using leftover chicken. Healthy and flavorful, this soup will warm you right up.
Serves 4
1 teaspoon canola or corn oil
½ cup chopped onion
2 medium garlic cloves, minced
4 cups low sodium chicken broth
1 15.5-ounce can pinto beans, rinsed and drained
1 14.5-ounce crushed tomatoes
1 cup cubed cooked, skinless chicken breast
2 fresh Anaheim or poblano peppers, diced
1 teaspoon ground cumin
1 teaspoon chili powder and ½ teaspoon chili powder, divided use
½ teaspoon dried oregano, crumbled
salt and pepper to taste
cooking spray
8 6-inch corn tortillas, halved and cut into ¼ inch strips
2 green onions, thinly sliced
In a large nonstick saucepan, heat the oil over medium high heat.
Cook the onion and garlic for about 3 minutes, or until onion is soft, stirring frequently.
Stir in the broth, beans, tomatoes, chicken, Anaheim peppers, cumin, 1 teaspoon chili powder, oregano, salt, and pepper. Bring to a boil. Reduce the heat and simmer, cover for 20 to 25 minutes, stirring occasionally.
Meanwhile, preheat the oven to 350° F. Lightly spray a baking sheet with cooking spray. Place the tortilla strips in a single layer on the baking sheet.
Lightly spray with cooking spray. Sprinkle with the remaining ½ teaspoon chili powder.
Bake for 10 minutes, or until crisp.
Just before serving, sprinkle the tortilla strips and green onion over the soup.
Give these a try and let me know what you think. Do you have a favorite soup recipe? Please share!